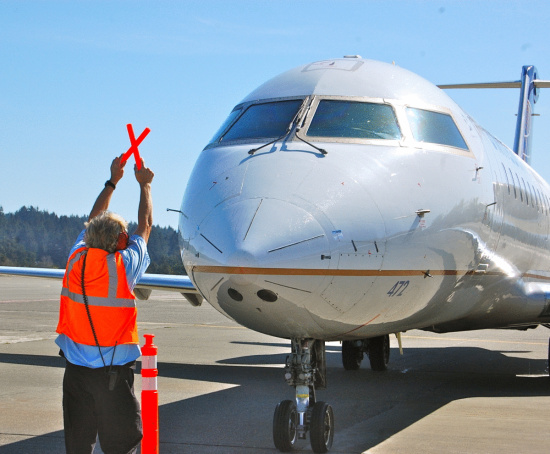 At 12:15 p.m. Thursday, United Flight 6238 touched down at Humboldt County's regional airport to applause from assembled cookie-eating, champagne-sipping dignitaries and community members. The main reason behind the joy: The soon-to-be routine flight signaled a new era for local travel. Perhaps another: The aircraft arrived 17 minutes early.
ACV has entered its post-propeller era.
The midday media seduction, organized by Fly Humboldt, was the airport's way of celebrating a transition in the type of planes that will carry Humboldt travelers skyward henceforth. Skywest-operated United Express had previously announced that it planned to retire its creaky fleet of Embraer EMB-120s (propellers!) to usher in the era of Canadair CRJ jets (no propellers!).
Thursday acted as a showcase for the increased capacity aircraft that will now routinely make the ACV/SFO trek. (Technically, the first one landed last night, but we're not supposed to talk about that.) The newer, larger planes — 50 seats, as compared to around 30 in the old planes — will reduce flight times and are more fuel efficient.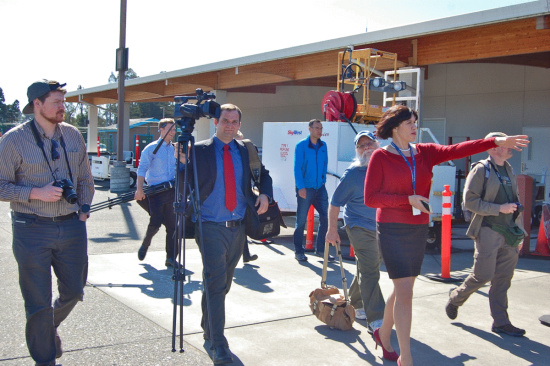 Emily Jacobs leads the way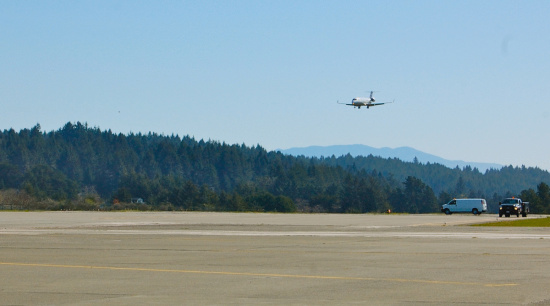 OMG!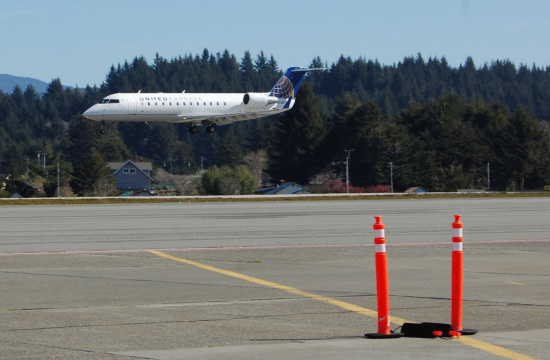 Yay!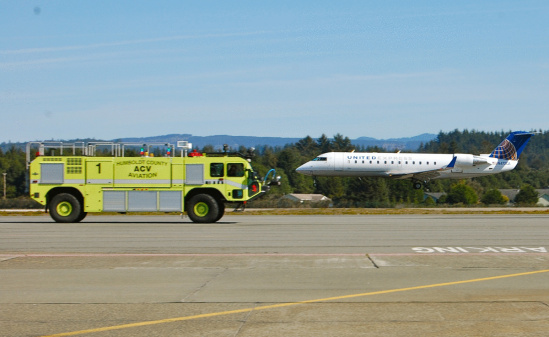 Oooh!
Hooray!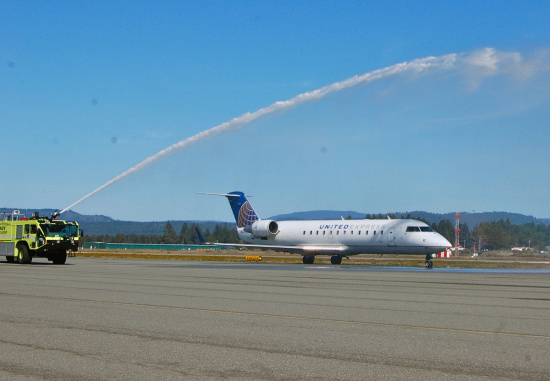 All the major local media outlets as well as County Supervisors Virginia Bass and Ryan Sundberg were led out onto the tarmac by Emily Jacobs, event planner and airport program coordinator, for an up-close look at the big landing.
Need some proof that you, like LoCO, know nothing about aviation culture? Here you go: When the aircraft softly touched down, the crowd was treated to what was described in our invitation as the "traditional inaugural water cannon." As the plane taxied on the runway, an arc of water was shot over its fuselage by the airport's rescue fire fighting vehicle.
We did not know this was a thing, but we Google image searched it. Turns out, totally a thing.
(For those of you worrying "but what about the drought?" Jacobs assured LoCO that the demonstration was also a good opportunity for necessary equipment tests.)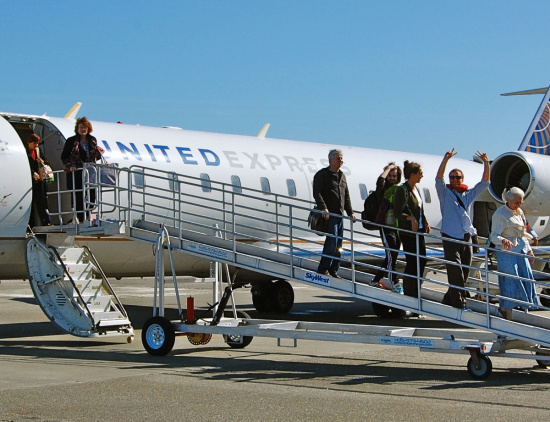 They flew.
As the passengers descended down the airstairs, a few hammed it up for the cameras documenting their mostly routine flight. The ones LoCO spoke with seemed perplexed about all the hubbub.
"We just found out," said passenger Amanda Twombly when asked if she knew the significance of her flight. She and her mom were from the Los Angeles area to check out Humboldt State University, where she's been accepted as a student.
"It was a nice surprise, I guess," Twombly said.
Once inside the terminal, the unsuspecting passengers and other event attendees were treated to booze and sugary goodies, as well as an upbeat performance by the Trinidad Elementary School Steel Pan Band.
With jet service between Humboldt and San Francisco successfully obtained, the next goal is more destinations. Cassandra Hesseltine, a member of Fly Humboldt and also the Humboldt-Del Norte film commissioner, said negotiating service to Los Angeles is a high priority.
"We've lost film shoots because there weren't direct flights," Hesseltine said.
After the jet emptied of its Humboldt-bound passengers, and United crews went through their daily routines, another set of travelers boarded headed for San Francisco. No big deal.