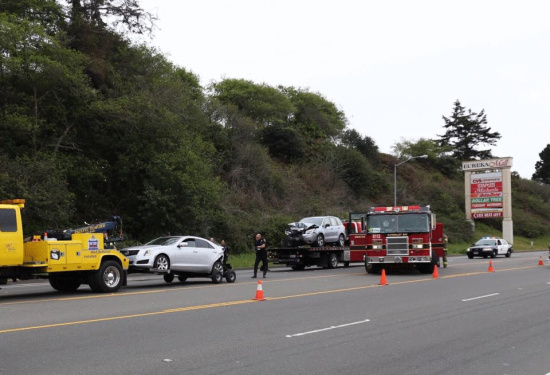 UPDATE, 2:50 p.m.: According to Officer Tim Jones with the Eureka Police Department, the accident occurred after the at-fault driver looked down to take some notes and failed to see that traffic ahead of him or her had stopped. The initial collision sent the front car into the car in front of them, and so on.
Traffic is now fully open in both directions.
###
UPDATE, 2:37 p.m.: The Outpost's Andrew Goff, on the scene, counts five cars damaged by this crash. One woman was taken to the hospital by ambulance; everyone else seems to be OK. Police still have both northbound lanes closed.
###
A car crash in front of Applebee's in Eureka has Broadway at a standstill at the moment.
Police and medical personnel responded to the accident, which involved at least two vehicles, about 20 minutes ago. Shortly thereafter, police closed both northbound lanes and one southbound lane to clear the scene.
The Outpost's reporter is walking down to the scene. We'll have updates soon.