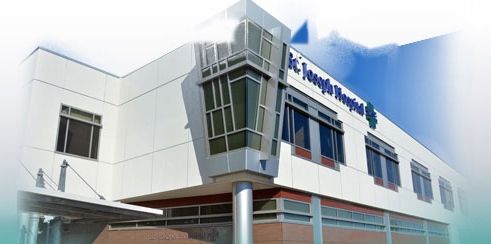 Low wages at St. Joseph Hospital in Eureka and Redwood Memorial Hospital in Fortuna are pushing employees into economic instability, increasing risks to public health and causing patient safety concerns, according to a new report from the labor union representing service and technical workers at the two hospitals.
More than two dozen local hospital workers crowded into a meeting room at the Central Labor Council building in Eureka last night to hear reps from the National Union of Healthcare Workers (NUHW) present the report, titled "Uncompensated Care: How St. Joseph's Low Wages Leave Caregivers Behind."
Van Nguyen, a San Francisco-based research analyst for NUHW, sat at the front of the room and presented a PowerPoint slideshow, outlining the report in broad strokes while providing a long list of numbers and graphs. All the statistics were designed to bolster the report's central thesis.
"This study," Nguyen said, "finds that despite being the largest private sector employer in Humboldt County, St. Joseph has not upheld its responsibility to pay its workers sustainable wages."
The nonprofit St. Joseph Health System operates both St. Joe's and Redwood Memorial. The two hospitals employ roughly 1,400 people in Humboldt County, and NUHW represents more than 400 of those, according to union rep Charlie Ridgell. The union is currently in contract negotiations with administrators.
According to the report, caregivers at the hospital make as little as $10.90 per hour, just $1.90 above minimum wage, and the median hourly wage among service workers is less than $13 per hour, making for an annual income of less than $27,000. That's not far above the poverty line of 23,850 for a family of four.
With salaries this low, the report says, workers find themselves relying on taxpayer-funded safety net programs like MediCal and food stamps. In effect, this means that St. Joseph Health is taking advantage of taxpayer-funded subsidies, said Nguyen.
The report, which can be read in full below, compared the starting wages for various service and technical positions at the local hospitals to the starting wages for those same positions at Santa Rosa Memorial Hospital in Sonoma County and Mercy Medical Center in Shasta County.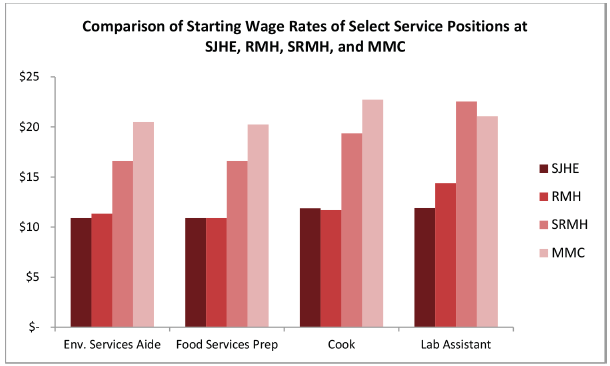 Starting wages at St. Joseph Health-Eureka (SJHE), Redwood Memorial Health (RMH), Santa Rosa Memorial Health (SRMH) and Mercy Medical Center (MMC). Graph courtesy NUHW.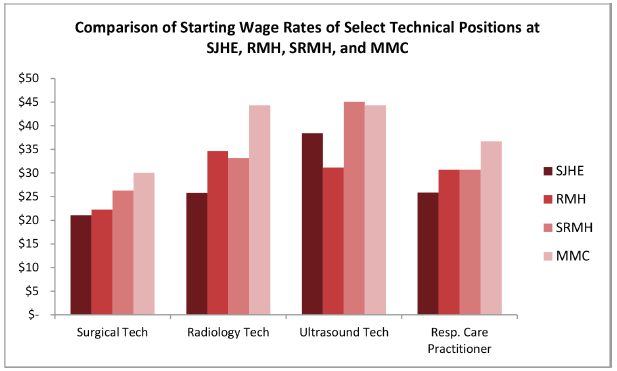 Starting wages at St. Joseph Health-Eureka (SJHE), Redwood Memorial Health (RMH), Santa Rosa Memorial Health (SRMH) and Mercy Medical Center (MMC). Graph courtesy NUHW.
Later in the meeting, several hospital workers stood up to give their own personal stories. Christi Hawkins, a registered nurse at St. Joe's, said that while she has no trouble providing for her son, it's difficult to hear service workers in the break room fret over paying their bills.
"It's not justice, and they're not treated with dignity," Hawkins said, her voice trembling with emotion. "That's why I became a nurse; that's why I chose St. Joe's: so I could serve our most vulnerable, our most fragile. And if my teammates are worried and overworked, then we're failing — completely. We're failing them; we're failing our community; we're failing our society at large."
Barbara Fields, a 65-year-old nurse's aide, said she's worked in St. Joe's progressive care unit for the past eight years. "I chose to work there because of the high level of care for patients," she said. "I wouldn't have chosen to work there if I didn't like my job. I don't like my job anymore. There's no support. It's not a friendly place to work."
Fields went on to describe 16-hour shifts in which she's sometimes the only aide for as many as 40 patients at a time. She feels unable to keep up with the various call lights, from a patient with diarrhea to another who wants a shower and family members clamoring for information. "I cannot give my quality care," she said, choking up. "It really bothers me. … I don't get support from my boss or the hospital. The dignity is not there any longer."
The union's report features testimonials from other employees, including a single mother of three who, after a decade at St. Joe's, still makes $12.50 an hour and relies on Medi-Cal and subsidized housing.
The Outpost reached out to St. Joseph Health System for comment this morning but had yet to hear back by publishing time. Can the health system afford to pay employees more? The report argues yes, pointing to six-digit executive salaries and profits of nearly $100 million from January 2010 through December 2014.
"In 2013 [St. Joseph Health-Eureka]'s profit margin from operations was 6.8 percent and [Redwood Memorial Hospital]'s was 14.9 percent, far exceeding the statewide average of 2.6 percent for all California hospitals," the report says.
Nguyen argued that the nonprofit St. Joseph Health System is letting the community down, saying, "It is both an economic imperative and a moral responsibility for them to pay sustainable wages to their employees."
# # #
DOCUMENT: Uncompensated Care: How St. Joseph's Low Wages Leave Caregivers Behind