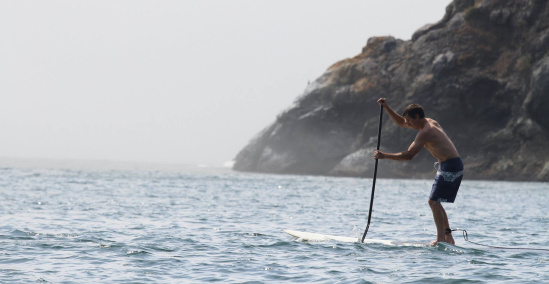 Should you wind up at Moonstone Beach on Sunday afternoon, you'll find yourself at the finish line of the Trinidad to Little River Dash stand-up paddleboard (SUP) race.
The race starts at 4:00 pm in Trinidad harbor and heads southeast to the mouth of the Little River at Moonstone.
With any luck, prevailing north winds will aid the paddlers downwind for about three miles. The final stretch includes the surf zone at Moonstone and a quick paddle up the Little River to the finish line.
According to veteran SUPer Matt Beard, brute strength alone won't help you win. Wave selection in the home stretch plays a big role.
Matt Beard:
"For me, what's been fun is that when you get the surf zone at Moonstone, anything can happen. Even if you're outmuscled, if you can stay within striking distance of the guy in front of you, a little surf finesse goes a long way."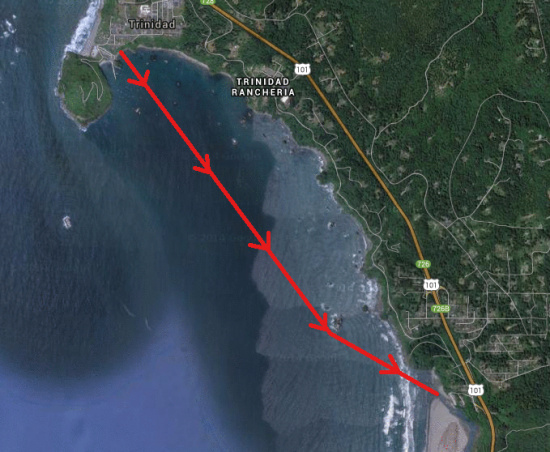 This Sunday's event is actually the fifth annual race, but it's the first year the race has gone public. Starting as an informal event between friends in the local SUP community, the event's popularity outgrew the liability organizers were able to take on. This spring Pacific Outfitters adopted the race as a fiscal sponsor, with the goal of giving the race a place on the national circuit.
According to race organizer Jason Self:
"We're excited to be working with the founders of the event to grow it and bring it to a wider audience in the future. In the next year or two, I'm hoping to add a Masters class, a Pro Elite class and associating it with other on the west coast to create a SUP race series."
Self will be on KHUM's 'Coastal Currents' tomorrow at noon to color in some of the details. The afterparty at Merryman's beach house will have live music, cold beverages, and soggy athletes.