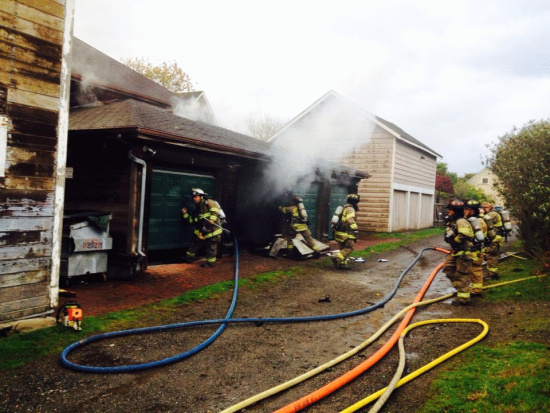 UPDATE, 11/16: A GoFundMe page has been set up to aid the neighbors affected by the explosion.
# # #
UPDATE, 7:45 p.m.: From Humboldt Bay Fire:
At 1601 hours, on 11-15-15, Humboldt Bay Fire Engines 8113, 8115, Truck 8181, Squad 8174 Battalions 8104, 8106 and Chief 8100 responded to a structure fire on the 1100 block of L Street. Several 911 calls were received describing fire in a garage with explosions and people trapped.

The first unit to arrive stated smoke was coming from a single garage unit, in a row of four garages, crews forced open the garage door, quickly extinguished the fire and searched for victims. No victims were located in any of the garages. Bystanders stated a male individual was seen leaving the garage just before the fire was noticed. Eureka Police responded to attempt to locate the male and to investigate a suspected hash oil extraction operation. Additional Humboldt Bay Fire units provided assistance with ventilation, salvage and removal of damaged wallboard. Fire damage was confined to one garage and a bathroom of the adjoining apartment.

No injuries were reported, damage estimate is $15,000. 17 firefighters responded, the fire was extinguished in 20 minutes with crews remaining on scene for 1.5 hours. During this time Arcata Fire Protection District assisted by covering HBF jurisdiction

The cause and origin investigation is underway and is expected to continue into the night. Eureka Police POP team responded and is investigating the hash oil component of this fire

Humboldt Bay Fire reminds all residents to ensure they have working smoke detectors in the living and sleeping areas of their houses and to have a fire exit plan.
###
Firefighters are currently battling a structure fire on the 1100 block of L Street in Eureka.
Scanner traffic indicates smoke is showing from a four-car garage. Several explosions were heard and a man with tattoos was seen fleeing the residence. The fire may have been started by a hash lab explosion, and butane canisters were found on scene.
LoCO reporter Hank Sims is on scene and reports 11th street is currently blocked off between K and L streets.
EPD is on scene investigating. More information will be posted as it comes in.