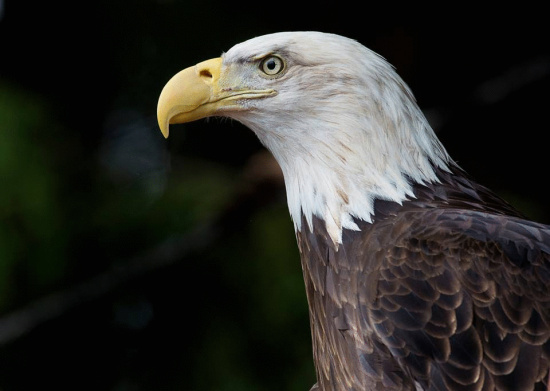 Sequoia Park Zoo's Bald Eagle Cheyenne. Photo by Greg Nyquist, Sequoia Park Zoo Facebook Page.
If you walk into the bald eagle exhibit at the Sequoia Park Zoo you will be kicked out, but you won't face legal consequences.
That's what one man learned as he fetched a bald eagle feather for his son about a month ago.
The City of Eureka addressed this issue at the Nov. 17 council meeting, where City Attorney Cindy Day-Wilson introduced a new ordinance that would make such behavior unlawful.
The current Zoo Animal Ordinance only prohibits people from feeding the animals. The amended version focuses on animal safety and would make it illegal for zoo patrons to enter animal exhibits without zoo staff permission. Among other obvious thing you shouldn't do at a zoo, the revised ordinance would also make it illegal to injure, tease or frighten zoo animals.
Zoo Manager Gretchen Ziegler told the Outpost that she wanted to get the ordinance amended for years.
"It has nothing to do with the panda situation. There is currently only one ordinance with zoo animals, which disallows public feeding," Ziegler said. "It just got done now for various reasons."
The ordinance is on the Agenda for the Dec. 1 City Council Meeting.