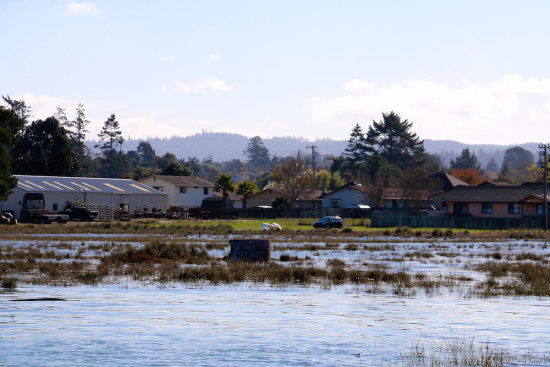 Homes along the front lines of Eureka Slough.
How will sea level rise affect you? The upcoming "King Tides" offer a chance to begin to understand what the future looks like. We know that if you reside on the coast, your home and/or businesses may directly suffer. And if you live inland, hefty economic losses will fall on your doorstep – we all depend on the "blue economy" of California's coast. Beach and bay recreational opportunities will change as well. But all is not lost! Thoughtful preparation is key, as the California King Tides Project, a coalition of government agencies and nonprofit organizations, is well aware.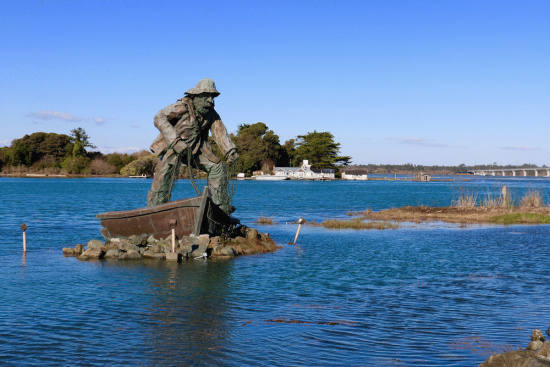 "The Fisherman" may forever be detached from Woodley Island…
Locally, the project is coordinated by Humboldt Baykeeper.
"King Tides are a glimpse into the not-so-distant future, when these annual extremes will be the typical monthly high tides. How soon that happens – whether it's in the year 2030 or 2050 – will depend on how fast sea level continues to rise," Humboldt Baykeeper Executive Director Jen Kalt said. "Today's high tide was more than six inches higher than predicted, so tomorrow it could also reach nearly nine feet as it did today."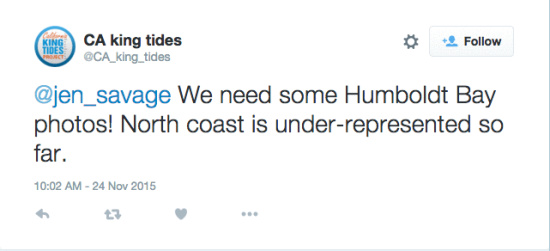 This is your chance to help – and given that Humboldt is somewhat underrepresented, we're hoping you'll take a moment out from your holidays to snap some photos, share on social media (#kingtides, #kingtides, #kingtides) and send your high tide shots to kingtidephotos@gmail.com or upload to the King Tides Flickr page.
Remember, safety first, people!
Where and when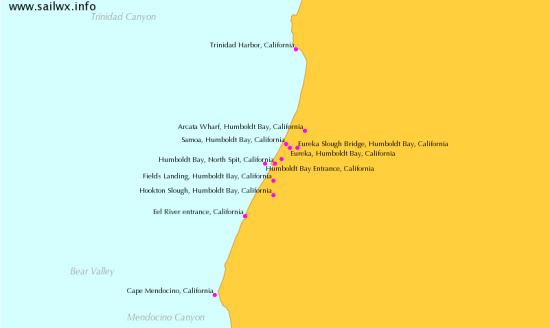 Recommended locations to observe high tides include Halvorsen Park and the F Street boardwalk in Eureka, Woodley Island, the Mad River Slough Bridge on Highway 255 in Manila, Liscom Slough on Jackson Ranch Road in Arcata, Fields Landing and King Salmon. The tide levels in these locations vary in both height and peak time – check out NOAA's tide predictions.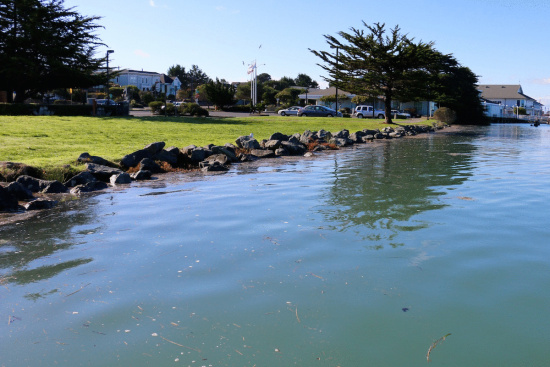 Halvorsen Park – high tide today could be the low tide of the future.
By capturing images of these extreme high tides, scientists and planners hope to gain insight into how rising sea levels will impact coastal areas in the future. The King Tides Photo Initiative is a great opportunity for citizen scientists to contribute to a long-term dataset, while helping inform residents and decisionmakers about the need to plan for the coming changes to our natural and built environments.
Further info
What are King Tides?
While the term 'king tide' isn't a scientific term, it is used to describe an especially high tide event, when there is alignment of the gravitational pull between sun and moon.
When king tides occur during cyclones, floods or storms, water levels can rise to higher levels and have the potential to cause great damage to property and the coastline.
During extreme high tide events, we can get an idea of what a permanent rise in sea level might look like in our communities.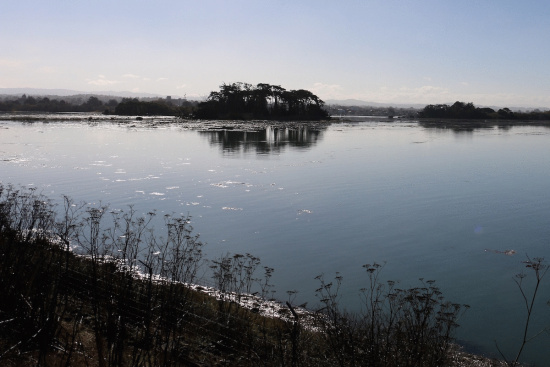 Another view of Indian Island underwater.
How Are King Tides Photos Used?
Document current flood risk in coastal areas
Visualize the impacts of future sea level rise in their community
Ground-truth and validate climate change models by comparing model predictions with the high-tide reality
Serve as a living record of change for future generations
For more info on high tides, sea level rise and Humboldt Bay in particular, check out Humboldt Baykeeper's sea level rise site; the Humboldt Bay Harbor, Recreation and Conservation District's Humboldt Bay Sea Level Rise Adaptation Planning Project.
Photos from past years' King Tides are online at the Humboldt Bay King Tides Photo Initiative album.
For more info on shoreline vulnerability, inundation maps, and related issues, visit the Humboldt Bay Sea Level Rise Adaptation Planning Project.
Jennifer Savage is the Surfrider Foundation's California Policy Manager.