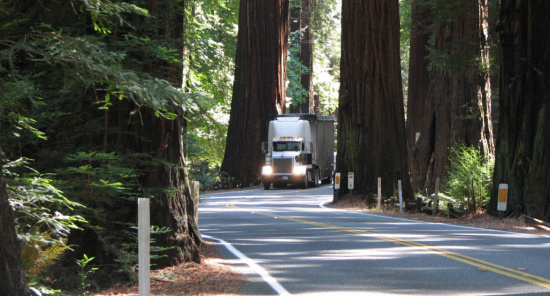 A McKinleyville-based environmental group comprised of longtime foes of the Richardson Grove Improvement Project is accusing the California Department of Transportation (Caltrans) of pushing questionable highway expansion projects at the expense of more worthy public safety projects.
The Coalition for Responsible Transportation Priorities (CRTP) issued its own report today, saying that it analyzed data from the National Highway Traffic Safety Administration's Fatal Accident Reporting System and concluded that the state agency is ignoring the most dangerous stretches of road in the local district, choosing instead to finance road-widening projects to accommodate "more big, dangerous trucks."
In response, Caltrans insisted that safety is always the agency's No. 1 priority, and it questioned the methodology of the group's study. The improvement projects in question, the agency said, are designed not just to improve safety but also to accommodate industry-standard trucks, and given the nature of funding sources, comparing safety to logistics is a "very simple matter of comparing apples to oranges."
In a phone conversation this afternoon, CRTP spokesperson Barbara Kennedy said her group is an outgrowth, of sorts, of people in Humboldt and Del Norte counties who have long been opposed to both the Richardson Grove project and a similar widening project on State Route 199 through the Smith River canyon.
She added that the group is operating under the umbrella of the nonprofit Trees Foundation, based in Garberville.
"We're looking at some of the rationales Caltrans uses for their projects," Kennedy said. The agency frequently touts safety as a rationale for projects, she added, "but when you actually look at where and what they do, they don't always meet that rationale."
Below you'll find the press release from CRTP as well as a response from Caltrans.
From the Coalition for Responsible Transportation Priorities:
NEW REPORT FINDS DANGEROUS SPOTS ON LOCAL HIGHWAYS

Group Challenges Caltrans to Tackle "Real Safety Projects"

Local Caltrans officials have failed to prioritize projects that would improve safety on local highways, according to a new report by the Coalition for Responsible Transportation Priorities (CRTP). Instead, the group says Caltrans has promoted highway expansion projects designed for other purposes and falsely claimed that they will increase safety.

To come to their conclusions, the group analyzed data from the Fatal Accident Reporting System maintained by the National Highway Traffic Safety Administration. They looked at fatal accidents which occurred between 2010 and 2013 on state highways in Humboldt, Del Norte, Trinity, Mendocino and Lake Counties—the area Caltrans calls District 1. They found that on average, every five-mile stretch of highway experienced one fatal accident over the four years. But 14 stretches of road saw 4 or more fatal accidents over the same time period. These were called out as the most hazardous spots in District 1's network. Those spots were all on Routes 101, 20, and 29, with the exception of one on Route 199.

"The highest number of fatal accidents on any stretch of highway was on the 101 going through the town of Weott, where I happen to live," said Barbara Kennedy, a CRTP spokesperson. "But there were also very high rates on 101 in Arcata and Fortuna, on Routes 20 and 29 in Lake County, and in a number of other places."

"What's really an outrage is that for years Caltrans has been pushing these oversized truck access projects in Richardson Grove and on Highways 197 and 199 and calling them safety projects," Kennedy continued. "It turns out these projects are not actually targeting the dangerous parts of our highways. Anyway, Caltrans has given themselves exemptions from their own safety design standards to build these projects which will bring in more big, dangerous trucks. How can you call that safety? We challenge Caltrans to cancel Richardson Grove, cancel 199, and put the money toward real safety projects."

The group did find that one of the spots targeted by the Highway 197/199 project fell in a dangerous stretch of road, but the actual boundaries for the construction did not include the locations of any of the fatal accidents. "Maybe the most striking thing we found is that there have been very few safety projects designed or constructed by Caltrans on the most hazardous road segments in District 1," said Colin Fiske, CRTP's campaign coordinator. "Caltrans recently updated its mission statement, and 'safe' is now the very first word used to describe the kind of transportation system they say they want to provide. But with only a few exceptions, mostly in Arcata, Caltrans apparently isn't doing anything to try to make these dangerous areas in District 1 any safer. We hope that changes in the near future."

For more information about CRTP and to read a copy of the report, visit www.transportationpriorities.org.
And here's the response from Caltrans:
Caltrans' number one priority when delivering a project, implementing roadway improvements, or maintaining the state highway system is the safety of the public.

Whenever there's a collision on a state highway, a collision report is completed by the California Highway Patrol and logged in their Statewide Integrated Traffic Records System (SWITRS). Caltrans analyzes this information and uses it to determine areas where safety improvements may be needed. When looking at collision statistics, it's important to take into account the cause of these collisions. Was the victim speeding? Were they under influence of drugs? Were they under the influence of alcohol? Were they disobeying any traffic laws? While the raw number of fatal collisions may sound high in a given area, there are often other factors in a collision; driver behavior plays a major part in not becoming a statistic.

When we notice a concentration of collisions in an area, these are all things we look at to determine if a safety project can be implemented. Safety projects use different sources of state funding that do not follow the typical funding cycles and are implemented completely separately from our major construction projects. For example, if drivers have been losing traction on a curve during rainy conditions, we look at adding a high-friction surface treatment to the pavement that improves traction. If there's a significant number of speed-related collisions that involve vehicles leaving the roadway at a curve, we put in radar feedback signs (the ones that tell you how fast you're traveling) or put in an advisory sign telling drivers to slow down for the curve ahead.

The projects at Richardson Grove and on Routes 197 and 199 are not safety projects in-and-of-themselves; those projects propose to realign the roadway to accommodate industry-standard commercial vehicles (defined in the Surface Transportation Assistance Act of 1982) and to improve the safety of the roadway for all users. Presently, if two standard commercial trucks were to ignore the California legal truck length restriction in place at Richardson Grove, they would not be able to safely pass each other in the Grove. The geometry of the roadway simply does not allow the trucks to travel the roadway in that location without crossing into oncoming traffic or colliding with each other. This puts other motorists in harm's way, and could cause a multi-hour closure of the North Coast's vital lifeline to the Bay Area and the rest of California.

We'd like to encourage the public to check out some of the project information up on our website. In addition to the projects cited by CRTP, we have many other current or proposed improvements within our district that prioritize safety first in the most sustainable, integrated and efficient way. It's also important to note that different types of improvement projects we take on are connected to different funding sources, so canceling one project to focus on another — when they each have different purposes — is [a] very simple matter of comparing apples to oranges.