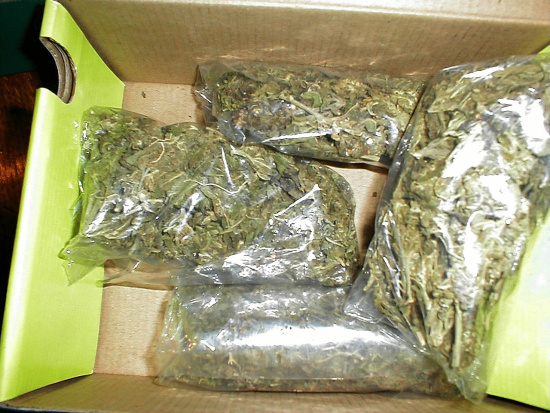 There was much rejoicing (and probably some teeth-gnashing) last week when Governor Jerry Brown signed a trio of bills to regulate the medical marijuana industry in California, but as North Coast Assemblymember Jim Wood noted, none of the three bills address a major stumbling block for the industry: it's lack of access to banks or credit unions.
Since marijuana is still classified as a Schedule I Controlled Substance, financial institutions can't take deposits or cash checks or offer other run-of-the-mill banking services to growers or dispensaries without risking federal prosecution.
So on Friday, in the final hours of the legislative session, Wood introduced a bill (sponsored by Second District Board of Equalization member Fiona Ma) aimed at changing that. The bill won't be discussed by the Legislature until next year's session, but Ma's office says it will offer a starting point for discussions on the issue.
Here's a press release from Ma's office with more:
[Last Friday], Governor Edmund G. Brown Jr. signed a trio of bills, AB 266, SB 643, and AB 243, regulating the medical marijuana industry in California. With the signing of these bills, California is finally stepping up to the plate to regulate an industry that has operated without a regulatory framework for nearly twenty years. While State Board of Equalization (SBOE) Board Member Fiona Ma and Assemblmember Jim Wood (D-North Coast) applaud this historic effort and thank the Governor's administration for their leadership, the issue of banking remains unaddressed.

In a rare parliamentary procedural exception, Assemblymember Jim Wood introduced a bill in the final hours of the regular 2014 Legislative session on Friday, September 11, 2015. Sponsored by Board Member Ma, Wood authored AB 1549 to address the urgent matter of the lack of banking opportunities for the legal cannabis industry in California.

"Forty-three states today allow some form of legal cannabis or hemp access under state and/or local laws. However, not one state allows individuals access to banks or credit unions which creates a huge safety concern when millions of dollars remain unbanked on our streets, homes, and businesses," stated Assemblyman Wood.

"Our currency still says 'this note is legal tender for all debts, public and private' and yet we are still forcing cannabis businesses to use cash-only in a digital world," stated Board Member Fiona Ma. "By failing to conform our laws with their business needs and not allowing access to bank accounts, we are creating a whole society of third-class citizens."

California led the nation by passing Proposition 215: The Compassionate Use Act in 1996. In summary, Prop. 215 requires the creation of nonprofit cooperatives that would register with the State Board of Equalization (SBOE) and pay sales taxes on products sold. Last year, the SBOE collected about $44 million dollars of sales tax from the licensed Medicinal Cannabis Dispensaries (MCD) representing about 25% of the MCD's in operation in the State of California.

However, given the federal government's classification of marijuana as a Schedule I Controlled Substance, banks and credits unions cannot provide banking services to medicinal cannabis operations without risking the threat of criminal prosecution. This remains true even if financial institutions follow the federal guidance issued by the Department of Justice and Department of Treasury, via the Financial Crimes Enforcement Network ("FinCEN") which oversees Bank Secrecy Act compliance. For those financial institutions willing to take on the enhanced compliance for banking cannabis, they face an additional threat of risking their eligibility to participate in the Federal Deposit Insurance Corporation (FDIC) or National Credit Union Administration (NCUA), which guarantees deposits for credit unions similar to the FDIC's guarantee for bank deposits.

This has the effect of forcing medicinal cannabis operations to remain strictly cash operations, making compliance and enforcement of California tax law significantly more difficult. Furthermore, medicinal cannabis operations do not have access to checking accounts, ACH transactions or credit lines to finance their day to day operations or opportunities to expand. The all-cash nature of MCD operations includes employees, which exposes them to liability for federal and state tax withholding errors, and prevents them from participating in the Social Security program.

Finally, because the medicinal cannabis industry operates on a cash basis, employees, patients and neighborhood residents are at greater risk of violent crime.

In July, the U.S. Senate Appropriations Committee voted 16-14 to allow cannabis operators access to the federal banking services. This historic vote was on the heels of the Federal Reserve System denying Master Account status to a newly formed compliance-based credit union in Denver who was prepared to bank the now-legal cannabis industry in Colorado. The credit union has since filed a lawsuit demanding "equal access" to the payments system.

On July 31, 2015, State Board of Equalization Member Ma convened a banking stakeholder meeting in Sacramento. "The consensus from this meeting was that until the federal government affirmatively addresses many of the conflicting federal and state laws, California needs to step up and find a creative and feasible legislative proposal to bank the unbanked in our state," said Board Member Ma.

State Board of Equalization Member Ma and Assemblyman Wood's move has the support of the financial services community. "In order to continue serving our customers and for the sake of the security of our community, people who work in credit unions and banks need to have a place at the table to ensure any laws and regulations are feasible," stated Janet Sanchez, Senior Vice President of Community Credit Union of Southern Humboldt. "This will make sure financial institutions are willing and able to participate."

The introduction of this bill has captured the interest and support of Congressman Ted Lieu. "I commend Board of Equalization Member Fiona Ma and Assemblyman Wood for working to provide banking access to cannabis businesses and consumers. I am a cosponsor of HR 2076 in Congress to provide banking access to marijuana-related businesses. I look forward to working with my colleagues at the federal and state level to ensure we update our state and federal banking laws to allow cannabis providers and consumers the full range of financial access," states Congressman Lieu.

This bill is the starting point for discussions amongst stakeholders and will be heard in committee early next year when the Legislature reconvenes.