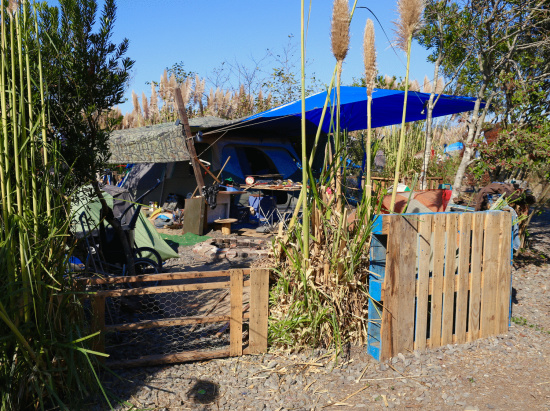 The Eureka City Council will once again take up the thorny issue of how to manage the city's waterfront greenbelt at its regular meeting tomorrow night, as city staff bring an "open space property maintenance plan" for the site of the region's largest homeless encampment back to the council for a vote.
The maintenance plan — which would take a zero-tolerance approach to camping in the Bayshore Mall area of the greenbelt — was previously on the council's agenda, in a slightly different form, back in September. But the council decided to table the matter when a related item, which would have allowed police to confiscate the personal property of campers, went down in flames after hours of debate.
Miles Slattery, the city's director of parks and recreation, told the Outpost that the plan is coming back before council not as an anti-homeless ordinance, but as a tool necessary for the city to manage its own property. If the conditions of the greenbelt were on private property, Slattery said, the city would be issuing abatement orders to clean up the mess. The management plan will allow the city to clean up its own property.
"It is extremely critical we have this out there," Slattery said, "I think we can all agree that the houseless are members of our community, and we can all agree that all members of community should be treated equally. And that goes both ways."
The current proposal — full text here — will likely not be as controversial as the council meeting last month. Though it does reiterate the city's position that all camping on city public space is illegal, the proposed plan specifically notes that camping on the northern end of the greenbelt, near the foot of Del Norte Street, "will not be aggressively enforced." The city hopes to place portable toilets near this quasi-sanctioned zone for the use of people who pitch their tents there.
But camping behind the mall will be strictly prohibited, presumably subject to regular police patrols and arrests, and even in the "less enforced" area by Del Norte city staff hope to ban semipermanent structures — those involving "building materials," "plumbing fixtures" or "large tarps fixed to trees."
The Eureka City Council meets tomorrow night at 6 p.m. in City Hall — 531 K Street, at the corner of Fifth.
PREVIOUSLY: