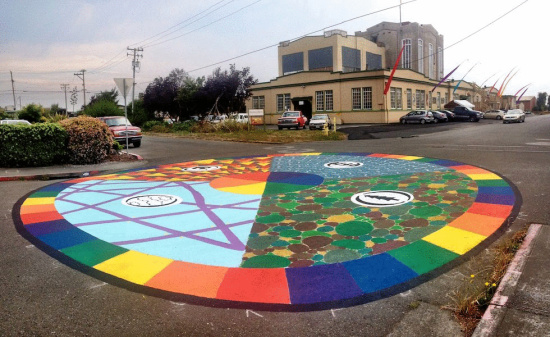 The Arcata City Council unanimously voted to adopt the Creamery District Combining Zone Ordinance at tonight's meeting.
The ordinance, which will go into effect in 30 days, loosens land use regulations within the Creamery District — an old industrial zone undergoing urban renewal — allowing for an influx of new business, including restaurants, bars, retail stores and healthcare offices.
Arcata Director of Community Development Larry Oetker told the Outpost that several restaurants and a dental office are already pursuing business permits for the area.
"We think there's been quite a bit of excitement generated by this," Oetker said.
The recently paved Humboldt Bay Trail also runs through the district, which the city sees as a suitable area to develop pedestrian-oriented businesses.
"This new trail is kinda like a new road," Oetker said. "So can we get pedestrian-oriented development right along the trail."
The city anticipates these new businesses will bring in additional revenue from sales and property taxes.
The new zoning is broken up into two areas. Area A is considered by the city to be the heart of the Creamery District. This area's development standards will reflect the same commercial zoning standards as downtown Arcata. This means no parking or landscaping requirements, and buildings can extend to the edge of the property lines.
"This is a huge change," Oetker said during the Oct. 7 City Council Meeting.
Area B will undergo what the city refers to as a "transitional phase." New developments in this area will still adhere to industrial zoning standards.
Area A is currently split by a Coastal Zone boundary south of 8th Street. This portion of the Coastal Zone is still included in the rezoning process. However, the Coastal Commission will need to approve the changes before commercial zoning development can begin.
"[Coastal Commission approval] takes a while, but we're not going to wait for that," Oetker said. "We're pressing on."