UPDATE, 10:56 a.m.: The snake is now at the Humboldt County Animal Shelter: (707) 840-9132.
###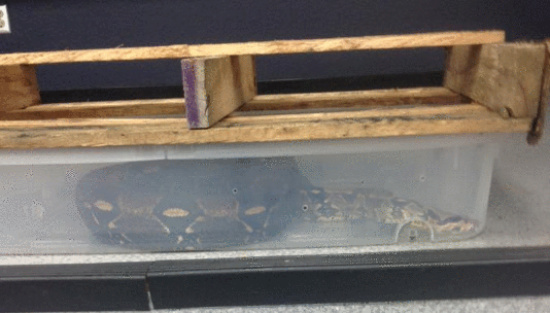 [Note: The team of zoologists who haunt LoCO's comment section are convinced this is a boa, not a python as we guessed initially. We are going to assume they are correct.]
Wallet? Check. Car keys? Got 'em. Slithery, 8-foot-long reticulated python snake? D'oh! You forgot something!
If you somehow lost this giant pet snake — it was found in the backyard of a house on Buhne and S streets — your walk of shame will take you to the Eureka Police Department this morning. There, officers have stored your beloved in a large plastic bin as evidenced by the photo they sent out this morning. Also, because EPD are obviously terrified of snakes, note that they've set a wooden pallet on the lid to make sure this fella doesn't slip out again.
Go get your snake, citizen! Call EPD at 441-4060 if this is yours.