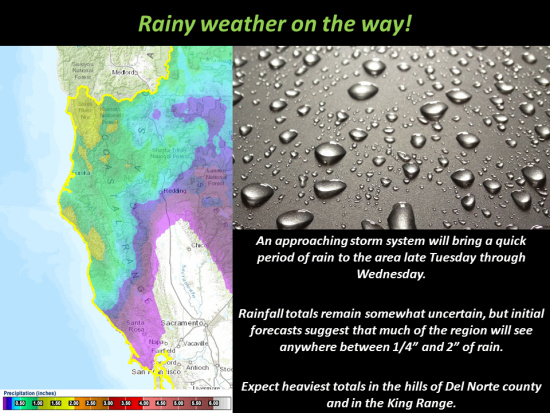 As lighting fires continue to burn throughout the Emerald Triangle, much-needed rain clouds are expected to reach the Northwest by Tuesday.
Firefighters are still battling several fires throughout Humboldt, Trinity, Del Norte and Lake counties. However, as the flames become increasingly contained, many firefighters are switching to fire-suppression repair and burned area emergency response.
Although showers are expected to dampen some of the existing fires, the U.S. Forest Service shared a press release today, warning that charred earth heightens the risk of flooding and landslides.
"Wildfire increases the potential for flooding, mud and debris flows that could impact campgrounds, fishing areas, homes, structures, roads, and other infrastructure within, adjacent to, and downstream from the burned area," the press release reads. "Summer thunderstorms and winter rain events in the Northern California mountains can bring heavy rain storms. Residents and visitors should remain alert to possible flooding when traveling along roads downstream from the burned areas of the recent Northern California wildfires."