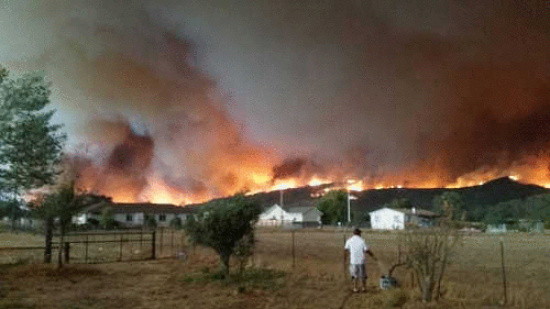 A 50,000-acre fire burning along the border between Lake and Napa Counties, has claimed hundreds of homes and hospitalized four firefighters with second degree burns, the LA Times and Lake County News report.
The Valley Fire ignited Saturday afternoon near the town of Cobb and spread quickly, burning in a southeast direction toward the communities of Middletown and Hidden Valley Lake.
The blaze forced residents to evacuate the communities of Cobb, Seigler Canyon, Loch Lomond, Middletown and Hidden Valley Lakes.
Hwy2 side of Jefferson st… Almost every home on this side gone. Last 3 homes near cem still standing #ValleyFire pic.twitter.com/PVKFAmn9RB

— Gadi Schwartz (@GadiNBCLA) September 13, 2015
The explosive wildfire has prompted Gov. Jerry Brown to declare a state of emergency. Social media posts by NBC 4 reporter Gadi Schwartz, like this video of Middletown's Main Street fully engulfed in flames, show the destructive force of the fire.
Main Street Middletown is burning. #ValleyFire pic.twitter.com/warvtI2f61
— Gadi Schwartz (@GadiNBCLA) September 13, 2015


According to Calfire, 1,000 firefighters have been dispatched to the location and the fire has no level of containment.