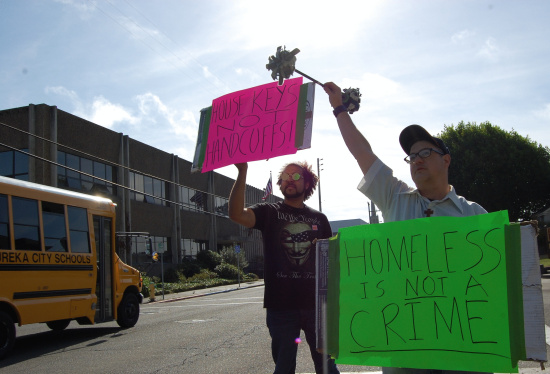 After hours of deliberation that lasted until 11 p.m. last night, the Eureka City Council voted to table the controversial "Storage of Personal Property in Public Access Ordinance" until January.
The ordinance was designed to ease city cleanup efforts in the "Devil's Playground" encampment along the Eureka Marsh by permitting authorities to confiscate and "store" personal items belonging to the homeless people who camp there.
The introduced legislation drew criticism from many Humboldt County residents who protested outside City Hall and lined up by the dozens to speak publicly at the meeting.
Many residents also spoke in favor of the ordinance, drawing notable back-and-forth chatter from the packed house.
After more than an hour of charged public comments, the City Council seemed unable to reach an agreement on how to handle the ordinance.
Several council members found the language to be confusing and pointed out that the ordinance wasn't a permanent solution to removing homeless people from the marsh. Councilmember Linda Atkins vehemently opposed the ordinance on the grounds that it was a waste of time and an improper solution to the homeless problem in Eureka.
"They're not going to leave town magically," Atkins said. "We can't enforce our way out of it. We don't have the resources."
PREVIOUSLY: