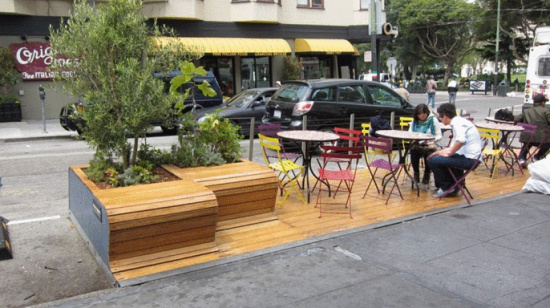 A parklet in San Francisco. Photo courtesy City of Eureka.
The City of Eureka is getting ready to build four itty-bitty — as in parking-space-sized — parks, known as "parklets," in Old Town. What on Earth is a parklet, you ask? Eureka officials explained the concept in this month's eNewsletter:
[A] "Parklet" is a mini-park (approximately 8 feet wide by 20 feet long) that occupies one on-street parking space in order to provide space and amenities for public recreation or seating for private businesses.
The concept evidently originated about five years ago in San Francisco as part of the City by the Bay's "Pavement to Parks Program," and in the years since parklets have sprung up in cities as far flung as Philadelphia, Vancouver, Dallas and Puebla de Zaragoza, Mexico.
Here's one in Ivano-Frankivsk, Ukraine: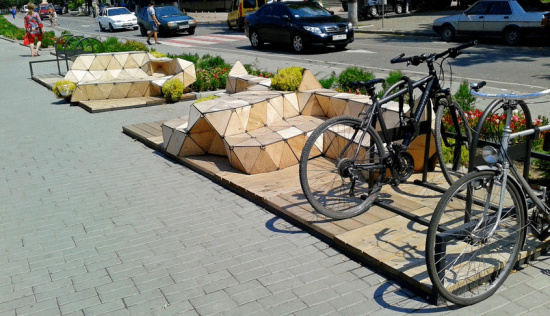 Wikipedia.
And here's one in Vancouver: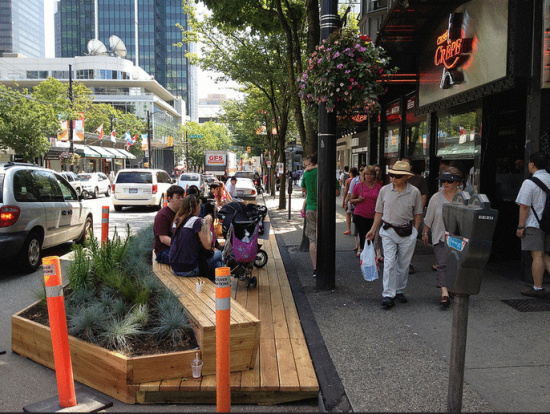 Now Eureka is looking to explore this concept with a pilot study, setting up a few of the mini-parks on a trial basis. City officials asked for proposals from local businesses, thinking they'd accept three of the proposals. But only four businesses submitted proposals, and a Parklet Selection Committee liked all four of them. So the City Council agreed to expand the pilot study to four sites.
Those four site are:
A Taste of Bim, an upscale Caribbean style bistro scheduled to open later this month at 613 3rd Street
Ramone's Bakery, 209 E Street
Humboldt Bay Tourism Center, on G Street near the corner at 2nd Street
The Siren's Song Tavern, 352 2nd Street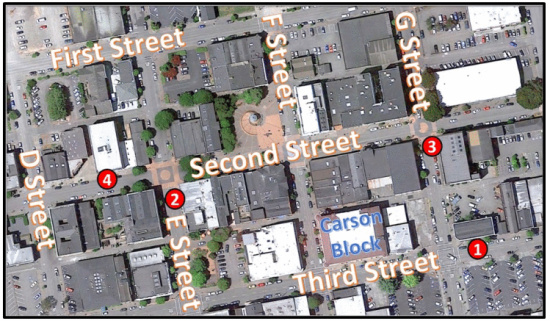 The owners of those four businesses are working through the permitting process. Construction is expected to start mid-September, and Eureka's parklets could be ready to host local diners by early October.
Here's a street-level look at the four sites: