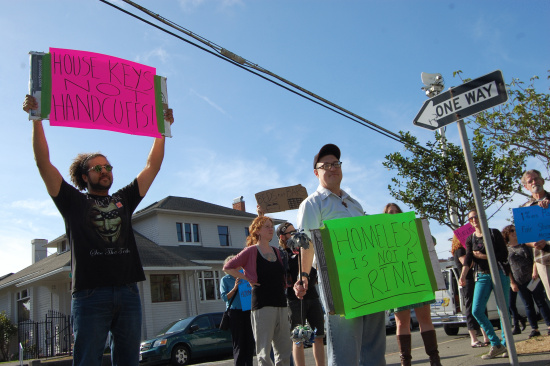 One thing the Eureka City Council was able to agree on last night regarding the controversial homelessness ordinance was that none of the members want to sit through another two hours and forty minutes of public comment.
The "Storage of Personal Property in Public Access Ordinance," which was nearly voted down last night, was tabled until January. The decision was introduced by City Attorney Cyndy Day-Wilson and unanimously voted upon by a divided City Council.
"If we reintroduce it, we'd have to go through public comment and everything again," Day-Wilson said. "That's why I suggested tabling it. Because we've already had public comment and we can work on it."
Councilmember Linda Atkins vehemently opposed the ordinance because it did not resolve where the homeless people would go once they were removed from the Palco Marsh.
"We can bring it back anytime we want, right? I don't want to table it because I believe this is fundamentally wrong," Atkins said. "Until I hear the solution to not moving people around, that's my bottom line. Every time there's been a cleanup or a sweep, we say 'oh, this is not a sweep,' but it's a sweep. You push people here and they go over there, because there is no place else for them to go."
Confusing ordinance language still allowed for "Devil's Playground" residents to return in the evening to erect tents, and did not address any solutions to where the people would go during the day. It also permitted authorities to confiscate their belongings and "store" them in tubs, which could be identified and retrieved at a later time with photos of what was inside the tubs.
Director of Parks and Recreation Miles Slattery made a presentation at the meeting. He explained that cleanup crews had removed 67 tons of illegal dumping in a nine-week period. Among other items, the department found 200 shopping carts, 150 tires and 300 hypodermic needles. As a result of the waste, the city has received three complaints from the Environmental Protection Agency in the past year regarding waterfront conditions.
Steven Lawrence-Tyson, who has lived in the Palco Marsh since May, protested the ordinance outside City Hall and spoke publicly at the meeting.
"Basically, we're here to stop them from taking our stuff and forcing us out with no place to go," he said. "You can't expect us not to be homeless by moving us from this spot and taking all our stuff away."
Councilmember Melinda Ciarabellini addressed Lawrence-Tyson after public comments had concluded.
"For the guy who said he was a resident of the Palco Marsh, no. I'm sorry, but you are not entitled to live there," Ciarabellini said. "It's a public nuisance, and a health and safety hazard."
The marsh has caused the city legal trouble in the past. About 10 months ago, the courts awarded a $400,000 settlement to a woman injured in the marsh behind the Bayshore Mall. The cost was covered by the city's insurer, the Redwood Empire Municipal Insurance Fund. However, REMIF's board wrote a letter to the City Council yesterday, informing them that if no action was taken to prevent future liability, they may vote to remove coverage at this site for any future losses.
Day-Wilson read the letter aloud at last night's meeting.
"During the trial it was reported that the structure was in deteriorating condition for many years," the letter read. "It is unclear to the REMIF Board what the City had done to eliminate this hazard and what steps if any have been taken to avoid future exposures. The REMIF Board is requesting a report outlining what action the city of Eureka has taken to address the deteriorating structure and its potential liability. The board expects the city to be proactive in removing the hazard and risk at this site."
Despite potential financial liabilities, the board seemed unwilling to pass the ordinance until a housing solution can be reached. Several councilmembers continually referred back to a focus strategy report that the city will receive next month that may offer permanent solutions to the problem. A soft-spoken Mayor Frank Jager briefly addressed the ordinance at the end of the debate.
"I think we can tell REMIF to be patient," Jager said.
Councilmembers Natalie Arroyo and Kim Bergel said they were concerned with the environmental health of the Palco Marsh, but both agreed that action could not be taken until there was a clear solution.
"I can't support introducing this today because it just doesn't make enough sense," Arroyo said. "The pieces are not falling into place, but I think we need to keep this conversation going. I'm just not interested in seeing this back until we have viable alternative and then I think we can cleanup the marsh to our heart's content."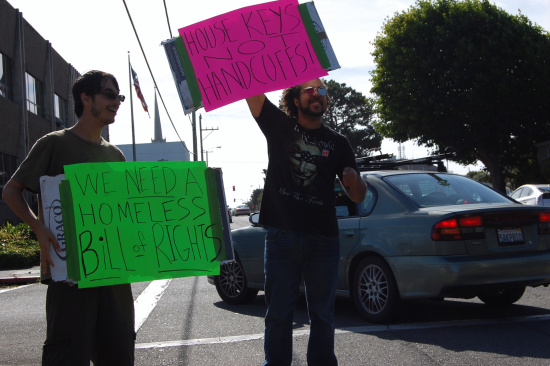 PREVIOUSLY: