UPDATE, FRIDAY MORNING:
###
UPDATE, 6:20 p.m.: Humboldt County will probably have no AT&T Internet/phone/TV/whatever service until tomorrow morning, says Assemblymember Jim Wood:
Just off phone with AT&T. Repairs underway some customers are back online full service restored by early tomorrow morning. Questions remain

— Jim Wood (@JimWoodAD2) September 4, 2015
###
UPDATE, 4:25 p.m.: Well, here is an interesting turn of events! It seems that some AT&T customers are more equal than others, and they have not gone offline at all today. Check the following series of tweets from Friend o' the LoCO @GregGehr:
NOt all AT&T is down in Eureka. This is the speed on my dedicated fiber from AT&T, FASTER than it has ever been! pic.twitter.com/3jjz6oWWGW

— Greg Gehr (@GregGehr) September 3, 2015
So why is @ATTBusinessCare down for Cell phones, and DSL, but NOT fiber connections in Humboldt County???

— Greg Gehr (@GregGehr) September 3, 2015
Is @ATTBusinessCare only giving access to redundant fiber to high volume business customers instead of sharing with everyone?

— Greg Gehr (@GregGehr) September 3, 2015
The answer to that question seems to be "Yes. Yes, it is."
If you need a second data point: Friend o' the LoCO Patrick Cleary tells the Outpost that AT&T service to the Humboldt Area Foundation out on Indianola Road has been just fine all day long. Nary a problem. The Area Foundation, Cleary confirms, likewise has its own dedicated fiber from AT&T.
So some Humboldt County AT&T customers get to keep their Internet and phones today, despite the fiber cut in Hopland.
How does that work? Follow along, here. We're going to theorize. Let's agree on a couple of principles.
The north-south fiber optic connection — the one that was cut today — is owned by AT&T.
The east-west fiber optic connection — the "redundant fiber," the cable that was completed in 2011, the one that state taxpayers spent $5.7 million to help finance, the one that promised to forever end days like today, in which not only everyday customers but governmental agencies and banks and all sorts of commercial enterprises lose their connection to the outside world — that line is not owned by AT&T. AT&T has to rent bandwidth on that line if it wants to provide redundancy for its customers on days like today.
You and I and the rest of Humboldt County's peons have no Internet (if we get Internet through AT&T). Local high-rolling AT&T customers do.
If AT&T's line has been severed in Hopland, the high-rollers are not getting boss Internet speeds via that route right now.
The above four bullet points are incontrovertible facts. Let us now hypothesize.
Could it be, as @GregGehr reckons, that AT&T leases space on the east-west line to keep its high-rolling, more-than-$1,000/month customers juiced up, while telling the rest of its customer base to go pound sand?
It's an interesting theory, isn't it?
We'll leave you, for now, with the following message from the Fortuna Police Department. Safety first!
###
UPDATE, 1:20 p.m.: Paul Ramey, a staffer for Assembleymember Jim Wood, replies to the Outpost's query about the failure of our redundant fiber line to kick in:
We do not know at the moment. We have calls in to the Governor's Office of Emergency Services and to AT&T, trying to figure that out. We will keep you posted as soon as we learn something.
###
UPDATE, 1:10 p.m.: So we all seem to be consensing on the idea that the fiber was cut, somewhere in Hopland. State Sen. Mike McGuire has tweeted this; Assemblymember Jim Wood's office verifies it in the LoCO Country Club (below).
But this leaves us with questions. First: What of the other AT&T outages reported elsewhere in the state and nation today? Second, and most importantly: What the damn hell about our redundant fiber? Wasn't this never supposed to happen ever again?
We have questions in to McGuire's office and Wood's office, since they seem to be the people with the most firsthand knowledge of the situation at this point. As yet, we have not heard back. We will tell you what they tell us, if and when we hear from them.
Meanwhile, we pass this message on to our Mendocino County readers, via the National Weather Service:
###
UPDATE, 12:05 p.m.: Say what? Sen. Mike McGuire is saying that this was a fiber optic line cut…
Fiber cable has been cut impacting Mendocino and Humboldt Counties affecting landline & wireless phones. This includes 911 service. More…

— Mike McGuire (@ilike_mike) September 3, 2015
911 service being rerouted. Phone company on scene, working on fix. Let us know if you have been impacted. We're working with phone company.

— Mike McGuire (@ilike_mike) September 3, 2015
The fiber cut happened in Hopland. Reports from thru out North Coast of impacted land line & cell service. Crews on scene now.

— Mike McGuire (@ilike_mike) September 3, 2015
Which would explain why only the North Coast is whining about down Internet, but not why other regions of the state and nation seem to be out as well — at least according to the downdetector.com map. We're asking McGuire what else he knows….
###
UPDATE, 11:30 a.m.: We're feeling a little bit all alone out here. For whatever reason, there seems to not yet be any notice of the outage in the areas in red to our south. Twitter, Google News — everyone is silent on the Great AT&T outage except Humboldt County. And AT&T has not released any information yet.
Sheriff Mike Downey and Eureka Police Department Captain Steve Watson tell us that 911 services are still working fine, though a visitors' organization on the Mendo Coast reports problems with emergency services communications:
But some government non-emergency lines are problematic. Sheriff Downey had to borrow Undersheriff Bill Honsal's (non-AT&T) cell phone to ring us up.
Many local businesses are unable to process credit cards at the moment, and some ATMs are down. Lunchers beware.
All told, the North Coast seems to be out all the way up the line.
###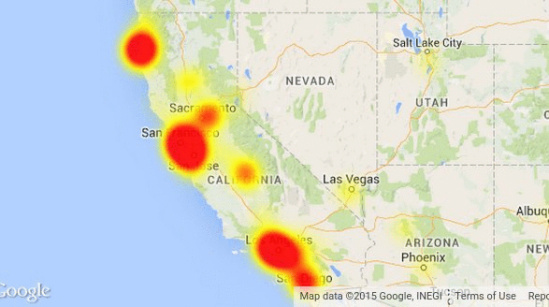 No, it's not just you! And it's not just Humboldt!
There seems to be a nationwide AT&T outage happening right now, according to the zillions of folks who complain to downdetector.com.
No word on why yet. We will update.