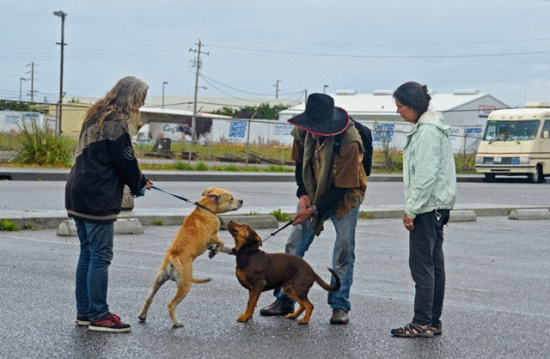 We see them on street corners and hitchhiking on 101. Those poor dogs! we say. But street people love their dogs, too. And a bunch of them showed up in the rain this week to get some veterinary attention and free vaccinations when the good people from Redwood Pals Rescue and Healing Spirit Animal Wellness Center set up at the foot of Del Norte Street at the north end of the Palco Marsh.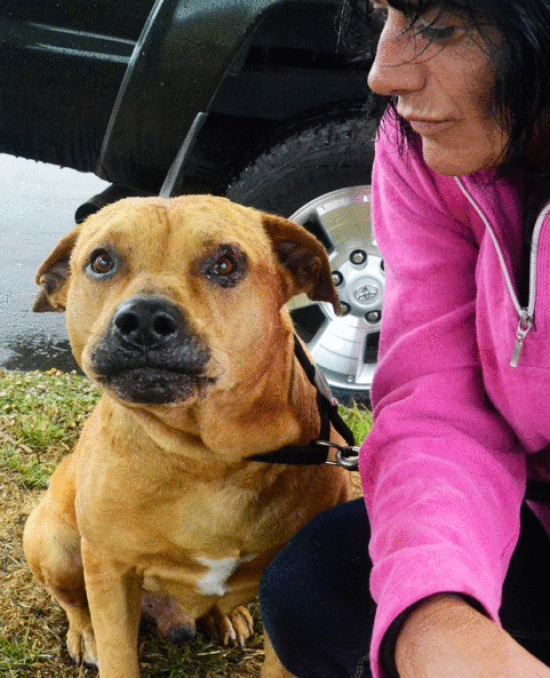 Mara Segal and Jim Marlatt of Redwood Pals organize these occasional vaccination clinics, and veterinarians Sarah Green and Bill Wood bring the medical expertise to homeless hounds and their humans, many of whom camp along the Palco Marsh waterfront in Eureka between Del Norte and the Bayside Mall. The word goes out, and Trixie and Bearsley, Bandit and Baby Girl come out with their humans to see the vets and get their shots.
Del Norte goes past the Renner fuel terminal and an old warehouse to dead-end at the shore. At the small parking area and public park on bay, Segal and Marlatt set up an awning just as the rain pelted down on Wednesday afternoon. There are tents and tarps in the scrubby bushes and trees south of the parking area, and as soon as the vets were set up, people started coming out with their dogs.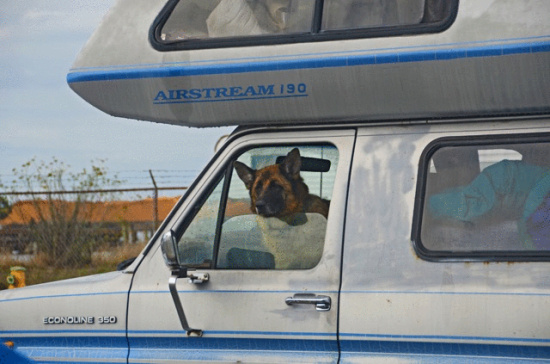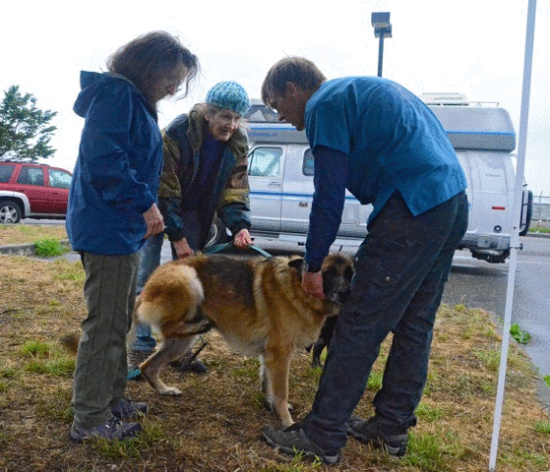 A woman in an old van camper was already parked there, and she brought out her older German Shepherd for shots. Meanwhile, JeriAnn approached from across the parking area with Max and Baby Girl, who needed their shots. Others wanted flea treatments, and some had medical issues that the vets couldn't treat at the clinic. Debbie brought in her friend's dog, Brodie, a friendly pit bull mix with bad skin problems on his face, back and belly. Donations to Redwood Pals will pay for Brodie to be neutered, and for treatments of his rashes, Segal said.
Nannette, who Segal says is practically a member of Redwood Pals, helped get the word out about the free dog clinic. Her cute little terrier, Trixie, greeted other dogs and mugged for the camera. Trixie was the first camper dog that Redwood Pals arranged to get spayed, Segal says.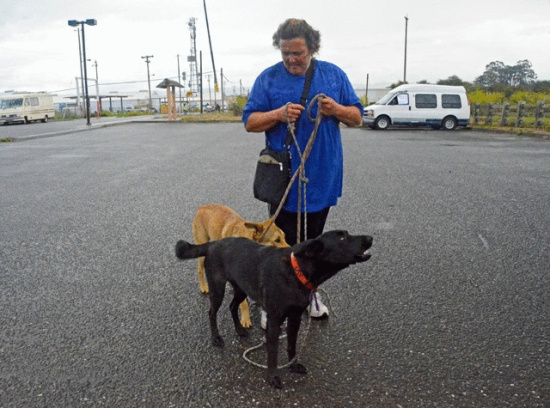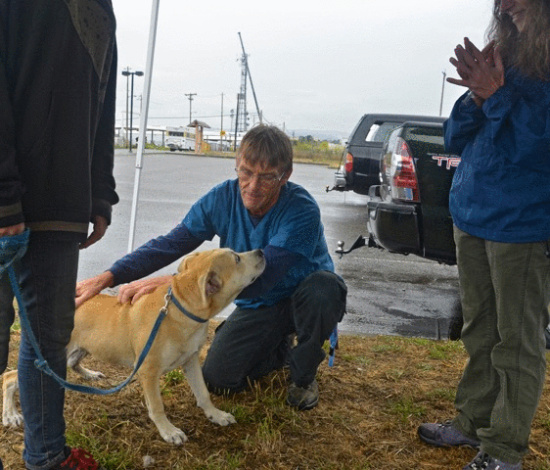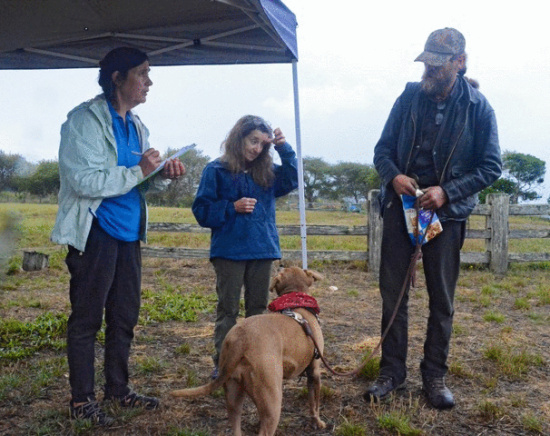 Kentucky, a tall, thin bearded man was carrying a bag of chocolate chip cookie snacks for Ruby, a friendly pit bull sporting a red bandana. Kentucky rode off on his bicycle with Ruby riding in style aboard a small cart behind the bike.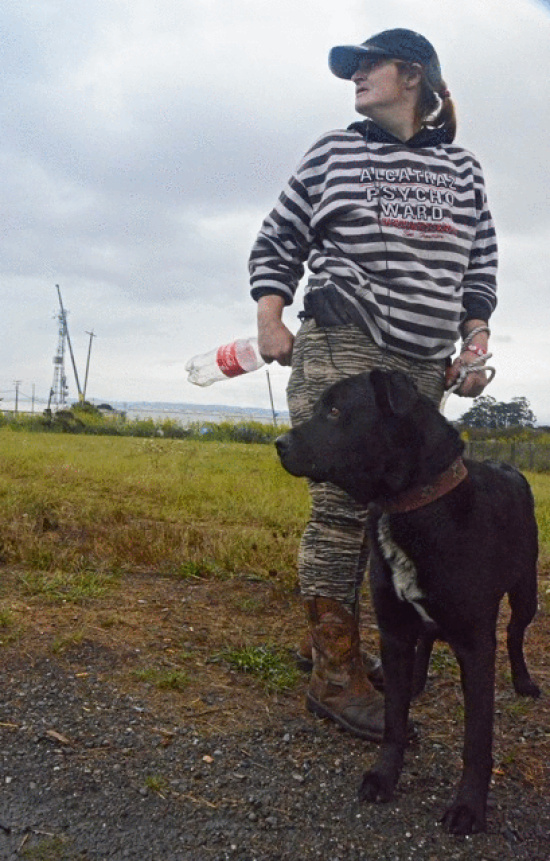 In all nine people came out and 10 dogs got treatments. The volunteer vets treated twice as many dogs during Redwood Pals' first vaccination clinic earlier in the summer. The rain kept people in their tents, Nannette said.
Meanwhile, the Eureka City Council is considering establishing a firm date for people camping in the Palco Marsh to move out, and the Eureka police said last week that camping will no longer be permitted in the area directly behind Bayshore Mall, although apparently camping will continue in the woods north of the mall to Del Norte Street, where most of the people and dogs who came to Wednesday's clinic live.
At the end of the two-hour clinic, the sun finally broke through as Marlatt and Segal broke down their awning, and vets Wood and Green packed up their medical supplies. McKinleyville-based Redwood Pals Rescue (707-839-9692) is an all-volunteer organization dedicated to support rescue and adoption efforts of animals that are at risk in the Humboldt County Animal Shelter, in addition to outreach efforts like the vaccination clinic. All its activities, including boarding animals at the Shelter, medical care and transport of rescued dogs to foster homes, are supported by donations (here are links to Redwood Pals' site, Facebook page and email). Healing Spirit Animal Wellness Center (Facebook page), at 7650 Myrtle Ave. in Eureka, focuses on integrative veterinary care.