---
Three Bay Area Abalone Divers Reported Missing, Later Located Near Albion River Mouth
---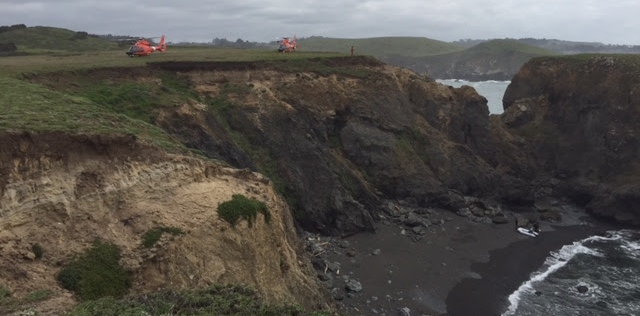 Mendocino County Sheriff's Office press release:
On 4/12/16 at about 1233 hours, a person called the Mendocino County Sheriff's Office to report that he had accompanied three acquaintances from the San Jose area to Albion to dive for abalone. His three friends had left northbound out of the Albion River bay in a very small inflatable boat, saying they would return in two hours. The reporting party said that he had intended to accompany them in the boat, but did not think it prudent due to the rough sea conditions.

The divers did not return on schedule and the friend became concerned and called 911. This search was managed by Albion Volunteer Fire Department, with Mendocino County Sheriff deputies, the Mendocino Volunteer Fire Department, U.S. Coast Guard, California Department of Fish and Wildlife also assisting in the search.

A U.S. Coast Guard helicopter located the three men and their vessel, uninjured, stranded on a secluded beach in a bay just north of the Albion River mouth. The three men's vessel had become disabled and they were unable to climb the steep bluff. Rescuers were able to assist the men off of the beach and remove their boat. The men were in good health and were released to Wardens of the California Department of Fish and Wildlife for investigation into their fishing activities.
---
SHARE →
---
---