Footage provided by a LoCO reader.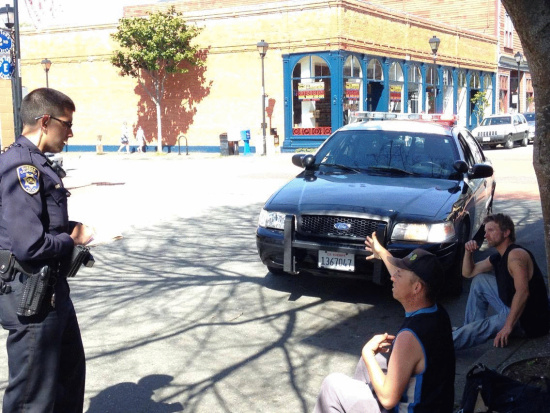 A brief scuffle broke out between a Eureka shopkeeper and a transient near the Old Town gazebo around 3:30 p.m. today.
The fight began after the shopkeeper tried to chase off two transients for smoking near his store. One of the transients picked up a frisbee belonging to the man's dog, and hurled it into the street in retaliation.
The man then charged the transient in an aggressive manner, and a scuffle broke out between the two on a traffic island on Second Street. The shopkeep was punched in the face several times during the incident, and suffered a swollen left cheek and some marks on his right eye.
A Eureka Police Department officer who was dispatched to the scene told the Outpost that the shopkeeper often hassles the transients in the area, and that he was requesting officers charge his attacker with assault. However, because the shopkeeper seemed to instigate the incident, officers were hesitant to charge the man with assault.
Video footage taken after the original skirmish, shows the transient taking a couple of jabs at the man and slapping him repeatedly with the sleeve of his jacket as the shopkeep continues to agressively move toward him.
The shopkeeper told the Outpost that he didn't want to fight the man. He insisted that he just wanted to keep smokers away from his store to avoid losing customers.
A crowd formed as the two continued to exchange words with one another. Some onlookers pulled out their phones to film the skirmish while shouting "world star!" — A reference to a popular website where fights are often posted.
"That dude's a weenie," the transient told a witness on video as he walked away from the scene.
Watch more footage of the incident below.
Opposite-angle footage shot from behind a light pole in cowardice. Video by LoCO reporter John Ferrara.
Footage taken of the shopkeeper hassling a vagrant and skateboarders at the gazebo earlier in the day.