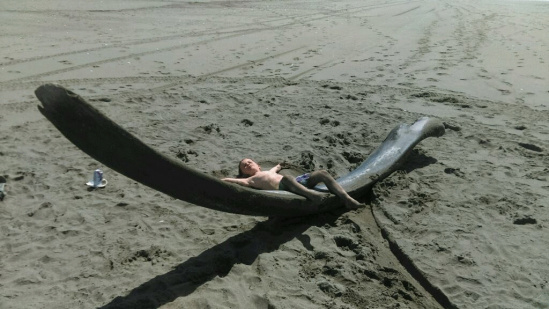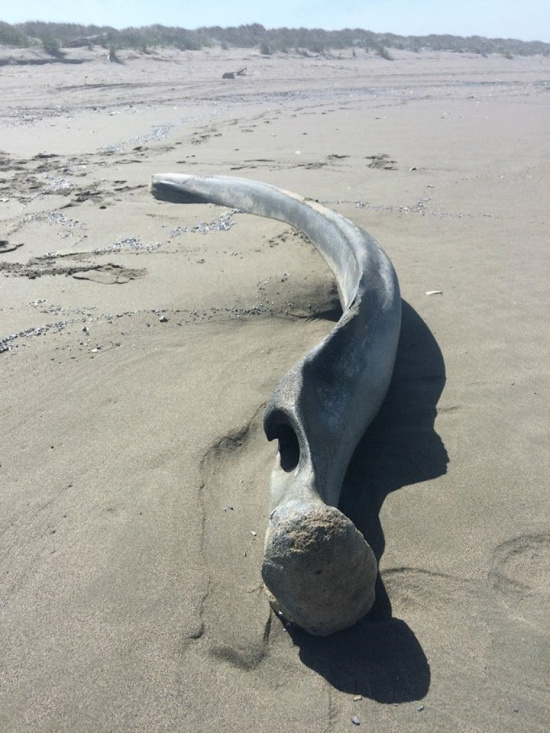 Whale, hello there.
A whale bone the size of an NBA superstar recently washed ashore at Samoa Beach, and beachgoers have taken notice.
P. Dawn Goley, director of the Humboldt State Marine Mammal Education and Research Program, said the bone is an exciting find.
"This is the lower jaw of a baleen whale!" Goley wrote the Outpost in an email. "It is challenging to ID the lower jaw to a species, but the baleen whales most commonly seen in our area include the gray, humpback and blue whales."
Aside from being super-cool to look at, this reporter can tell you from first-hand experience that the curve of the bone makes for a very comfortable beach hammock. First you'll need to muster the strength to flip this hunk of skeleton on its side. But once you do, it balances quite nicely.
Goley said it's common for bones to wash up on the beaches in Northern California, but that it's always exciting to discover something as big as a baleen whale's lower jaw.
"We have learned a lot about our local marine mammals over the years because people in our community help us find and assess these strandings!" Goley said.
If you want to go check this thing out, just park at the first beach pull-off after the Samoa bridge, and walk north for about a mile. But keep in mind that it is illegal to possess any marine mammal parts without a permit from the National Marine FIsheries Service. So leave it there for others to enjoy!
Goley also wanted to remind our readers that they are encouraged to report any dead stranded marine mammals to the HSU Marine Mammal Stranding Hotline at 707-826-3650.
If you find a sick or injured marine mammal, please call the North Coast Marine Mammal Center at 707-951-4722.