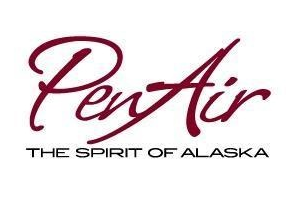 Today was a historic day for people looking to get out of Humboldt, temporarily or for longer. After months of local anticipation, the first passengers utilizing PenAir's Humboldt to Portland air route took to the skies ushering in an era in which Humboldt travelers finally have an alternative to funneling themselves through San Francisco International Airport to their final destinations.
In order to take part in this important day in Humboldt aviation, your Lost Coast Outpost got up really, really early so it could board a 30-seat SAAB 340 scheduled to depart at 5:30 a.m. Curious what it might be like to fly to Stumptown? Follow along with LoCO's minute-by-minute experience below:
# # #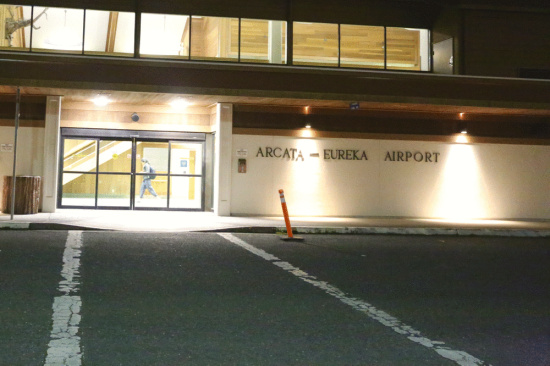 3:45 a.m.: Phone alarm blares, signaling it is time to rise.
4:05 a.m.: "Snooze"ing is dangerous. Actual rise.
4:57 a.m.: Arrive at ACV (it's too early to type out the official name of this airport and, honestly, I can't remember the correct word order, anyway). Wonder if I will be able to get my short term parking ticket validated later.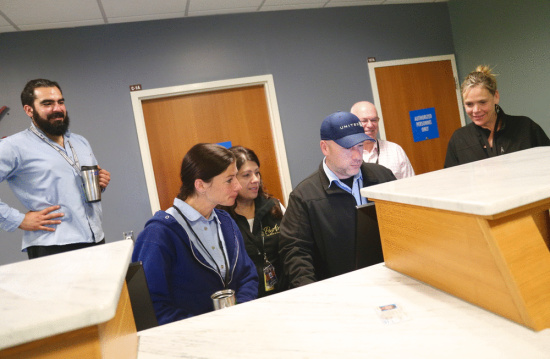 5:01 a.m.: Step up to the PenAir desk and discover that I am the first Humboldter to check-in for a direct flight to Portland. (Boom.) PenAir has contracted out some of its ground services to SkyWest meaning local PenAir's passengers will be handled by the same staff ushering United Airline's San Francisco travelers skyward. A member of the group huddled around the computer informs me they are experiencing printer woes and that I am to use a hand-written boarding pass.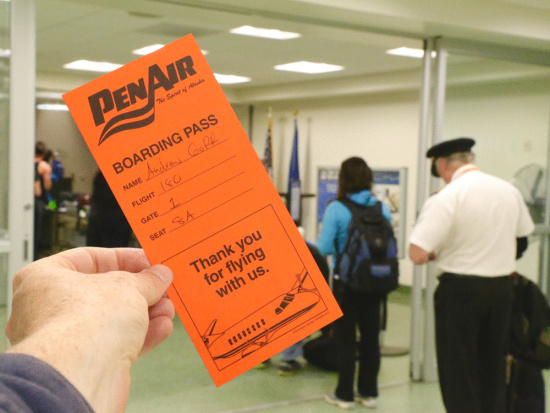 5:10 a.m.: I speak with Phillippe Clauwaert, PenAir's fresh, friendly local customer service manager who has recently relocated from Anchorage, Alaska to Humboldt County (that's him in the back in the white shirt, above). Prior to taking his new position, Clauwaert spent 12 years as a PenAir flight attendant. He admits it was time for a change and jokes about how years on smaller, louder planes didn't exactly help his hearing.
5:14 a.m.: Shoes off! Laptop out!
5:19 a.m.: It smells like there might be some delay.
5:53 a.m.: Word comes over the PA that "we're experiencing a few hiccups this morning." Flight 180 is having some trouble getting to ACV from Redding — we should be able to depart around 6:30 a.m. Does anyone have connecting flights this delay could jeopardize? No? Great.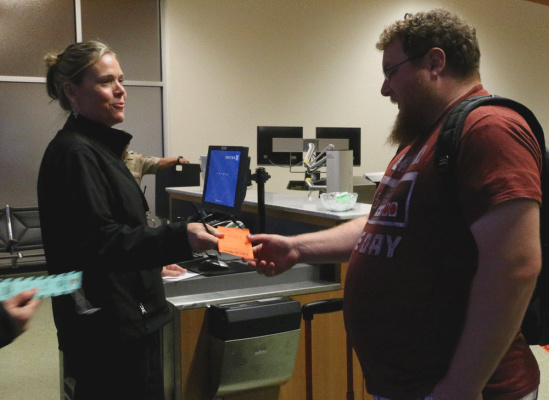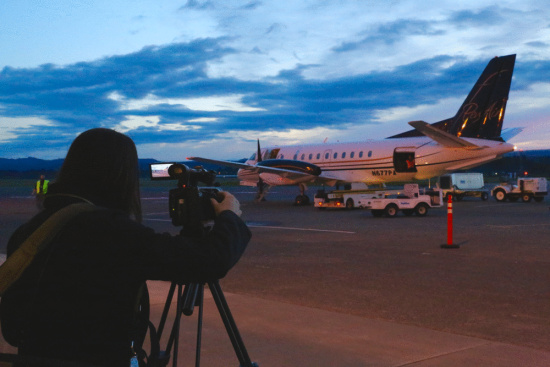 6:16 a.m.: We are boarding. The Humboldt skies are a beautiful purple and blue. Let's get up there.
6:29 a.m.: There seems to be some last-minute mechanical checklisting afoot, but we should be departing shortly. Ten of the flight's 30 seats are filled this morning.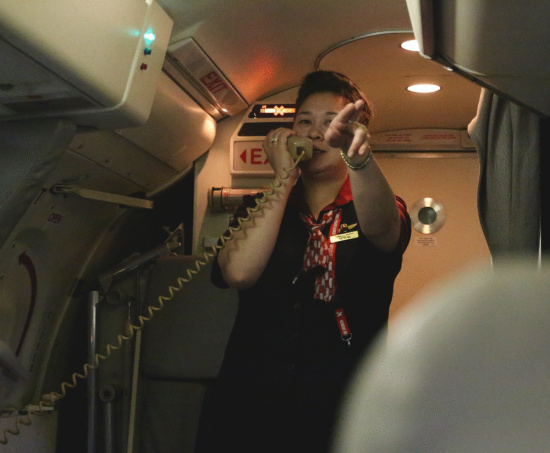 6:32 a.m.: OK, back on track. Our flight attendant Natalia provides us with important safety information. Among other things, smoking is prohibited on this flight, as is tampering with lavatory smoke detectors. Don't even think about it!
6:42 a.m.: Up, up and away.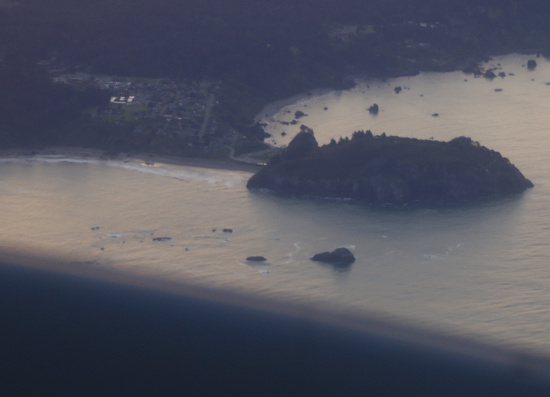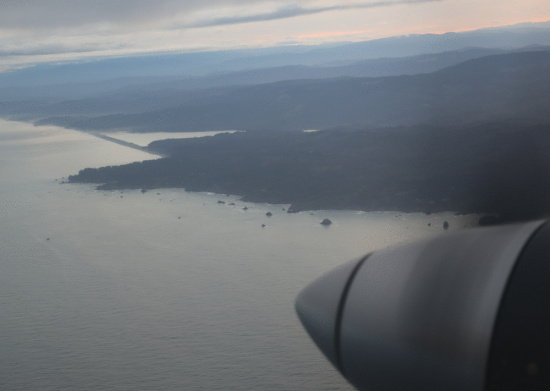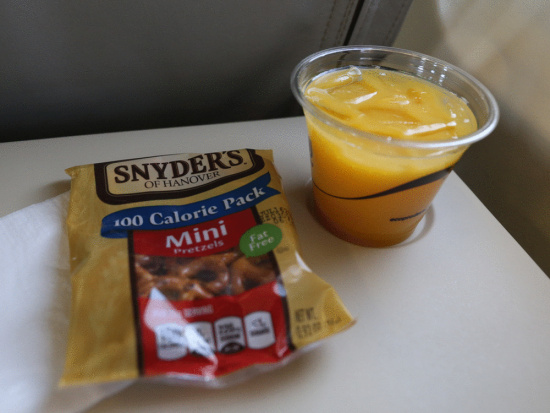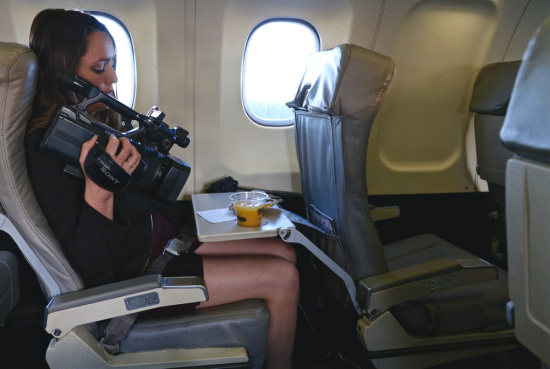 6:53 a.m.: "Water, coffee, orange juice, Coke, Diet Coke and Sprite," are the PenAir beverage options this day. Our drink is complimented by the "100 Calorie Pack" of Snyder's of Hanover pretzels.
6:54 a.m.: These are good pretzels.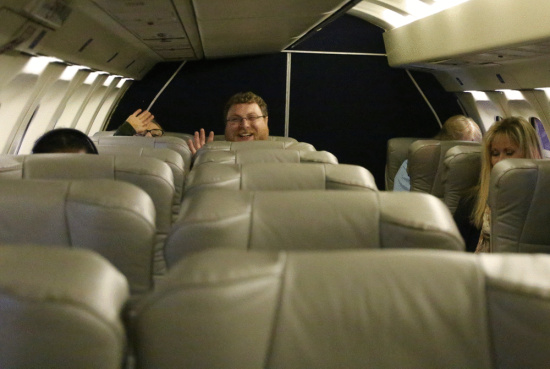 7:11 a.m.: I speak with my fellow passenger and Humboldter Jerry Carter, who had no idea he was to participate in such historic air travel. He works for Verizon and his company booked the flight for him.
Carter will be catching a connecting flight to Los Angeles once we land in Portland. He earned a paid trip to the fabulous Terranea resort near Long Beach by winning an inner-company sales contest. He was not bothered by our brief delay, earlier.
"It's an extra hour of pay for me." Carter notes with a laugh. "I'm fine."
Even if Verizon is not paying his way, Carter believes he'll utilize PenAir's Humboldt to Portland services. He's got family in various parts of Oregon and visiting them could be more time- and money-feasible thanks to the added travel option. Plus, the Rose City itself is a draw.
"Portland's cool now," he says. "It used to be weird, but it's great now."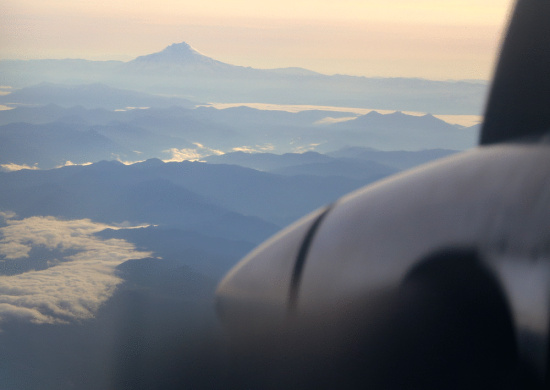 7:27 a.m.: It seems very possible to me that I am looking at Mt. Hood, but that could be me just wanting to feel like I'm looking at Mt. Hood.
7:32 a.m.: News Channel 3's Alexa Bertola asks if I can film her looking out the window for the story she will file for tonight's newscast. See if LoCO's videography makes the cut tonight at 5, 6 and/or 11 p.m.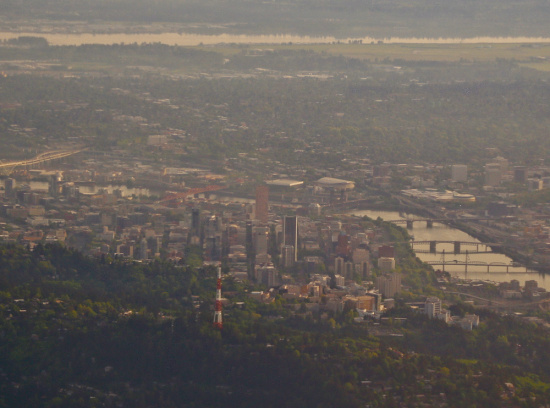 7:34 a.m.: Descent! Look! Portland!
7:49 a.m.: After an hour and five minutes or so in the air, we have landed in Portland. Due to the delay it seems irresponsible to carry out initial plans of taking an Uber to Voodoo Donuts, perhaps the most cliched place to go in Portland. (Do it anyway and "miss" the flight home? No. That is bad.) A latte at the airport's Caper Cafe will have to suffice.
PDX is sparkly with new (but controversial) carpet. Latte sips are accompanied by the live piano stylings of William Krieger, Jr. Can't seem to get wifi network "flypdx" to work, but time is short and I wasn't very patient. (Maybe I'm dumb.)
We are scheduled to be back in the air again at 9:15 a.m. Chug that latte.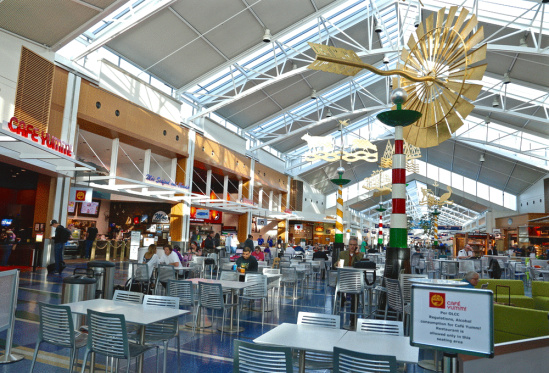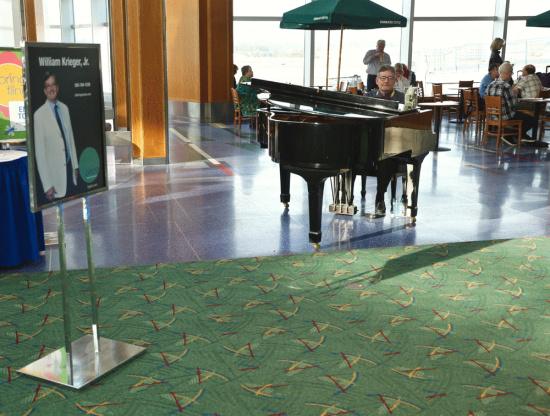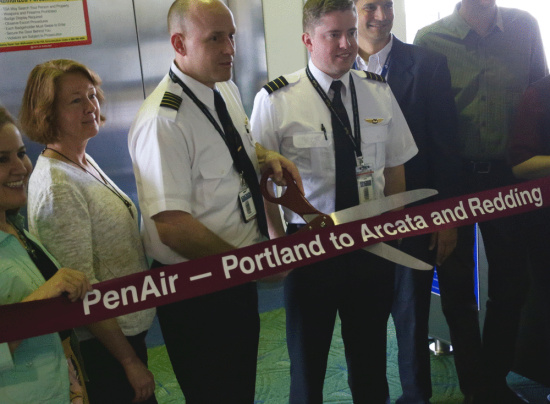 8:47 a.m.: We are greeted with an unexpected surprise before we board our return flight. At PDX's gate B3, a brief ribbon cutting photo op is staged featuring representatives from PenAir and the Port of Portland. Free giant cookies for all!
9:21 a.m.: Up, up and away again! And on time this time!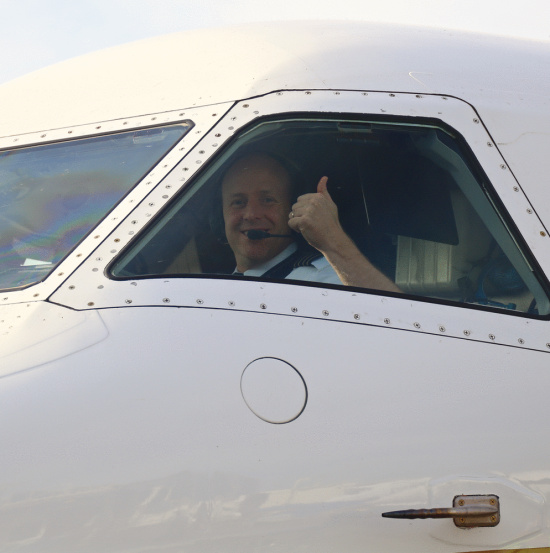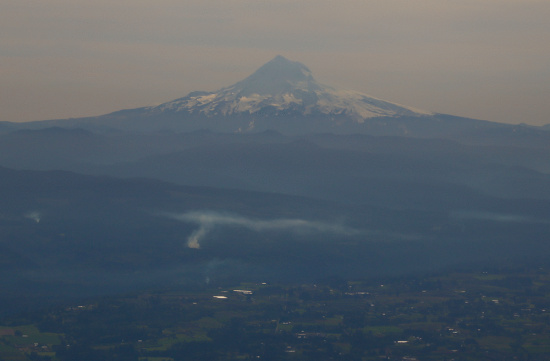 9:28 a.m.: This time I am sure that is Mt. Hood.
9:59 a.m.: We seem to be turning around? Is that what is happening? Pilot Zennon McNeill confirms suspicions announcing that, after about a half an hour in the sky, we are returning to Portland International Airport due to an "indicator light going off" that needs to be checked out by maintenance crews.
10:05 a.m.: Low altitude cell service causes my phone to ding. I am informed that Prince has died.
10:21 a.m.: Back in Portland. According to our flight attendant, part of the decision to return is due to the fact that PenAir does not (yet?) have maintenance crews at ACV that can address the issue the plane is facing. Not sure if we will be staying on the plane or be allowed access to the terminal.
10:31 a.m.: We have deplaned and passengers are lounging in the now-familiar gate B3.
10:46 a.m.: A PenAir representative announces that they suspect to have the problem resolved by 12:30 p.m. What does this mean for passengers? We get lunch vouchers!
11:42 a.m.: The voice from above informs us that our departure time has been pushed to 1:15 p.m. — it turns out we are swapping our original plane out for a different one — which still does not leave enough time for our stereotypical Voodoo Donuts run. We will update this post when we know more.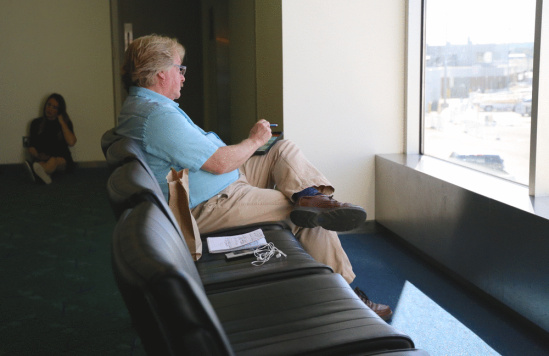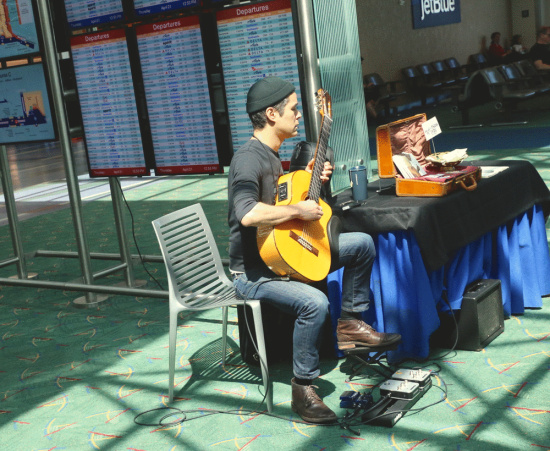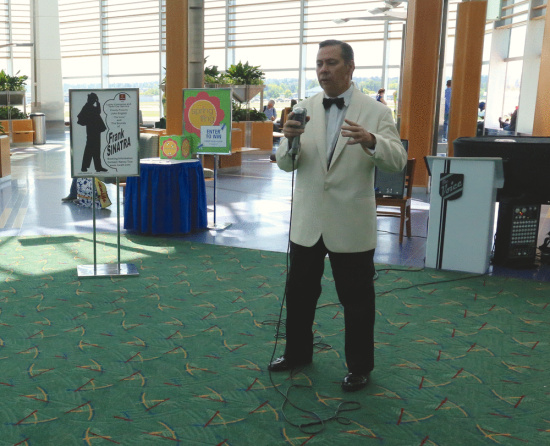 Noonish: Did I mention Portland's airport is pretty hip? There seems to be an endless stream of soothing to headscratch-worthy musical distractions rotating through here, from acoustic indie bands to Flamenco guitarists to a guy named John "The Voice" English whose specialty is earnestly mumble crooning his way through Frank Sinatra songs while chatting up travelers in transit. Ended up scoring a sautéed tofu rice bowl from the Bambuza Vietnam Bistro. Adequate!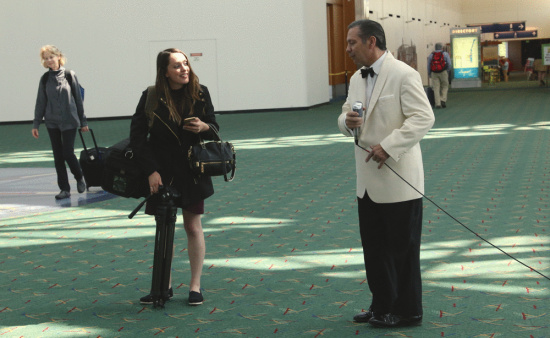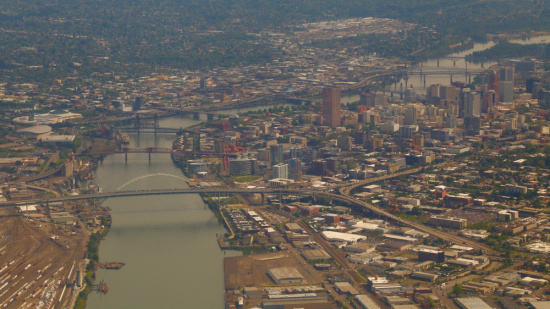 2:49 p.m.: After numerous pushbacks PenAir was able to corral another plane for us to soar in. Let's try this again. Up, up and way part tres.
3:01 p.m.: Mt. Hood still good.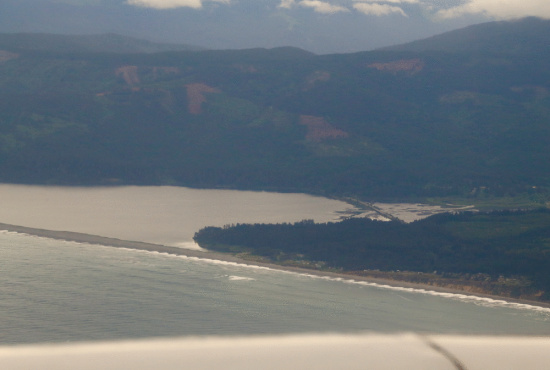 4:22 p.m.: Good to zoom by recognizable natural Humboldt features (looking at you, Big Lagoon). We touch down and are forced to pass under an arc of water fired over our plane by an airport fire fighting vehicle — the "water salute" is an aviation tradition often employed to christen first flights that we forgot about for a startled second. We were not on fire.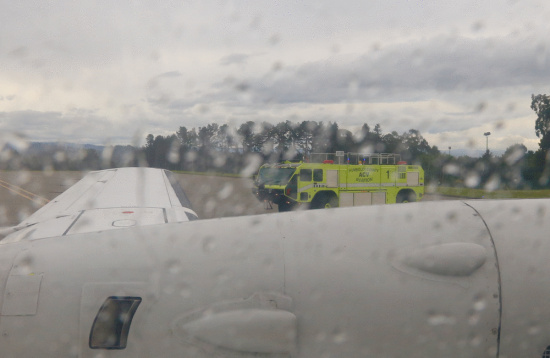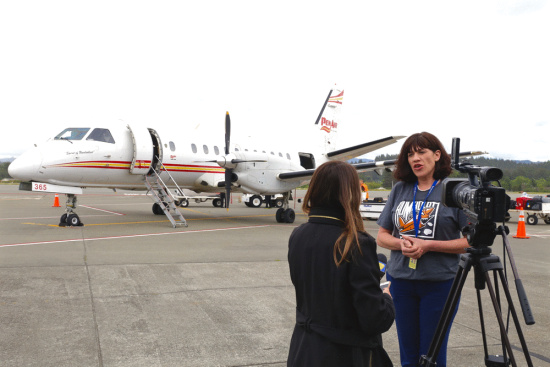 4:29 p.m.: As we load off the plane we are enthusiastically greeted by Emily Jacobs, program director with the Humboldt County Aviation Division, who played a significant role in negotiations to bring PenAir to ACV.
"I'm so glad you made it," Jacobs says to the weary media who are now near six hours tardy. She tells us this morning's PenAir welcoming party — the one that was originally scheduled to include our return flight — was a lot of fun and included live music, dancing and airplane-shaped cookies courtesy Ramone's Bakery. You can check out some photos and videos on Fly Humboldt's Facebook page. While we may have missed the cookies, it's good to be homeboldt. In addition to the joy of being back on Humboldt soil Jacobs gifts us some shiny new PenAir coffee mugs.
Oh, and she validated our parking.