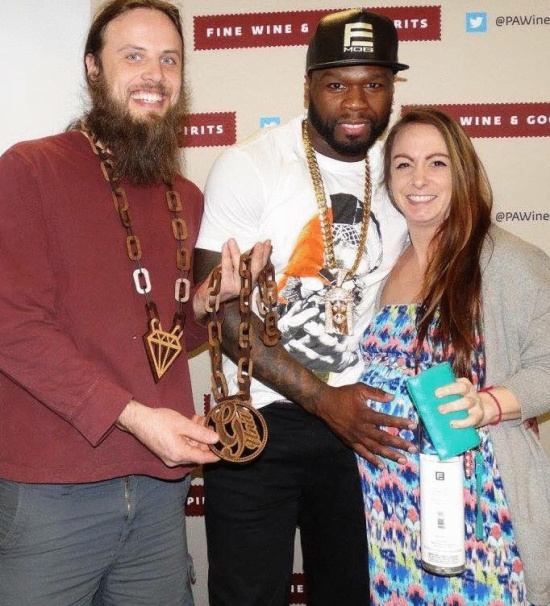 Have a baby by me baby, meet a millionaire.
Arcata business owner K.C. Peck and his expecting girlfriend Aimee Conklin presented the New York rapper 50 Cent with a personalized wooden chain after the couple waited in line with a bunch of wankstas for three hours at a bottle-signing event in Pennsylvania last week.
Peck said he's been making and giving his chains away to rappers for just a li'l bit.
"I was just drawn to the oversized bling trend pioneered by the rap industry and wanted to tip my hat in my own 'sustainable wooden jewelry' kind of way," Peck said. "50 Cent was by far the biggest name that I've been able to give a chain to, and since he's known for his outrageous chains, it was a must."
50 Cent graciously accepted the chain, but Peck said the gangster rapper was more interested in giving a hug and rub to the couples' developing baby bump than talking about the wooden bling.
"50 acknowledged the chain and said thank you, but he was a bit distracted by our baby bump," Peck said. "Apparently he gets excited by new little ones, so the little guy stole the show a bit."
Peck lived in Humboldt for last 11 years, where he started his sustainable-jewelry business on the peer-to-peer e-commerce website Etsy. Peck's online sales successfully filled his piggy bank well enough that his jewelry can now be enjoyed by window shoppers passing by the Ear Emporium in Arcata.
"I spent time vending at festivals and fairs, searching for outlets for my work, but when I found Etsy I was in business full time," Peck said. "My success there gave me the guts to open a brick and mortar store in Arcata."
Peck has since moved home to Pennsylvania, but he still owns the Ear Emporium in Arcata.
"I moved to Humboldt in 2004 for the isolated beautiful environment and incredible climate, but decided to move back to Pennsylvania in 2015 to be close to family," Peck said. "Both the younger and older generations seem to be getting older quick, and I was sick of missing birthdays and holidays."
But Peck said he'll be patiently waiting until the day he can return to Humboldt.
"I still have plans to return to Humboldt before retirement," Peck said. "I could never leave Humboldt forever!"
For those of you counting, LoCO was able to shoehorn seven song references into this story. We will now celebrate like it is our birthdays.