Dead Whale Clears Surf Lineup
A couple weeks ago we talked about how Gray Whales are migrating through our coastal waters and you may have spotted a spout or two since then. Sadly, one of these gentle giants has washed ashore right at a premier California surf spot, Lower Trestles, just south of San Clemente. The carcass is about 40 ft long and has bite marks likely from Great White sharks. State Park Superintendents are currently determining the best way to dispose of the body as quickly and safely as possible. A second dead whale was also spotted nearby by a whale watching boat captain and is expected to wash up within the next few days. Cause of death is currently unknown for both of these whales and could be anything from lack of food to a run-in with a boat. This devastating news is a reminder of how fragile even the grandest of creatures are.
Who to call if you find Stranded Wildlife:
Humboldt Wildlife Care Center, 822-8839
Northcoast Marine Mammal Center, 465-6265 (Crescent City)
Northcoast Marine Mammal Center, Seal Stranding Hotline (707) 951-4722
Who to call to Report Harassment of Marine Mammals:
NOAA Enforcement, Arcata office: Tim Broadman 826-9247
Trinidad Rancheria Animal Control Officer: Eugene 599-6828
State Park Rangers if it's at or near a State or County beach
Celebrating Planet Earth.. AKA Planet Ocean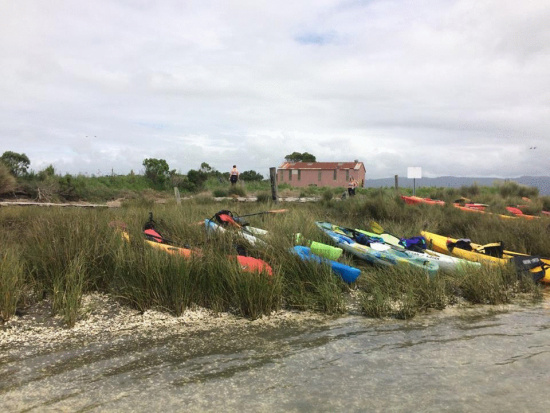 Despite a drizzly morning, two dozen volunteers removed over 1,000 pounds of trash from Indian Island on Saturday, including eight tires, in celebration of the 46th annual Earth Day. Thanks to the Wiyot Tribe for co-sponsoring the event and bringing a motor boat to haul trash; Humboldt Bay Aquatic Center guides, Sandy, John, and Marcella; the City of Eureka for providing the dumpster; all our hardy volunteers; and Humboldt Area Foundation for funding this event. We'll do it again on Coastal Cleanup Day, Sept. 17.
— By Jennifer Kalt, Director of Humboldt Baykeeper
Celebrating Planet Ocean is as easy as drinking a beer! The Surfrider Humboldt Chapter is hosting its first-ever Pints for Non-Profits at Dead Reckoning this Thursday, April 28th from 4-10 p.m. A portion of all proceeds will be donated to Surfrider Humboldt to help continue the protection and enjoyment of our world's ocean, waves, and beaches.
This is also a great time to voice your thoughts on how Surfrider Humboldt can best serve our community.
Crab Boil Anyone?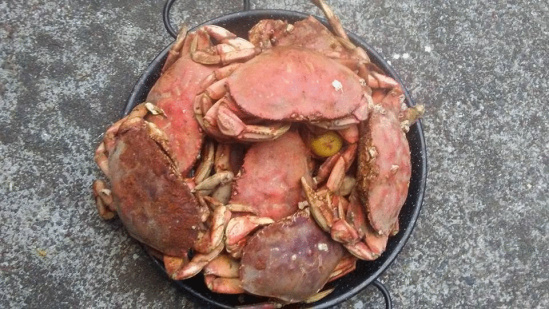 As of Friday April 22, the recreational Dungeness crab fishery is finally open from Humboldt County to the California/Mexico border. Domoic acid levels have been deemed low enough for crab to no longer pose a significant risk to human health. Health officials still advise diners to tear out the guts before cooking, and say crabs should only be steamed or boiled, not fried or broiled, and that chefs should discard the cooking water. Click HERE for the Humboldt Baykeeper Crab Cleaning Brochure so you can enjoy your feast safely.
###
Delia Bense-Kang serves as the Northcoast Environmental Center's Marine Protected Area Outreach Coordinator and chairs Surfrider Foundation's Humboldt Chapter.