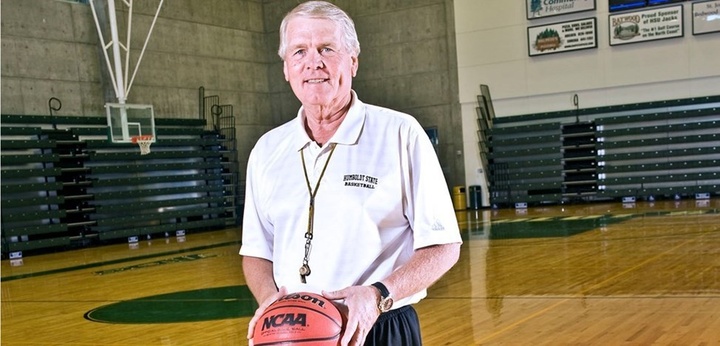 Humboldt State University release:
Tom Wood, one of the all-time great coaches in Humboldt State history and a member of the HSU Athletics Hall of Fame, died on Tuesday from cancer. He was 68.

Wood was responsible for building Humboldt State into a perennial powerhouse in NCAA Division II men's basketball, guiding the Lumberjacks to 11 NCAA postseason appearances during his 29 years directing the program. He coached at the collegiate level for 37 years.

Wood compiled a 463-351 career record, all achieved as head coach at HSU. During his tenure, Wood's teams posted nine 20-win seasons. He retired in 2010, the same year he was selected to the HSU Hall of Fame.

"Tom's commitment to Humboldt State was illustrated in both his program's success and the community support it generated," Humboldt State Athletic Director Dan Collen said. "He consistently set a high standard of excellence. Most important was Tom's commitment to the student-athletes he directed. He always conducted his program with the players' best interests in mind, academically, athletically and personally."

A fund is being set up for scholarships in his honor – see details below.

Wood's program flourished during the scholarship era at HSU, posting an overall record of 217-77 during the new millennium. That success was especially impressive on the Jacks' home court, where Wood's teams recorded an impressive 125-19 record in Lumberjack Arena and its predecessor, the East Gym.

Wood's athletes earned 17 All American honors, and two were named NCAA Division II West Region Player of the Year. His teams made it to the regional tournament 11 times, including nine out of his final 10 seasons.

"Interacting with the players, coaching them and preparing them, has been the most rewarding part of this job," Wood said when he announced his retirement in 2010. "That continues with seeing them go on to their own successes in life, and thinking their experience here might have had something to do with that."

As a member of the California Collegiate Athletic Association in his last four years, Wood's teams won two league titles. Prior to joining the CCAA, HSU experienced similar success in the Great Northwest Athletic Conference. During their five years in the GNAC, Wood directed the Jacks to three GNAC titles.

The 2003-04 season was a record setting year for the program. Under Wood's direction the program achieved its first ever NCAA Division II West Region title and a NCAA DII Elite Eight appearance. The Jacks finished with a program-record 28 wins.

A local resident who starred in basketball at South Fork High School in Miranda during his own prep career, Wood furthered his development as a player at UC Davis. He eventually earned a M.A. degree in Physical Education at Cal Poly San Luis Obispo, and began his coaching career with an eight-year stint as an assistant at that school, helping the program achieve three conference titles, two regional championships and one appearance in the NCAA Division II Final Four.

Wood returned to his Humboldt County roots in 1981-82 to take the men's basketball head coaching job at Humboldt State.

In 1983, Wood was named co-Coach of the Year for the Northern California Athletic Conference after taking the Jacks to the NCAC championship.

The following season, 1984-85, Wood led the Jacks to an NCAC co-championship after his team won more games (21) than any other team in school history. The 1984-85 squad then advanced to the NCAA Division II West Region Championships, then repeated the feat five years later when they posted a 20-11 overall mark and earned another NCAC title.

When HSU joined the GNAC in 2000-2001, the Lumberjacks returned to the NCAA postseason with a squad laden with freshmen, posting a season record of 20-8. Three more trips to the postseason followed, culminating in the 2003-04 Elite Eight appearance and first round victory that sent HSU to a semi-final game against eventual champion Kennesaw State.

Wood's honors include being named Great Northwest Athletic Conference Coach of the Year in 2001-02 and West Region Division II Coach of the Year in 1989-90.
Gifts in his honor can be made either by mail or online.

HSU Cashiers SBS 285
Humboldt State University
FBO: Tom and Lauretta Wood Memorial Men's Basketball Scholarship Fund.
1 Harpst Steet
Arcata, CA 95521

Gifts can also be made online.