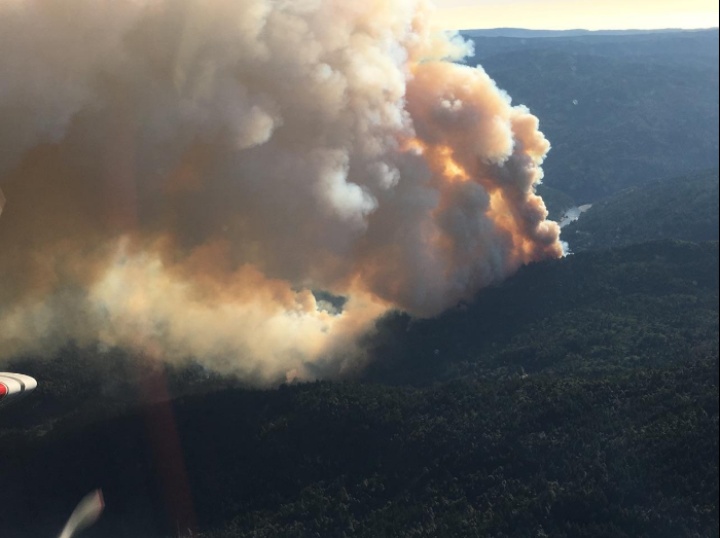 UPDATE, 8/24. 1 p.m.: Calfire's Tulley Fire Basecamp Moving to Orick Mill Site at Base of Bald Hills Road
# # #
UPDATE, 8/24, 9 a.m.: Well, the most interesting tidbit of info in Calfire's Wednesday morning Tully Fire update is that arson is now officially listed as the fire's cause. No suspect has been revealed as of yet. Stay tuned.
Meanwhile, with 440 acres burned and 780 fire personnel now working in the area, the Tully Fire is now listed as being 8% contained. "Intense burning conditions have been encountered in an area that has not burned in over 30 years," notes Calfire.
Evacuation orders are still in effect (see below). Highway 169 remains closed between Martin's Ferry Bridge and McKinnon Hill Road, but Calfire is working with CHP on an escort plan for residents who live outside of the evacuation areas but behind the road block. Evacuees who need a place to store livestock can do so at the Hoopa Rodeo Grounds (they have dog kennels there, too).
# # #
UPDATE, 2:30 p.m.:
The #TulleyFire is now at 440 acres. Two of the three fires are contained. Largest fire is into the Cappel Creek drainage. 0% contained.

— CAL FIRE HUU (@CALFIRE_HUU) August 23, 2016
UPDATE, 10:56 a.m.: Emergency personnel are beginning to evacuate the McKinnon Hill Road area.
###
Nearly 500 fire personnel are currently battling several wildfires out Highway 169 near Martin's Ferry Road northeast of Weitchpec. To be clear, the Tulley Fire consists of three separate fires — one larger and two smaller — burning in steep, rugged terrain in heavy timber around Cappell Creek (see map below). As of Tuesday morning at 7:30 a.m. Calfire still lists the fire at 300 acres in size with 0% containment.
Highway 169 remains closed between Martin's Ferry Bridge and Cappell Creek. Many area residents are without power.
The fire has already claimed one home and one outbuilding. Emergency personnel continue to coordinate evacuations. Currently evacuation warnings are in place for Gibbens Road, Jack Ranch Road and Peters Lane. Evacuees needing a place to stay are encouraged to head to the Hoopa Neighborhood Facility.
Some quick Tuesday morning stats about the Tulley Fire from Calfire:
Total Fire Personnel: 491
Total Fire Engines: 36
Total Fire Crews: 18
Total Helicopters: 4
Total Dozers: 7
Total Water Tenders: 2
The Outpost will update information about the Tulley Fire during the day as we hear more.