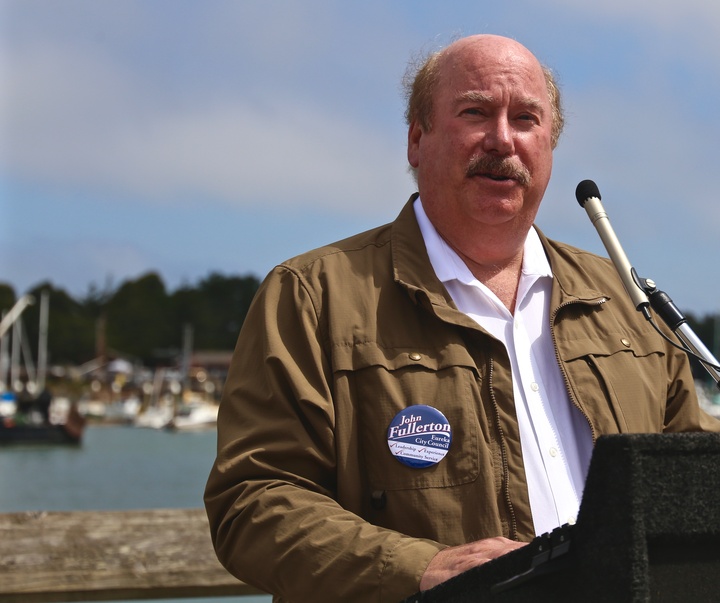 The sun briefly won out on a classically overcast Humboldt day, just long enough for Eureka resident John Fullerton to officially launch his campaign to fill an upcoming vacancy on the Eureka City Council. Drawn to his cause, a few dozen supporters showed up to the Eureka Boardwalk at the foot of F Street for some brief speechifying, sign waving and photo ops. Fullerton laid out his reasons for running.
"I moved to Eureka 40 years ago and fell in love with our town," Fullerton said. "However, like most of you, I have become increasingly alarmed at what's been happening to it over the last 15 to 20 years. The increasing number of homeless camping in our bushes, the increasing crime and the decreasing number of jobs — especially good-paying jobs. Well, this just isn't acceptable."
Fullerton stressed his record of leadership and history of community involvement. A few of the accomplishments he saw fit to mention: a term as the president of the Redwood Acres Fair board, two years on the Eureka Planning Commission, three years as a CASA volunteer, and a term on the board of directors of Coast Central Credit Union, all while owning his own Old Town accounting business for the past 33 years.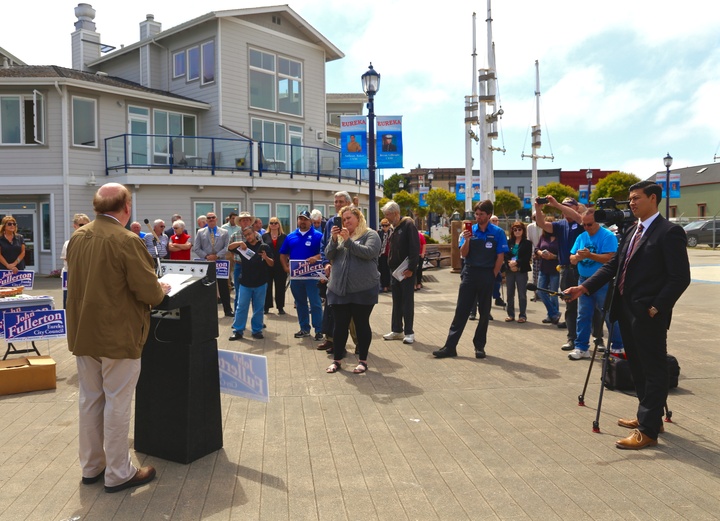 Fullerton will be squaring off in November against Austin Allison, an employee of St. Joseph hospital, who signed up to run on the last day of the filing period, the same day Allison's colleague Allan McCloskey pulled out of the race due to health issues. Allison is a newcomer to local politics, a fact that was alluded to by one of the Fullerton rally's opening speakers, Humboldt County Supervisor Rex Bohn.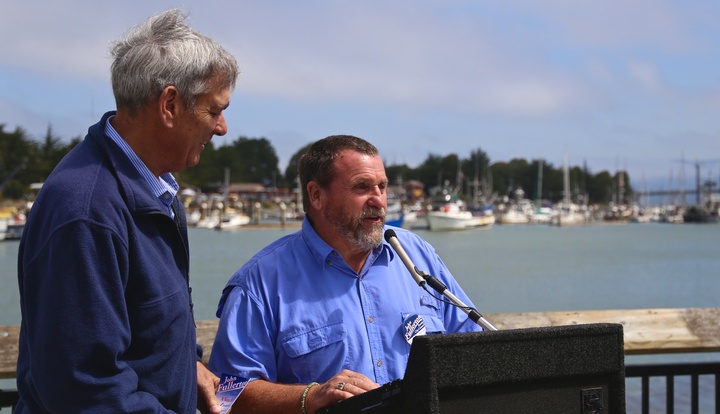 "John's been committed to doing this position for quite awhile. He didn't think about it the last day and say, 'Hey, I'm going to jump into the city council race. That sounds like fun'," Bohn said. "It's not a fun job. It's a job for people that have experience in the city, that understand what's going on."
"This is not a job for rookies," said Eureka Mayor Frank Jager, echoing Bohn's statements.
The Outpost has reached out to Fullerton, as well as his opponent, in the hopes of conducting a more thorough coffee chat (do you both drink coffee?) and hopes to bring you those conversations in the coming weeks.