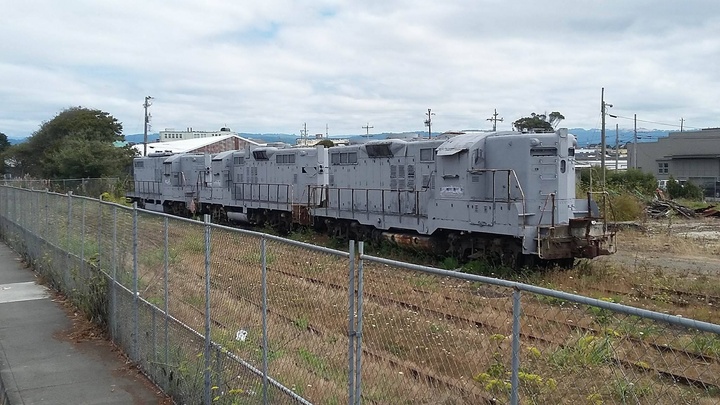 UPDATE, Tuesday, 10:15 a.m.:
The Outpost received the following email late last night from Monson:
I am in the slow process of moving them , this is a big and costly undertaking and takes time. Currently I am waiting for the moving equipment to be modified to move these..Any thing more you can ask my attoney, Chris Neary who is CCed. I am looking forward to getting these engines out of there and put this whole night mare behind me..matt
###
Original post:
The big, dormant locomotives parked on Eureka's beleaguered Balloon Track property have gotten a makeover — just in time for Labor Day. The abandoned industrial workhorses have been transformed from their former rust-and-graffiti motif to a chic primer gray.
Eureka officials think the fresh coat of paint is fine and all, but what they really want is for the trains' owner to get them the hell outta here.
Eureka officials declared these metal beasts a public nuisance way back in December 2014, but attempts to crack down and get them removed have been thwarted by legal actions and a twisted chain of responsibility.
To wit: The property is owned by Rob Arkley's CUE VI corporation; the trains, which have been parked there for 18 years, belong to a Turlock man named Matt Monson; but they're actually sitting on an easement belonging to the North Coast Railroad Authority (NCRA), a state government agency.
Like the City, Security National wants the trains gone. As does the NCRA. In April 2015 it seemed that Mr. Monson was getting the job done. A local work crew descended on the engines with spark-spewing tools of destruction and set about dismantling them. Monson had plans to haul the pieces south via semi-trucks, and he told the Outpost at the time he might have the trains reassembled, up and running by late this year.
But shortly thereafter work ceased, and in June 2015 workers filed a complaint with the state, claiming they'd been exposed to toxic chemicals while on the job. According to City of Eureka Code Enforcement Officer Brian Issa the workers filed a lawsuit against Monson, and Monson counter-sued, saying their allegations had no merit. Monson evidently prevailed, but more than a year later the trains are still here.
And that makes getting rid of them even harder, Issa said. Last year, the value of scrap metal was high enough that Arcata Scrap & Salvage was ready to pay for extraneous materials from the project, and Monson could have made a profit, Issa said. But scrap metal prices have since tanked.
"Now we're back to point that it will cost thousands of dollars" to remove the locomotives, Issa said.

Normally the City would place a lien on the underlying property as a means of pressuring the owner into action. "But in this case the landowner is willing and compliant but has no power to do what we want them to do," Issa said.
He added that the new paint job is an improvement — "so I'll take what I can get at this point" — but it seems like a sign that Monson isn't planning on removing them anytime soon.
The Outpost sent Monson an email. We'll update this post if we hear back.
PREVIOUSLY