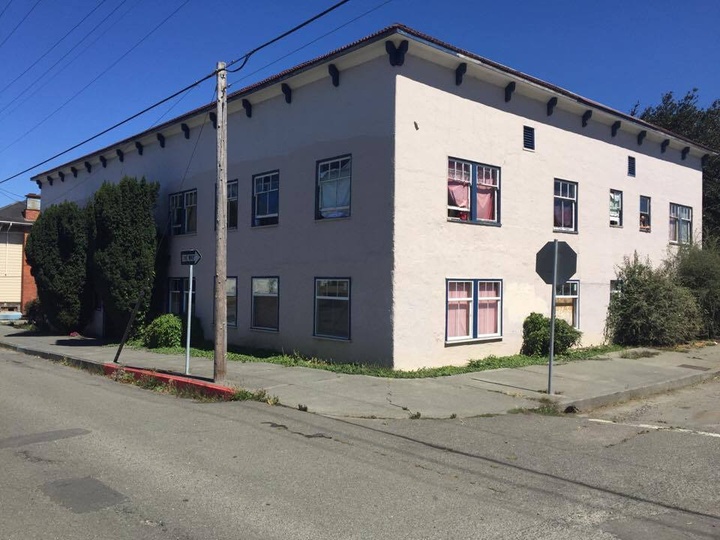 It's been more than 13 years since neighbors started complaining about the apartment building at 833 H Street in Eureka, one of numerous local properties owned by notorious slumlord Floyd Squires, and while the conditions there haven't improved much, five of the neighbors recently notched a victory against Squires' insurance company.
Local attorney Peter Martin confirmed today that after a five-year legal battle he'd reached a settlement agreement with Lloyds of London in which the insurer agreed to pay an undisclosed amount to five neighbors of the property.
Those five neighbors, along with a few others who dropped out of the case over the years, originally sued Squires and his wife over the "squalid, trashy condition of the place," as I wrote for the North Coast Journal back in 2010. Neighbors suspected it was a drug house and complained of abandoned vehicles, trash-strewn streets and broken windows. Over the years the City had filed at least 15 code enforcement violations against the property.
Reached by phone today, Martin said that Lloyd's of London, which had insured the property, initially picked up the cost of defending against the suit, only to turn around and deny coverage on the claim. Martin subsequently obtained a court judgment against Squires himself, but he and his clients — the neighbors — decided not to pursue the infamous landlord for his assets "because the only assets we knew of were his substandard buildings in Eureka," Martin said. "We didn't want to own those."
Instead Martin and his clients reached an agreement with Squires. They would abandon their judgment against him if he, in turn, would sign over his right to pursue restitution from Lloyds of London. "We believed that Lloyd's of London [denying the claim] was an act of bad faith," Martin said. "And when that happens they can be sued."
Martin filed the suit against Lloyd's a couple years ago and after untold legal wrangling the insurer agreed to a payout for the five remaining plaintiffs. One of them, Boughton, told the Outpost today that the property is in pretty much the same shape it was in six years ago.
Walking past the building today it's clear that some work has been done. The large swaths of stucco siding missing back in 2010 have been replaced, as have some of the broken windows. But other windows remain broken, and some of the ones that have been replaced were installed without removing the broken ones, leaving shards of glass exposed on the exterior of the building. (See photos below.)
A resident leaned out from an upstairs window and said he's paying $525 per month on a studio apartment. He just moved in 10 days ago and is happy with the place so far, he said.
Boughton is grateful for the settlement, but she's not satisfied.
"I won't be happy until it's torn down and those tenants have a decent place to call home," she said.