Tulley Fire (aka "Tully Fire")
The last few days have been full of good news for people affected by the Tully (or "Tulley") fire, Humboldt County's largest this fire season, which continues to burn along Highway 169 in the Yurok Reservation.
The fire — which was started by an arsonist on Monday of last week — has been held in check 600 acres, and is now 70 percent contained. Two homes have been destroyed, but no more homes or other structures are currently threatened. Mandatory evacuation orders have long been lifted.
Over a thousand personnel from various local and state agencies were still working the fire as of this morning, though some are being demobilized. They're expecting full containment by the end of next week.
The Yurok Tribe and others are seeking the public's help in identifying the arsonist. From a recent Calfire situation report:
The Bureau of Indian Affairs would like to encourage anyone who witnesses, or has knowledge of an arson fire to call the WETIP Arson Hotline at 1 (800)472-7766. Callers remain anonymous and rewards of up to $10,000 are offered for information that leads to the arrest of persons participating in arson activity.
Current Tully Fire information from Calfire can be found at this link.
Gap Fire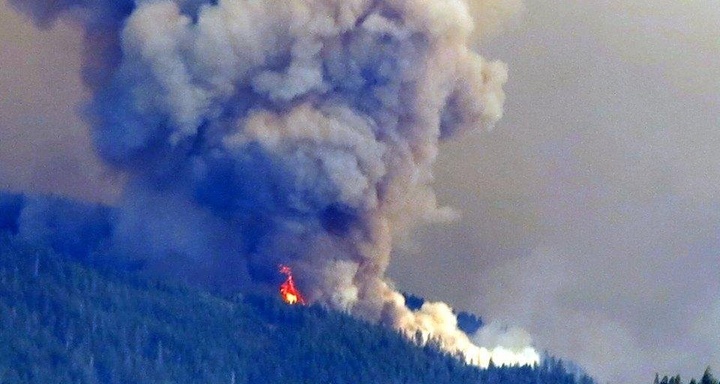 Meanwhile, way out in the Klamath National Forest in Siskiyou County, the "Gap Fire" burst into life Saturday morning and has grown to consume nearly 9,000 acres near Highway 96, which as of this writing is open to one-way controlled traffic at Horse Creek (about an hour and a half northeast of Orleans).
The cause of the fire is still listed as "unknown."
Northern California Incident Management Team 2 — which was last seen in our parts working the Pony Fire in roughly the same area — has been assigned to tackle the fast-spreading fire. It's still at zero percent containment. Some areas have been evacuated.
There are community meetings planned tonight and tomorrow in Seiad Valley and Scott Bar. Check the Inciweb page for details and for the latest information.