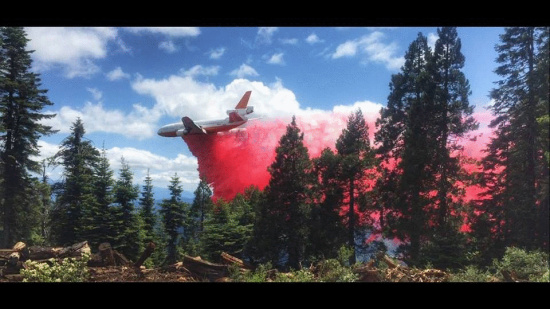 Things are starting to wrap up a little bit on the Pony Fire, which has been burning most of the month in the wildlands of western Siskiyou County. The fire, which has grown to 2,850 acres, is now 60 percent contained, and growth has slowed considerably in recent days. Some 343 people are assigned to fighting the fire currently, down from nearly 1,000 a week ago.
The Pony Fire, between Somes Bar and Happy Camp, was sparked by a lightning strike on June 7. The map depicts its spread as gauged by infrared imagery taken by satellites and/or aircraft.
So it looks pretty certain that the Pony won't grow as huge as last year's megafire complexes, which were also sparked by lightning. But despite the wet winter, California officials are preparing for a very busy wildfire season, largely due to the sheer volume of dead timber in the forests.
Governor Jerry Brown's Tree Mortality Task Force, which was formed last year to look at the threat of forest die-offs due to drought and disease, believes that there are around 66 million trees have died in California since 2010 because of the drought and/or bark beetle infestation. The task force figures that more than half of those 66 million trees died in the last year.
Lots of dead trees in the forests equals a greater chance of devastating wildfire. Here's a short Calfire video that explains the situation. It's Sierra-centric, because that's the area that fire agencies are most concerned about, but the task force has mapped these kinds of fuel loads littering forests throughout the state.