UPDATE, 9:07 a.m.: This morning, KHUM's Cliff Berkowitz spoke with a local forecaster about the coming storm, in great detail. Audio below:
National Weather Service on this week's storm
###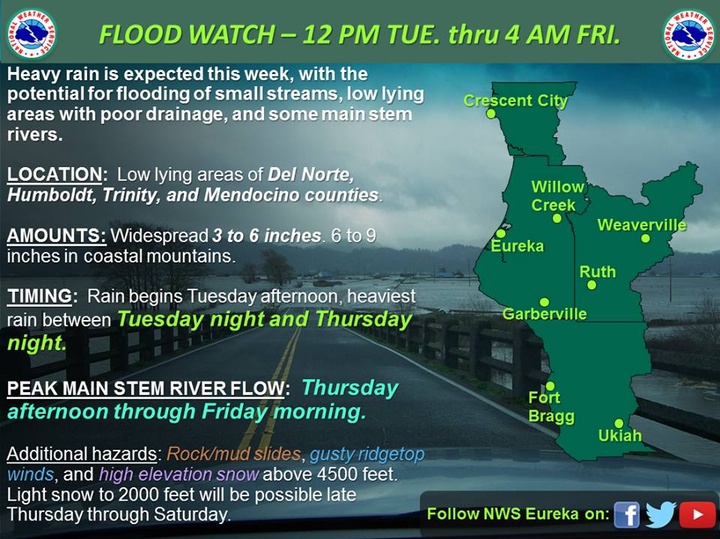 Big rain coming! The National Weather Service is predicting hard storms between this afternoon and Thursday, all around the region. If you're used to flooding, in your locality, get ready for that flooding to return.
The storms coincide with predicted astronomical super-high tides. Oy!
From the National Weather Service, Woodley Island office:
…FLOOD WATCH REMAINS IN EFFECT FROM NOON PST TODAY THROUGH LATE THURSDAY NIGHT…

THE FLOOD WATCH CONTINUES FOR * A PORTION OF NORTHWEST CALIFORNIA…INCLUDING DEL NORTE…HUMBOLDT…TRINITY…AND MENDOCINO COUNTIES.

FROM NOON PST TODAY THROUGH LATE THURSDAY NIGHT * A SERIES OF STORM SYSTEMS WILL BRING PERIODS OF HEAVY RAIN FROM TUESDAY AFTERNOON THROUGH LATE THURSDAY NIGHT.

THE PRIMARY IMPACTS WILL BE LOCALIZED PONDING OF WATER ON LOW LYING ROADWAYS WITH POOR DRAINAGE…RAPID RISES OF ALL AREA SMALL STREAMS…SOME RIVER FLOODING…AND POTENTIALLY ROCK AND MUD SLIDES ON MOUNTAIN ROADS. PRECAUTIONARY/PREPAREDNESS ACTIONS…

A FLOOD WATCH MEANS THERE IS A POTENTIAL FOR FLOODING BASED ON CURRENT FORECASTS. YOU SHOULD MONITOR LATER FORECASTS AND BE ALERT FOR POSSIBLE FLOOD WARNINGS. THOSE LIVING IN AREAS PRONE TO FLOODING SHOULD BE PREPARED TO TAKE ACTION SHOULD FLOODING DEVELOP.