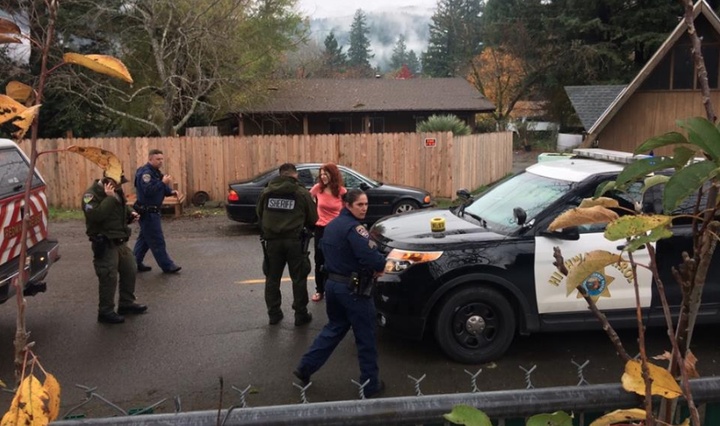 UPDATED, 4:44 p.m.: The Humboldt County Sheriff's Office updates us in press release form:
On Tuesday, December 13, 2016 at approximately 1:56 p.m. Humboldt County Deputy Sheriffs responded to Redway for a report of a possible gunshot victim. Deputies located a 41 year old male victim lying along Whitmore Ave just north of Empire Ave. The identity of the suspect(s) is not immediately known. However, there is a possible suspect vehicle description of a gray Dodge pickup truck with body damage and no a tailgate. An immediate search of the area was conducted by law enforcement. However, the suspect(s) or vehicle was unable to be located. The suspect(s), who is considered armed and dangerous, is still at large. It is unknown if the suspect(s) is still in the immediate area.

The condition of the victim is not immediately known. This case is being investigated by Humboldt County Sheriff's Deputies and Detectives as an attempted homicide.

Anyone with information for the Sheriff's Office regarding this case or related criminal activity is encouraged to call the Sheriff's Office at 707-445-7251 or the Sheriff's Office Crime Tip line at 707-268-2539.
# # #
Original Post: Readers are inquiring about a shooting that reportedly occurred within the last hour prompting a large law enforcement response to Whitmore Avenue behind Redway Feed.
Here's what we know so far: Humboldt County Sheriff's Office public information officer Selena Zorilla-Mendoza confirms that her department is on scene and have located a victim, alive, with gunshot wounds.
HCSO has not yet identified a suspect but they are searching for a tailgate-less, gray Dodge truck. We will update when we know more.