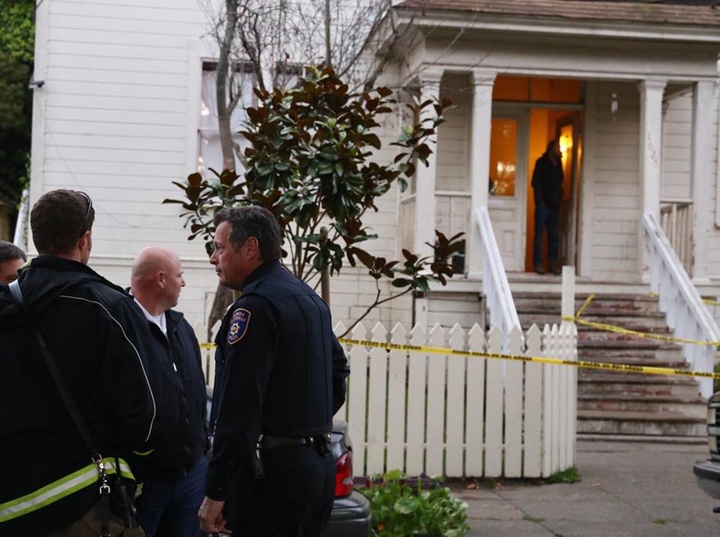 Photos by Andrew Goff.
UPDATE, 8:20 p.m.: Eureka Police Department press release:
On December 16, 2016, at about 4:23 p.m., officers with the Eureka Police Department responded to the 1600 block of G Street for the report of a male that had been shot. The suspects fled the scene before officers arrived.

Multiple witnesses state that three male suspects arrived at the residence and were involved in an argument. One of the males fired a shotgun and struck the male victim in the arm. The three suspects fled on foot and were last seen entering the greenbelt near 17th and J Streets. Officers searched the area extensively but were unable to locate the suspects.

The male victim was transported to the hospital and is being treated for non-life threatening injuries.

The suspects were described as white and Hispanic male juveniles wearing dark clothing, one armed with a shotgun. This is an ongoing investigation. Anyone with information is asked to call the Eureka Police Department at (707) 441-4044.
###
Eureka Police are actively investigating the shooting of a man at an uninhabited home on the 1600 block of G Street early this evening.

EPD Chief Andy Mills tells LoCO Editor Hank Sims on scene that the victim was shot while trying to prevent two suspects from entering the house, which was apparently occupied by squatters. The victim reportedly suffered non-life threatening injuries.
Mills said that EPD's Problem Oriented Policing unit recovered guns and drugs from the house next door during a search warrant that was served last week. Both properties are owned by Eureka slumlord Floyd Squires.
"Unless owners control their properties, this kind of thing is going to continue," Mills said.
Three suspects are still at large — a young Hispanic man, a young black man and a young white man, Mills said. (But see update, above.)