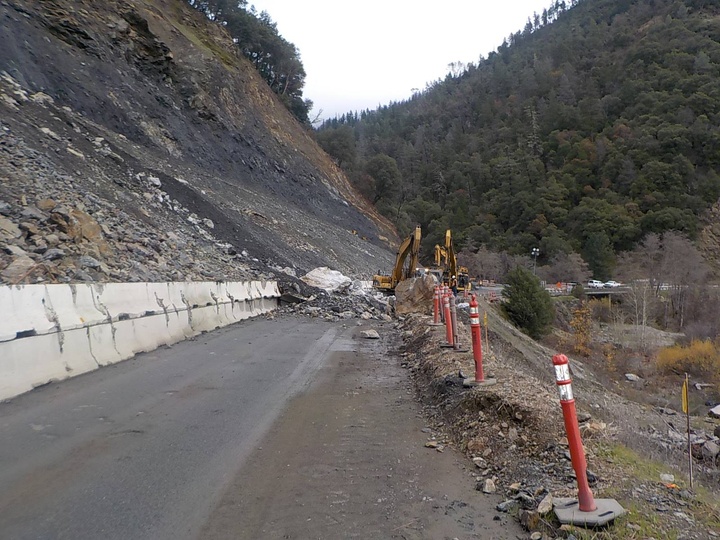 That rock slide at Big French Creek between Willow Creek and Weaverville really did a number on poor ol' Highway 299. Direct travel between Humboldt and Redding is off the table until next month, Caltrans says.
From the Caltrans District Two Facebook page:
Caltrans District 2, along with contractor Steve Manning, Inc., has resumed work on State Route 299w at Big French Creek Road following two rockslides on Monday, December 5, 2016.

During the rockslides about 100 thousand cubic yards of debris fell into the catchment area and onto the road. Caltrans Inspectors and Geologists believe there could still be about 200 thousand more cubic yards on the hill. Due to the constant activity on the hillside, and for the safety of all motorists, Caltrans will construct a temporary detour, approximately 350 feet long, along State Route 299, adjacent to the existing roadway. Due to the construction of the temporary detour, the road will not open to one-way controlled traffic until the week of January 8, 2017. At the same time, Caltrans will be working on removing additional slide material.

"We understand that having the road closed is an inconvenience, but we do appreciate the cooperation of the traveling public," said Caltrans Project Manager Matt Gowan. "Our interest at Caltrans is for the safe transportation of the traveling public and that's why we had to close this."

Caltrans is recommending motorists use State Routes 20, 36 or Interstate 5 as alternate routes.

Please call the Road Construction hotline for the very latest information at (530) 225-3452. You can also like us on Facebook (Caltrans District 2) or follow us on Twitter after hours @CaltransD2.