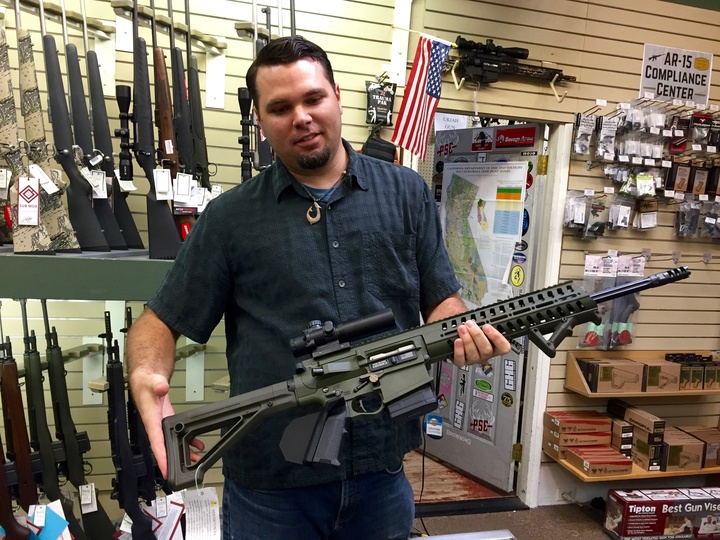 Pacific Outfitters has seen a big surge in gun sales this year.
"We're up close to 30-40 percent in firearm sales," owner and General Manager Aaron Ostrom said on Tuesday. "And being up five percent is off the scales."
This same trend happened across the state as gun shoppers rushed to purchase firearms before new restrictions take effect in 2017. Nearly a million guns were purchased in California by Dec. 9, compared to just over 700,000 for all of last year, the Press Democrat reports.
Much of that increase was driven by sales of semiautomatic rifles, which more than doubled over last year, going from 153,931 in 2015 to 364,643 by early December.
"There's people that were purchasing eight, 10 guns at a time," Ostrom said. "Anytime you say, 'You may not be able to get this [in the future],' people will take it."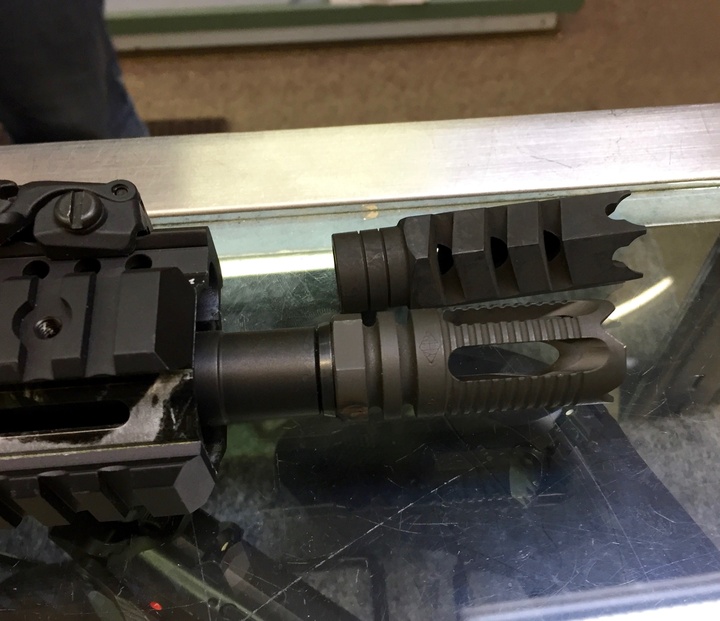 Starting Jan. 1, the state's definition of "assault weapons" will expand to include so-called "bullet-button" firearms, which were created as a workaround to an earlier ban on detachable magazines. (These "bullet button" guns require a tool or the tip of a bullet to release the magazine once it's empty.)
Motivated by last year's San Bernardino attack, lawmakers passed new legislation that adds more features to the prohibited list — features such as a folding or telescoping stock, a forward pistol grip and a flash suppressor. With California's 10-day waiting period, the deadline to buy weapons with such features was Dec. 21.
In the video below, produced by the Press Democrat, Ostrom's brother Chris, who works at the Pacific Outfitters in Ukiah, outlined what gun owners should know about the new laws:
At the Eureka Pacific Outfitters Aaron Ostrom took a couple of AR-15 rifles from behind the counter. They'd both been modified to comply with the new laws. One requires the user to disassemble it before removing the magazine and the other had been rendered "featureless," meaning it doesn't have any of the now-forbidden elements. (Lawmakers have called them "evil features.")
Oliver Anderson, one of the salesmen at the store, thinks these new laws are more about cosmetics than safety. "There's no difference in lethality or anything like that," he said. "It's just these are military-style weapons that [lawmakers] feel civilians shouldn't be allowed to own." The new requirements, he said, are "all arbitrary things that do nothing to make the gun more or less dangerous."
Cody Washburn, a customer, nodded in agreement. He said he purchased an AR-15 years ago and uses it for target practice. "It's fun for my girlfriend to shoot because there's no recoil, and it's super accurate," he said. He also lets his nieces shoot the rifle, he said, noting that the oldest one is just 12.
Last year the state also banned large-capacity magazines, which it defines as anything that holds more than 10 rounds. Anyone who owns such magazines must dispose of them by July 1, 2017.
Ostrom said his stores will have a buy-back program, allowing customers to drop off their high-capacity magazines and receive a 10-round one for free.
People who own AR-15 rifles with the newly banned features have until the end of 2017 to do one of two things — either get it modified to comply with the new law or register it as an "assault weapon" with the state, which costs $15.
Ostrom said almost no one is choosing the latter option. "Out of hundreds of people we talk to, maybe two, maybe three that I heard about considered doing that," he said. "And most of the people who consider it are only doing that because they didn't know about their options."
He believes the state was hoping lots of people would register their rifles as assault weapons, but since so few people are doing so he's skeptical that the new laws will improve safety. "All you did was make people buy more stuff to become law-abiding citizens," he said.
One customer at the store, who asked not to be identified, said the ban on high-capacity magazines won't have much effect, either. "I went to Oregon and got a 30-round clip for mine," he said, referring to an AR-15. "In Oregon you don't get checked over the counter."
Ostrom doesn't mind the boost in sales he sees every time gun owners worry about new restrictions, which they seem to do frequently. (He joked that President Obama was the store's biggest salesman over the past eight years.) And he expects more sales rushes to come. With the passage of Proposition 63, for example, people will be required to pass background checks before purchasing ammo in California, starting July 1, 2019.
Ostrom made a prediction: "We're gonna see the biggest ammo rush this state has ever seen in its entire history," he said, "because people don't want to be on a list."