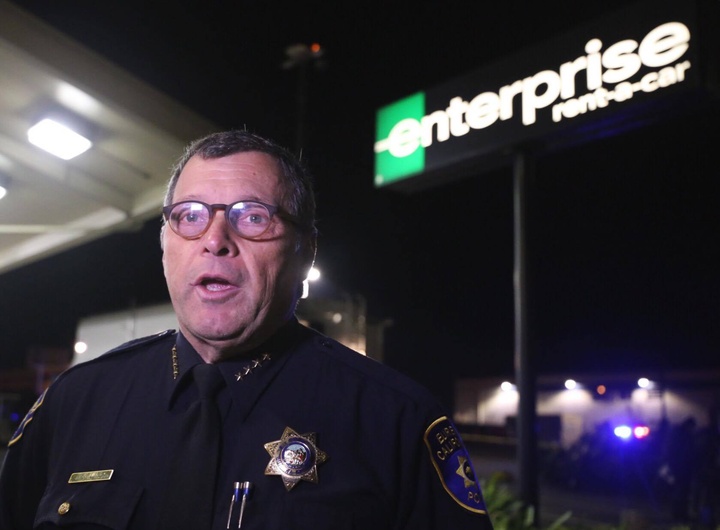 Photos: Andrew Goff.
UPDATE, 7:50 p.m.: Chief Andy Mills held a press conference moments ago. He describes the events that led up to the shooting, and told reporters that the victim is undergoing surgery. They don't have any current word on his condition.
The incident began when the Eureka Police Department received a call from a CHP officer asking for assistance with a subject who had taken "footbail" from a traffic stop. This was at about 4:45 p.m. Witnesses pointed out the direction the man had run, telling officers that he had a gun.
A foot pursuit ensued, "over fences" and through yards. Officers confirmed that he had a gun. A some point soon after, they received calls to the effect that the man was attempting to steal another car — the red Mazda, below — at gunpoint. He failed to get it. The foot pursuit continued. Gunfire was exchanged.
No officers or civilians were injured.
They're still at the scene, still actively investigating. Watch video of Mills' brief press conference below and video of officers approaching the suspect below that. More updates to follow.
###
UPDATE, 6:08 p.m.: Capt. Steve Watson of the Eureka Police Department tells the Outpost that as far as he knows, no officers suffered any sort of injury this evening.
###
UPDATE, 5:51 p.m.: More reports are coming in from people who witnessed some part of this, and many of them are saying that there were more shots fired than the "five or ten" we mention some eyewitnesses hearing below.
Says one person:
We were 2 blocks down when it happened, we had cop cars coming at us from the wrong direction on one ways. By the time we got to the stop sign I looked over and all the cops were stopped and right when I rolled down my window about 20-25 gunshots started. And by the time we got to like California and cedar I was still hearing single gunshots.
###
UPDATE, 5:45 p.m.: A recording of scanner traffic indicates that this started at about 4:50 p.m., near the back of Roy's Auto Center (on Sixth). There was a foot chase that followed — at times, officers indicate that the suspect was headed up toward Seventh Street, then to the back lot of the police station at Sixth and B (where shots were fired), and finally toward Fifth Street.
The full 4 p.m.-5 p.m. hour of scanner audio is below. Fast foward to about 47 minutes in to hear what becomes a very tense, dramatic recording, as officers report shots fired and continue the chase.
The report of "one detained" comes in at 4:57, along with a request for medical personnel to move up. The whole thing took less than 10 minutes.
###
UPDATE, 5:26 p.m.: Brittany Powell, spokesperson for the EPD, just spoke with the Outpost's Andrew Goff, at the scene. But Powell could only say, at this point, that this is an "active investigation."
###
UPDATE, 5:15 p.m.: Witnesses say they heard between five and ten shots fired. At least some of those shots, judging from scanner traffic, were fired at the police station itself, which is just a few blocks away at the corner of Sixth and C.
Sixth Street is also closed between A and C, says the Outpost's Andrew Goff, who is at the scene. There's a red car parked in the middle of the road there with its hazards on.
A few moments ago, a Eureka Police Department commander ask dispatchers to put out the word for basically any and all available law enforcement officers in the county.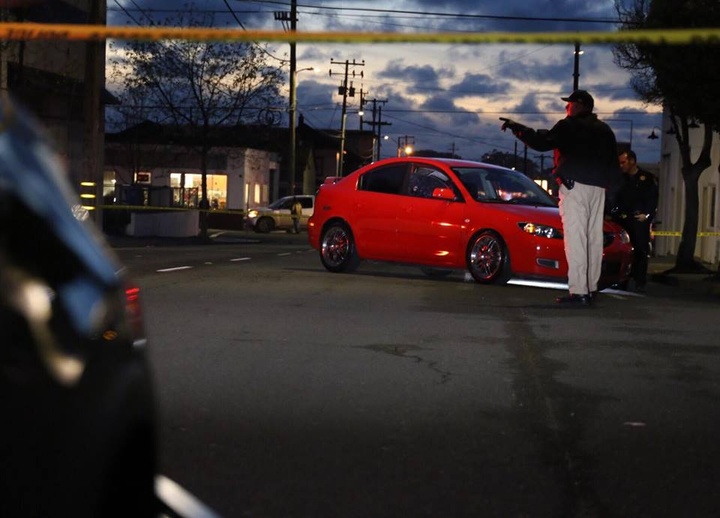 ###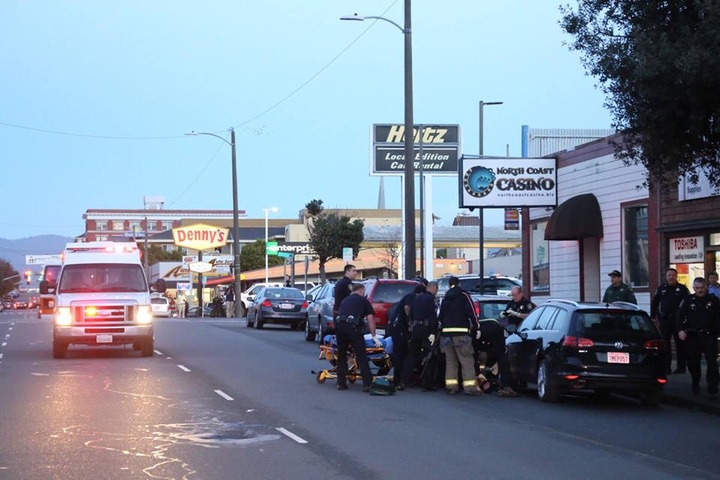 One person was downed in the street and taken away in an ambulance after a brief, intense firefight with the Eureka Police Department on the streets of downtown Eureka, near intersection of Fifth and B streets, moments ago.
Fifth Street is currently closed. The Eureka Police Department is calling in all available personnel, and asking for assistance from the Sheriff's Office, Arcata Police and basically whoever else can send personnel. This is going to be a long night.
We will update when we know more.