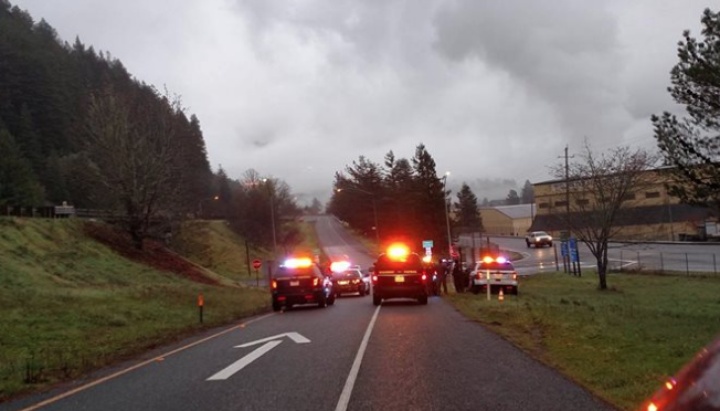 Arcata Police Department press release:
On 12-09-16 at about 6:36 AM, the Arcata Police Department (APD) responded to a report of a robbery that had just occurred from a guest of the Super 8 Motel (4887 Valley West Blvd). The investigation revealed that the female victim was staying in a room with an acquaintance, identified as Wesley Nance. At about 6:15 AM, two friends of Nance's arrived at the room. The victim stated that Nance and his two friends brandished handguns and demanded money from her. Nance and the other two suspects took an undisclosed amount of money from the victim and some of the victim's property and left the motel.

A county wide BOL (Be on the Lookout) was issued for Nance, the two suspects, and Nance's vehicle. At about 7:12 AM, an Officer from the Eureka Police Department (EPD) spotted the vehicle driving southbound on Broadway and began following the vehicle. Once sufficient backup units arrived, a high risk traffic stop was initiated on Hwy 101, near Scotia.

An APD Officer and Detective responded to the scene of the traffic stop and arrested Wesley Nance (22) of Sacramento and Richard Valdez (23) of Sacramento for Penal Code 211, robbery. The third suspect was not in the vehicle and has not yet been identified. Both Nance and Valdez were booked and lodged in the Humboldt County Correctional Facility.

Anyone with information in this case is encouraged to call the Arcata Police Department.