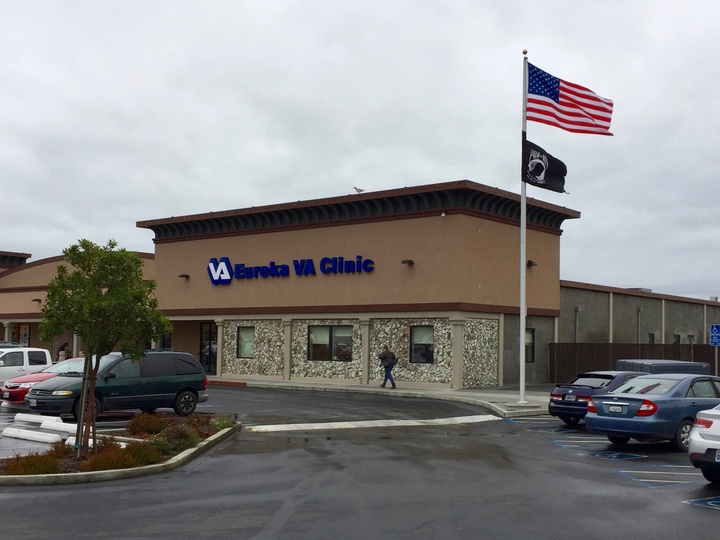 David Douglas has a headache that won't go away. At its worst the pain is both crippling and blinding, but with strong medication such as morphine, Douglas is able to function more or less like a normal human being.
Douglas has lived with this headache for more than a decade now, and like many veterans his pain management treatment has left him with an addiction to morphine. The headache is caused by the traumatic brain injuries Douglas suffered during a tour of duty in Iraq with the Army's 3rd Infantry Division back in 2005.
A VA clinic in Portland, where Douglas and his family used to live, started treating the pain with morphine, gradually increasing the dosage as Douglas's tolerance increased.
"I was up to 240 mg a day," he said. "They were talking about increasing me to Fentanyl patches." He was stunned. "That's for terminally ill cancer patients," he said. "It's a death sentence. It kills your immune system and takes 20 years off your life."
In 2013 Douglas moved with his family to Eureka and started receiving care at Eureka's VA Clinic. Each time he went in, it seemed, he was treated by a different medical provider. Turns out they were locums, or temporary, traveling providers (doctors and nurse practitioners). With Humboldt County's well-documented and ongoing doctor shortage, locums are often used as a stopgap measure to provide care until full-timers can be recruited.
For patients like Douglas, this system can cause frustrating, even dangerous gaps in his continuum of care. "The locums were kind of screwing me over because they couldn't consistently give me my opioid prescription, and I started going through withdrawals," Douglas said. "It was terrible."
Only full-time doctors and nurse practitioners are able to issue prescriptions and refills, Douglas said, and the wait list at the time was more than a month. So for a period of about a year, Douglas was suffering withdrawal symptoms every three months or so. Worse, the headaches returned. "Without morphine blocking [pain receptors] it's the worst pain imaginable," he said. "On scale of one-to-10 it's like an 11. The morphine was able to drop it to about a five."
Douglas is now trying to break his morphine addiction by switching to non-opioid medications, but without a consistent roster of full-time providers at the Eureka VA Clinic he continues to suffer from substandard care, he said. And he's not the only one.
In recent weeks the Outpost has spoken with a number of veterans who say that, while the staff at the local clinic is terrific, the doctor shortage has led to a slew of problems — from sudden and unexplained prescription changes issued by doctors in the San Francisco clinic to long and uncomfortable bus rides to that same clinic to receive care. Meanwhile, the one full-time doctor that the Eureka clinic has been able to retain, Medical Director Dr. Nicanor Rodriquez, has accumulated a list of complaints against him.
John Mitchell was a prisoner of war on the USS Pueblo in 1968. Now 69, Mitchell lives in Kneeland and says he's been in the local VA system so long that he knows all the ins and outs, and the doctor shortage is a problem.
"They have no one who can sign renewals for medications," he said in a phone interview last month. Mitchell takes Valium as a muscle relaxant and recently had his dosage cut in half, via the San Francisco clinic, without being consulted by a doctor or other care provider, he said. And there have been other, more confounding mix-ups.
"I get bottles of stuff in the mail, and I don't know what the medicine is or who the [provider] is," he said. He found a provider name printed on the bottle of the Valium prescription that had been cut in half. "I didn't even know who this person was until I looked her up. She does women's health in San Francisco. She's not even a doctor," Mitchell said.
Another incident: Mitchell had been receiving the prescription antidepressant Zoloft in the mail to be used as a pain medication. It seems to work, he said, by keeping more serotonin in his brain and making him feel better, generally. Plus, it's one of the few medications he's been able to tolerate.
"So all of a sudden I get another bottle in the mail," he said. "They tell me, 'Take this.' What it is is two competing brands at the same time. After two, three days I feel like my brain's going around in circles. I get on the internet and realize I'm taking two competing medicines, prescribed by people who've never seen me."
Humboldt County vets used to be served at a clinic on F Street managed by private contractors, husband-and-wife team Brian and Nancy Craig. Locals vets talk about that time as the good ol' days.
"Everybody thought the Craigs walked on water, and maybe we got a little spoiled," Mitchell said. "They just made everything run. You got you whatever you needed."
But the U.S. Department of Veterans Affairs issued a mandate to move away from the contract-clinic model, and so the current clinic on West Harris was built, opening its doors in 2012.
This new clinic is part of the San Francisco VA Health Care System, a network that includes the main medical center in the city along with community clinics in San Bruno, Santa Rosa, Ukiah, Clearlake and Eureka. When there aren't enough medical providers in the local clinic to handle patient visits and prescriptions, the San Francisco clinic steps in by handling prescriptions and refills, consulting via telemedicine and, occasionally, seeing patients who have traveled from Humboldt on a bus.
That bus ride is another source of complaints. Earlier this week veterans gathered for a town hall-style meeting at the Eureka clinic. Clinic management has been holding these meetings quarterly to address veterans' concerns. Mitchell was there and brought up the long and uncomfortable bus ride.
"I think it's really, a major, major issue," he said. "If you don't need a doctor when you leave here, you do when you get there." A female veteran agreed, calling the ride a "bone-buster."
This year the Eureka clinic has served roughly 4,700 veterans who together have accounted for about 42,700 clinic visits, meaning many patients return to the clinic multiple times a year.
Bryan Furman, a former Special Forces medic who suffers from post-traumatic stress disorder, said there's no continuity of care. "In the four years I've been here I've seen nine different doctors," Furman said in a phone interview last month. "We had no doctors [at the clinic] for a period of time. We couldn't get prescriptions filled." He and other patients had to go to San Francisco. "The clinic right now is being overwhelmed with complaints."
Like Douglas and Mitchell, Furman has nothing but praise for the clinic staff, including Clinic Director Rogan Rice, who he said is doing the best he can with a bad situation. But Furman, too, complained about Dr. Rodriguez, saying he's filed official complaints against him with the San Francisco office and now refuses to be seen by Rodriguez.
"I would never go see Dr Rodriguez for anything," Furman said. "Even if I was dying I wouldn't go see that bastard."
As for the doctor shortage, the U.S. Department of Veterans Affairs has a program specifically designed to address such issues. The Veterans Access, Choice and Accountability Act of 2014 was supposed to ensure that veterans have timely access to high-quality health care. The Veterans Choice Program instituted with the Act allows vets to seek medical care from providers outside of the VA system if a) they live more than 40 miles from the nearest VA clinic, b) there's a lack of available specialists in the VA system, or c) the wait times are too long.
But even that failsafe has proved problematic in Humboldt County. Local vets say few doctors in the area are participating in the Choice program. Those who did participate got frustrated with the amount of paperwork required and had so much difficulty getting reimbursed that they wound up dropping out, vets reported.
"We can't get any doctors in Eureka now," Mitchell said. "Nobody will take us because they [Veterans Affairs] don't pay the bills. So we're basically down to almost no health care."
When the Outpost reached out to the Eureka clinic with questions we too were referred to the San Francisco center. Matthew Colson, a public affairs officer down there, said he and administrators are aware of the issues at the local clinic and working to address them.
"I can't comment much because it comes down to a process issue and a personnel issue, but it is being addressed," Colson said. For example, this past Wednesday VA administrators held an open house at the Elks Club in Eureka, inviting local medical providers to learn more about the Choice program in hopes of increasing local participation.
Regarding Dr. Rodriguez, Colson said he's aware that complaints have been filed but can't comment because it's a personnel issue. He encouraged vets with concerns and complaints to reach out to veterans' advocates at 415-750-6650. "We have folks who specifically address the northern clinics," Colson said.
At the town hall meeting earlier this week Clinic Director Rogan Rice delivered some good news to the vets in attendance. More than 50 providers had signed up for the Elks Club meeting, suggesting that the Choice program may soon be more tenable on the North Coast. Later in the meeting Rice also noted that the Eureka clinic now has five of its six provider positions filled, as of this week. The challenge, as ever, will be retaining those providers.
Paul Crews, who identified himself as the chief operating officer of the San Francisco VA Health Care System, had made the drive up to Eureka for the meeting. He acknowledged the difficulty in getting providers to stay in this community and said administrators are working on ways to improve patients' continuity of care, bringing in more nurse practitioners and conducting a pilot program whereby primary care is provided through telemedicine.
At one point in the meeting, a veteran named Lyn Javier, who lives off of Hwy, 36, said the problem is more simple than it may appear. "We need to have Congress fully fund the VA," she said, prompting a round of applause from her fellow vets.
Note: This post has been corrected to properly describe John Mitchell's service.