UPDATE, Thursday, 11:15 a.m.:
In a closed-doors meeting last night, the commission voted 7-5 to fire Executive Director Charles Lester. The L.A. Times has a good roundup of the event as well as an editorial noting "what seems to be a fundamental breakdown of communications" between commissioners and staff.
"But even if this did come down to legitimate dissatisfaction with Lester's performance as the top administrator in a bureaucracy that the commissioners incongruously lauded Wednesday, the members owed the public a fuller airing of the problems," the editorial states.
UPDATE, 3:17 p.m.:
Looks like this hearing is going to be something of a marathon as one Lester supporter after another takes to the podium. In the meantime, if you missed KHUM's Coastal Currents today, featuring a live report from Morro Bay from LoCO contributor Delia Bense-Kang, you can find it below:
UPDATE, 1:45 p.m.:
Surfrider Humboldt Chair and LoCO contributor Delia Bense-Kang is at the meeting and will be reporting live for today's Coastal Currents segment on KHUM, starting at 2:30 p.m. Tune in or listen online.
# # #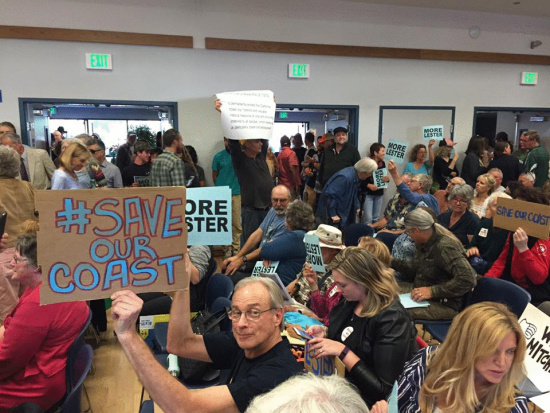 Local environmental advocates made the trek down to Morro Bay this week to attend today's meeting of the California Coastal Commission, a meeting that could dramatically redefine the powerful state agency and have significant impacts on the future of California's coastline.
If you haven't been following this saga, here are the basics: A group of four commissioners from the agency's 12-member board is trying to get Executive Director Charles Lester fired in what many have characterized as an attempted coup backed by pro-development lobbyists.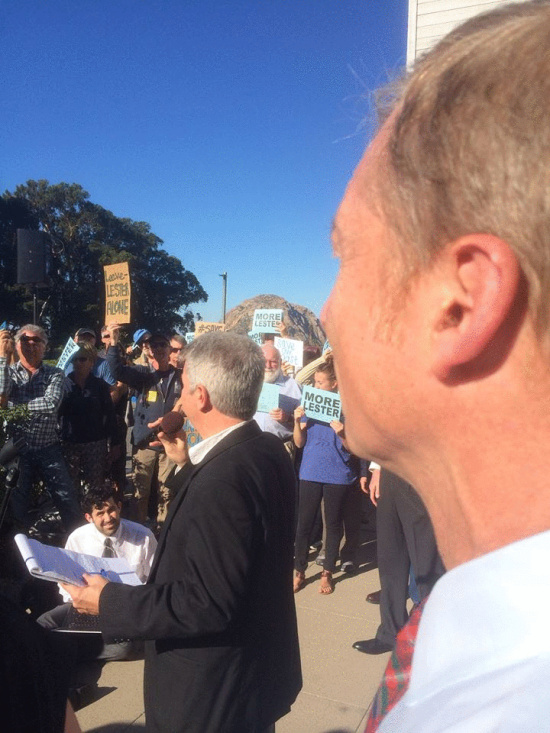 Since news of the maneuver broke late last month there's been an outcry from environmental groups, former commissioners and elected officials (including our Rep. Jared Huffman). In one of many editorials and op-eds on the situation, Stanford associate professor Steve Blank wrote in the L.A. Times, "Some commissioners are apparently willing gut their own agency, violate the public trust and deliver a more compliant executive director who will make it easier to build large projects on the coast with less oversight."
The insurgent commissioners have been vague in their criticisms of Lester, calling him ineffectual and a poor manager. Governor Jerry Brown, who was instrumental in the creation of the Coastal Commission during his previous tenure as governor, has remained stubbornly silent on the matter.
Humboldt County Supervisor Mark Lovelace is in Morro Bay for today's meeting, as is LoCO friend Jennifer Savage — who's now the California Policy Manager at Surfrider Foundation — among others.
The Los Angeles Times is posting live updates of the meeting, which is currently in progress. The Times also (as of right now, anyway) has a lead photo featuring local stand-up paddle surfer Tim Haywood holding a handmade sign that reads, "Humboldt Surfrider for Charles Lester."
We'll update this post when news emerges about Lester's fate. And you can stream the meeting here.