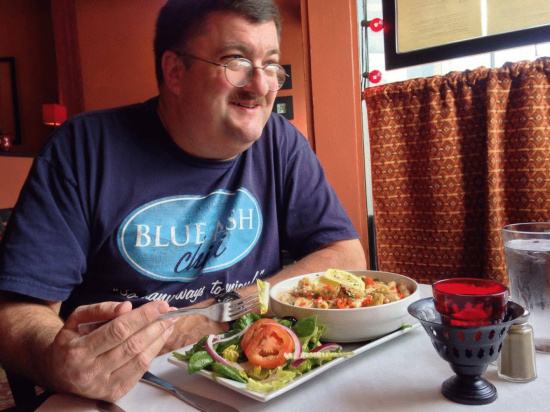 Virginia man Bill Grella traveled 3,000 miles to get to Humboldt County. But once he got here, he didn't gape at the mighty redwoods or sink his feet into the sand at the Trinidad seashore.
Grella came for a pasta lunch special.
"I'm eating myself across America," he said between bites of seafood penne at Brick & Fire Bistro in Eureka on Tuesday afternoon.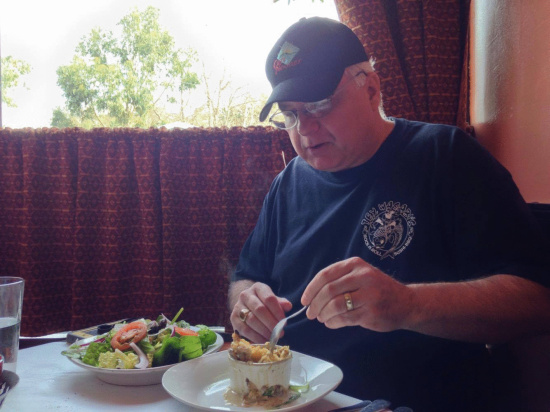 Eight years ago, the airlines worker found himself captivated by the daytime television program "Diners Drive-Ins and Dives." The Food Network series — hosted by Ferndale native Guy Fieri — resonated with him.
"I like Guy and I like the places he goes to, and I thought, 'I'd like to try that place, or I'd like to see that town,'" Grella said.
Grella made his first pilgrimage to a "Triple D" location in 2008. Eight years later he's visited 465 locations.
Grella is a Guy Fieri superfan, and Humboldt is his Graceland.
Fieri has featured nine Humboldt eateries in his show, and in two days, Grella was able to visit every location before heading home to Leesburg, Virginia.
LoCO met up with Grella at one of his bucket-list restaurants, to figure out why anyone would choose to follow Guy's frosted tips around America.
The 53-year old is talkative but soft-spoken. A worn restaurant tee tells the story of the belly beneath it, and oblong glasses slide down his nose whenever he leans in for the next bite.
"His personality seems very genuine," Grella said. "There's a lot of other celebrity chefs that don't seem as real or as fun-loving if the cameras are turned off."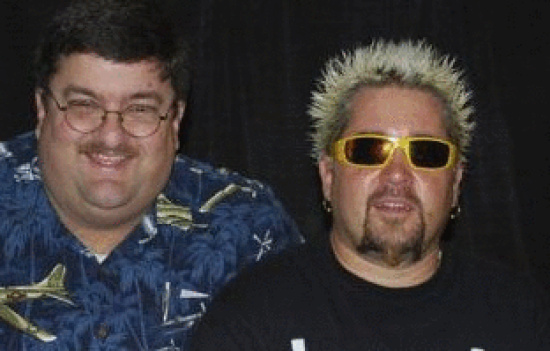 Grella said he despises Fieri's arch-nemesis celebrity chef Anthony Bourdain, who had publicly smashed Guy Fieri's restaurant and his rock 'n' roll persona.
Although Grella has high expectations for what Fieri is like in person, he's only met his idol once, during a brief exchange at a book signing in Norfolk, Virginia. He hopes to one day meet Fieri in a more casual setting and be able to show him the autographed books, and talk about his travels.
Grella owns a collection of books that feature all of the locations from "Triple D." Whenever he visits a location, he asks a chef or owner to autograph a page.
He recently began documenting his travels in a blog titled "Diners, Drive-Ins and Dives' Adventures."
When asked if his travels were still about trying the food after 465 locations, he had to pause and think for a moment.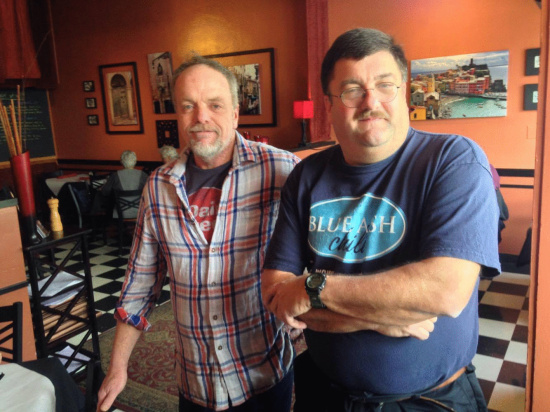 "It's probably both, but I have never thought of it like that," he said. "I like both, but as I think about it, unless the food blows me away, I remember the great people more."
As frivolous as his travels may seem, Grella has traveled all over the U.S., from Hawaii to New York, and he has had many memorable experiences doing so.
"There's a lot of places I would never have visited. If not for the show, I would have never thought about coming up here," Grella said. "I get to travel and see the differences in people throughout the country. The people of Humboldt have a very positive outlook on life."