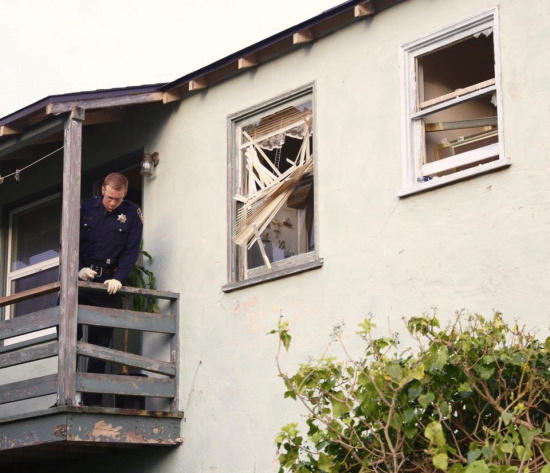 UPDATE, 5:35 p.m.: Sgt. Stan Harkness tells the Outpost that the explosion was caused by a "small-scale" hash operation, and confirms that two men are believed to have fled the scene. No arrests have yet been made, Harkness said.
###
The Eureka Police Department and Humboldt Bay Fire are at the scene of a suspected hash lab explosion in a midtown Eureka apartment building. The apartment did not catch fire, but it did suffer extensive damage in the blast.
Emergency personnel were called to the scene — on the corner of E Street and Del Norte — shortly before 5 p.m., after neighbors reported a loud explosion in one of the building's upstairs units. A neighbor at the scene tells the Outpost that the explosion "sounded like a bomb going off," and that two men left before the police arrived.
Humboldt Bay Fire Battalion Chief Kent Hulbert, who confirmed that a butane hash oil extraction operation is believed to be at fault, said that the explosion occurred in the apartment's bathroom. It blew out windows in both the bathroom and the bedroom and caused extensive sheetrock damage around the unit.