UPDATE, 2:30 p.m.: As to why investigators had detained a seemingly unconnected person at the scene while on a murder investigation stakeout, Mills said that the person — Marcella DeMark, below — had just emerged from the house they were staking out. Investigators contacted her for questioning when she emerged, which was when the gunfire started.
###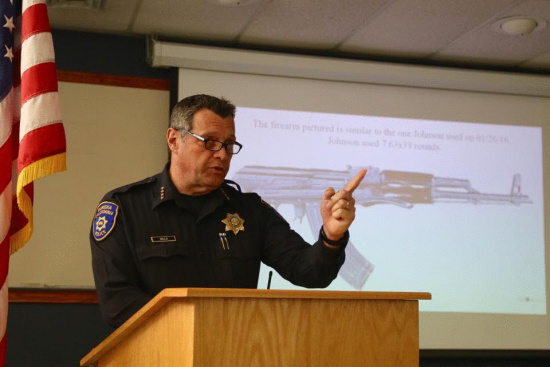 UPDATE, 2:08 p.m.: Chief Andrew Mills opens the press conference by saying that there have been three police-involved shootings in the last two years in the city of Eureka — which he called "not normal for a city of our size."
"I think that we as a community need to come to grips with the violence in our community," Mills said. "We were really close to losing some DA investigators and some community members"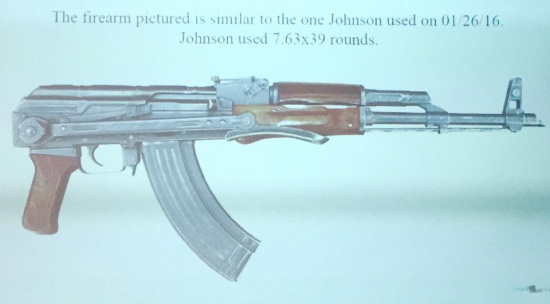 In the present case, Mills said: Investigators were staking out the scene of last week's shooting to determine if wanted homicide suspect Nickolas Johnson was inside.
They had just detained Marcella DeMark for outstanding warrants when they heard shots fired from inside a house. Johnson exited the house bearing an AK-47-style assault weapon, firing. The District Attorney investigators present opened fire and struck Johnson. Johnson was struck multiple times in "his lower extremities."
The map below shows houses that were hit by Johnson's fire: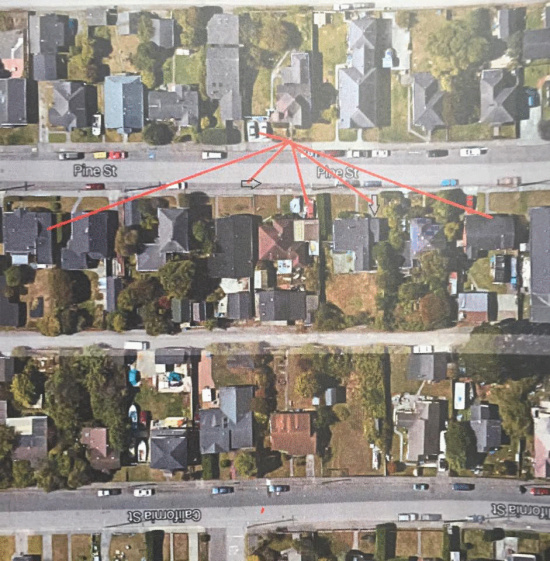 "We are very fortunate someone wasn't killed as a result of [Johnson's] wanton disregard for human life," Mills said.
Johnson spent several days in the hospital, then was booked into jail last night, Mills said.
Ron Harpham, who served as the lead on the subsequent investigation, said at the conference that he believes Johnson fired eight rounds, in total, before police stopped him.
# # #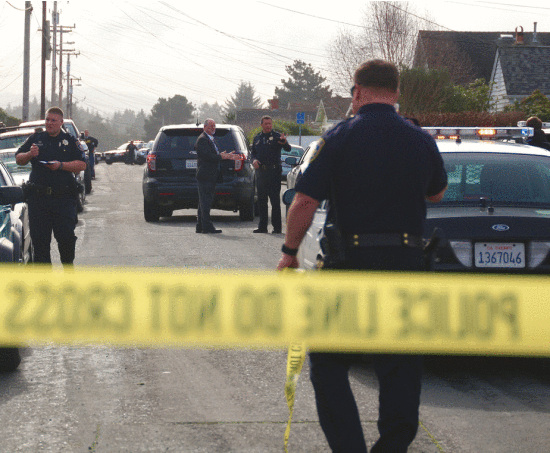 Original Post: The Eureka Police Department announced this morning that it would hold an afternoon press conference concerning last week's-officer involved shooting. The Outpost is attending the gathering and will post live updates here, but first a little background on this case.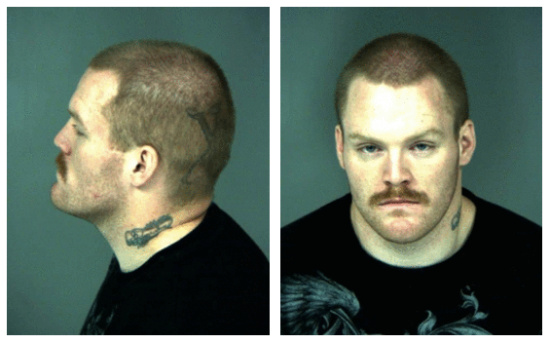 It's been a week now since a Humboldt County District Attorney's Office investigator exchanged gunfire with a man wanted on "quiet" Pine Street in Eureka. The DA investigator was uninjured while the suspect, 24-year-old Nickolas Johnson, was shot, arrested and ultimately taken to the hospital where he underwent surgery. He survived.
At least one other person was detained at the scene. That person identity's has not been revealed so far.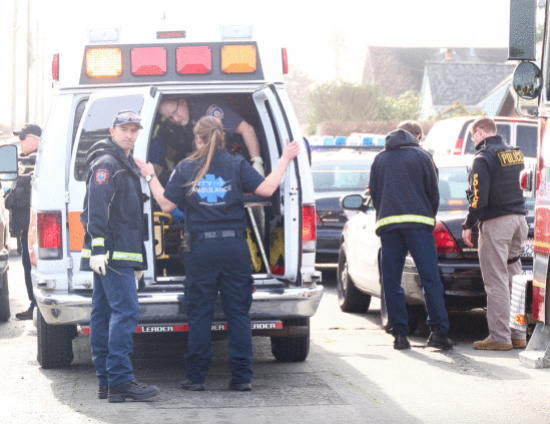 An EPD press release that afternoon stated that since the shooting involved a member of the DA's office, the investigation would be co-led by the Eureka Police Department and the Humboldt County Sheriff's Office.
The name Nickolas Johnson would have been familiar to close Humboldt news-watchers: Back in May of last year, the Humboldt County Sheriff's Office announced that Johnson was wanted for the death of David Ganfield who had been dropped off, unconscious, at Mad River Hospital and later succumbed to his injuries. At that time, the Sheriff's Office announced that it had acquired an arrest warrant for Johnson with a bail amount of one million dollars.
Stay tuned. We will post updates above.
PREVIOUSLY in the JOHNSON SHOOTING:
PREVIOUSLY in the GANFIELD CASE: