PREVIOUSLY: Eureka Police Surround Humboldt Motorsports After '#EpicFail' Motorcycle Burglary Attempt
# # #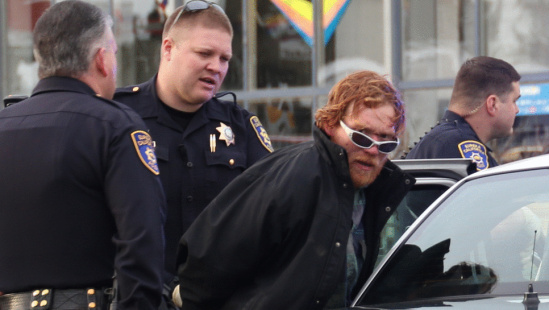 Eureka Police Department press release:
On 01/12/16 at about 7:20 a.m., the Eureka Police Department received a report of a commercial burglary alarm from a business on the 3900 block of Broadway. At about the same time, an employee of the store phoned and said he arrived on scene and could see a male inside.

Officers responded and located the suspect Jerry Gill (34 of Eureka) near the front of the business. A motorcycle was found partially crashed through a front glass door. The employee said Gill had made threats that he had "buddies" inside. Based on these statements, police deployed a search team led by a K9 to clear the property. The search revealed no other suspects were on scene. Upon further investigation and viewing of surveillance, it was confirmed that Gill acted alone.

The surveillance showed that around 7:20 a.m., Gill forced entry through a front door after casually casing the business. Gill then started up a motorcycle that was in for repairs and began to drive it from the back service area to the front show room. It appears Gill was heading for the door when the employee intervened. During a brief struggle between the two, Gill bit the employee on the hand. The employee was able to contain the suspect until police arrived.

Gill was transported and booked into the Humboldt County Correctional Facility for burglary, robbery, vehicle theft, and two misdemeanor warrants for petty theft.