UPDATE, 1:09 p.m.: EPD: Humboldt Motorsports' Employee Bit While Confronting Would-Be Motorcycle Thief
###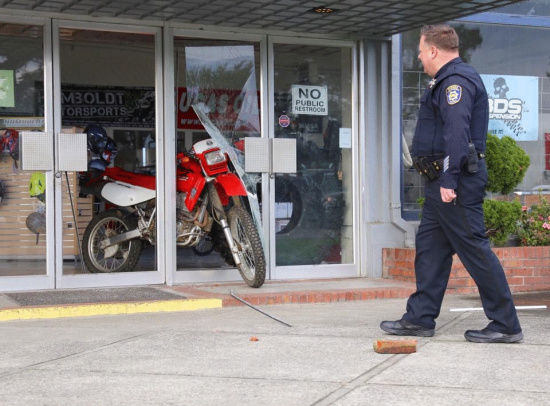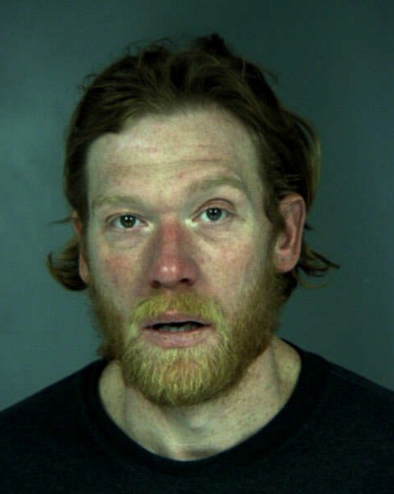 UPDATE, 9:32 a.m.: Captain Steve Watson of the Eureka Police Department tells the Outpost that the suspect detained is Jerry Gill, age 34. Watson said that he expects Gill will be detained on charges of burglary and vehicle theft.
An employee arriving at work noticed that the front door had been smashed in, Watson said. This employee confronted the suspect inside, who was in the process of attempting to steal a motorcycle. The suspect gunned the bike, aiming for the window he had already broken out, but because of the struggle ended up missing his target and plowing, instead, into another door. Officers arrived and detained Gill at the scene.
Watson said that statements the suspect made to the employee led the employee to believe that there was an accomplice in the building. Because of this, police decided to do a thorough sweep to make sure, even after security footage seemed to disprove the suspect's statement.
Watson tweeted his assessment of Gill's caper attempt, below:
Attempted burglary and MC theft 3900 Blk Broadway. EPD has the suspect in custody after he tried 2 escape. #epicfail pic.twitter.com/6VWu4h2obv

— Steve Watson (@SWatsonEPD) January 12, 2016
###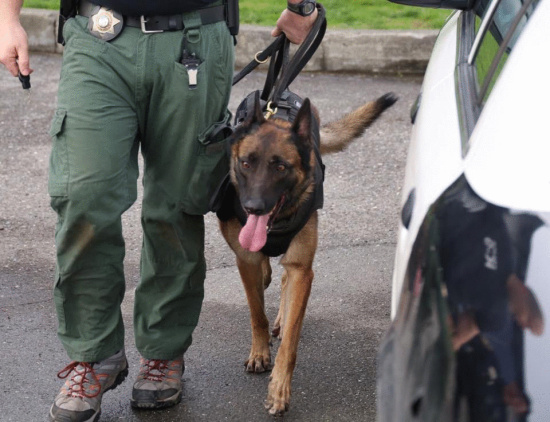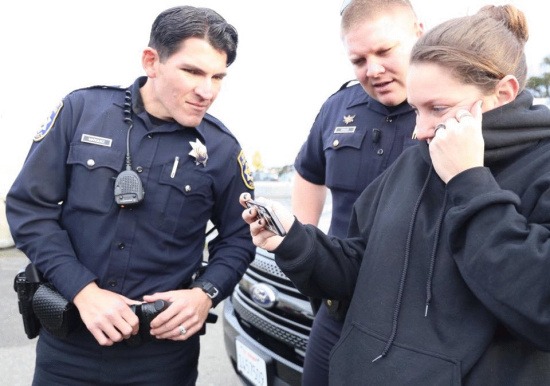 UPDATE, 9:20 a.m.: After reviewing security footage from the business, officers now believe that the person detained earlier entered the building on his own. It showed one person — believed to be the person pictured below, in custody — throwing a brick through the building's front door while drinking a Minute Maid juice.
Police are still at the scene.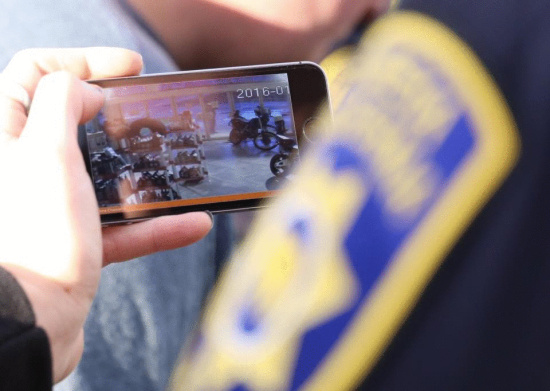 ###
UPDATE, 8:50 a.m.: Catching up with more photos from the scene…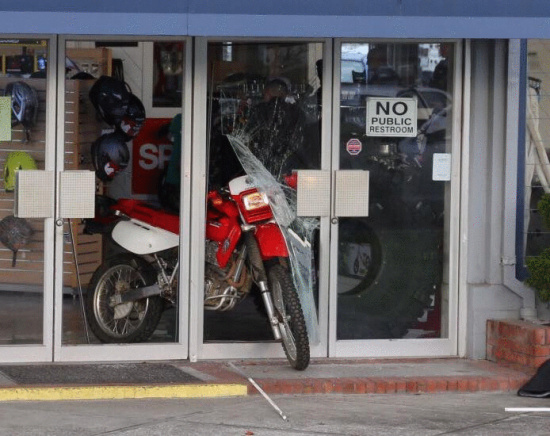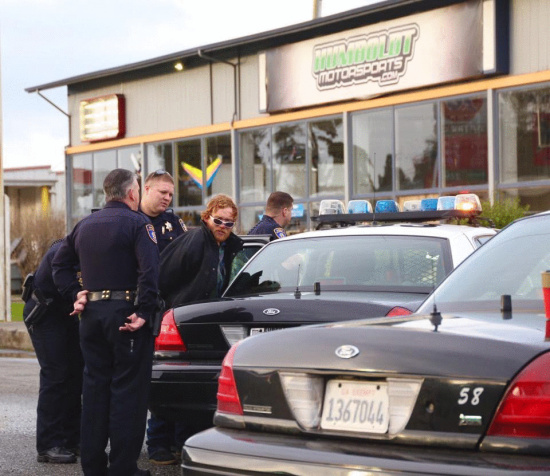 ###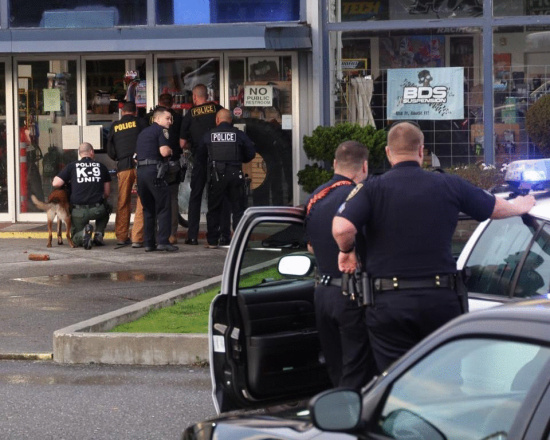 UPDATE, 8:32 a.m.: The K-9 unit has been deployed. That's EPD K-9 officer "Vex."
PREVIOUS VEX:
###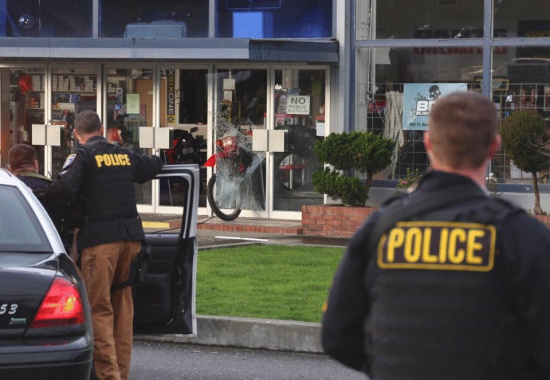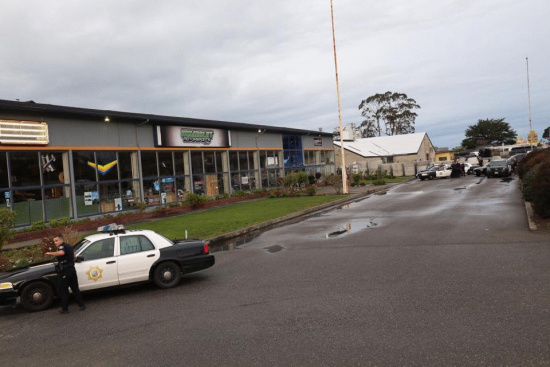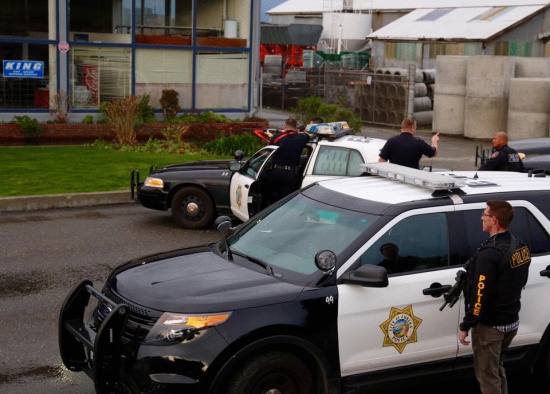 ###
The Eureka Police Department has surrounded Humboldt Motorsports on Broadway after receiving reports of a break-in in progress at the business.
Brittany Powell of the Eureka Police Department tells the Outpost that the department received a call of a burglary at the business at about 7:20 a.m. Multiple units responded, and have already detained one person at the scene. The detained person told officers that another person was still in the building, Powell said.
Police currently have a perimeter set up around the business and are attempting to locate the additional suspect, Powell said.
We will update when we know more.