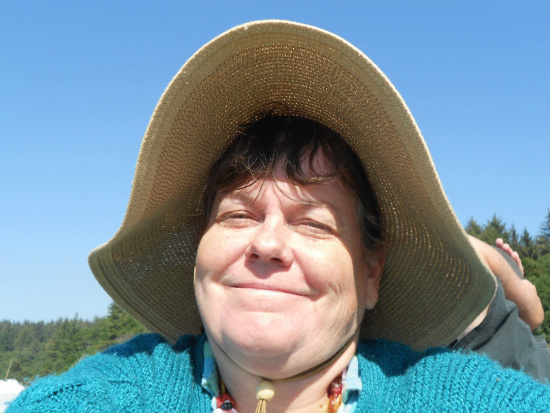 Kathleen Ann Fairchild left us on the morning of December 18th, 2015. She was 59 years old. Kathleen was a gardener, a painter, a sculptor, a mother of three, a grandmother and a partner to William Zoller, a local architect and musician. An active member of the community, Kathleen was integral in promoting Tsunami awareness and preparedness in Humboldt County, particularly in the Big Lagoon area. As a member of the Redwood Coast Tsunami Work Group, she traveled throughout the state of California to demonstrate and discuss the importance of being Tsunami ready.
Kathleen received her Master's degree from HSU in Environment and Community in 2011. Prior to this accolade, she worked at Big Lagoon elementary school where she pioneered – and wrote a grant for – a breakfast program for underprivileged children.
In her time on this planet she wore many other hats, both literally and figuratively (she loved a wide brimmed hat against the sun). She was a Girl Scout leader, a school chef, a national park employee and a dental assistant. Kathleen performed in the Superbowl VII halftime, she did dental work on Dick Van Dyke, was friends with Jan from the Brady Bunch and she once beat a chess master. She was also adamant that she was the original, very first valley girl.
But all of this is just the tip of the iceberg. The thing Kathleen was above all else was a fantastic human being. She left us far too early and will be missed beyond measure. Her wit and unique outlook on life set her apart from the crowd and without her, the world has lost some of its most vibrant color.
Please join us for a remembrance of Kathleen on January 30th at the Trinidad Town Hall, located at 409 Trinity Street in Trinidad. The memorial will be from 2pm to 5pm. Email Liz Fairchild with any questions at lizfairchild@gmail.com or call 503-501-9471.
###
The obituary above was submitted by Kathleen Fairchild's family. The Lost Coast Outpost runs obituaries of Humboldt County residents at no charge. See guidelines here. Email news@lostcoastoutpost.com.