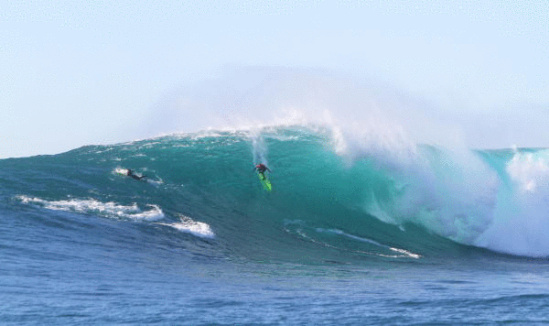 For the first time since 2010, a big-wave surf contest will be held at Northern Baja's most notorious wave, Killers, 12 miles offshore of the Islas Todos Santos this Sunday. "The swell we've been tracking from north of Hawaii has intensified and we've called the Todos Santos Challenge on for a Sunday start," Santa Cruz's Peter Mel, the WSL's Big Wave Commissioner in a release.
The same "high surf advisory" warnings issued by the National Weather Service here in Humboldt are making their way down the coast of California and are projected to reach 30-foot plus for the surf contest. The offshore underwater canyon at Todos Santos concentrates long period West-Northwest swell energy, generating a powerful wave only attempted by surfers of "superhero" status. Twenty four gladiator-surfer-thrill-seekers will compete in this challenge including Santa Cruz locals Nick Lam, and Anthony Tashnick.
Todos Santos is the third and final stop on the 2015-2016 Big Wave Tour. The tour is held annually over a year-long time period, world wide, with the requirement that surf be over 25ft at the minimum. Past events this year were held at Punta de Lobos, Chile, on May 1, and Pe'ahi or "Jaws" in Maui, Hawaii, on December 6. For hair raising images from these contests look HERE (Punta de Lobos) and HERE (Jaws).
Being a couch potato and watching from the comfort of your home is highly recommended as waves locally are expected to reach well over 20ft on Sunday. You can watch the Todos Santos Challenge live on Sunday at WorldSurfLeague.com.
###
Delia Bense-Kang serves as the Northcoast Environmental Center's Marine Protected Area Outreach Coordinator and chairs Surfrider Foundation's Humboldt Chapter.