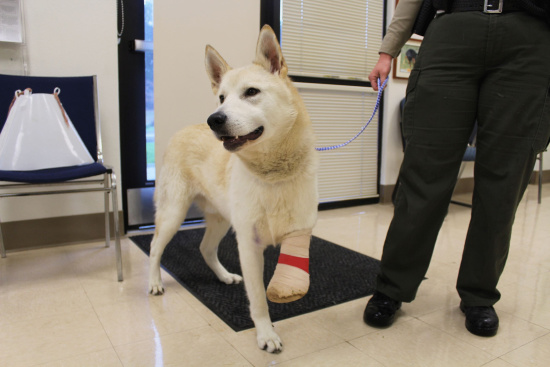 From the Humboldt County Sheriff's Office:
On Thursday, January 21, 2016, the Humboldt County Sheriff's Animal Control Office was notified by a veterinarian's office of a dog with a partially amputated leg. The veterinarian told animal control officers the leg must have been amputated several months ago because of the way the leg was healing.

Animal Control Officers (ACO) responded to the veterinarian's office and determined the dog would need surgery to remove the rest of his leg. The dog is an intact, one year old male, blond, German Shepherd/Husky mix. He is friendly and of good weight. The dog's leg was amputated by an unknown person just below the elbow. The dog was surrendered to the Humboldt County Animal Shelter and is in need of surgery. The Animal Shelter is asking for donations to help with the cost of the dog's surgery.

This case is under investigation by ACO Hale. If anyone has information regarding this case, please contact the Animal Shelter at (707) 840-9132.