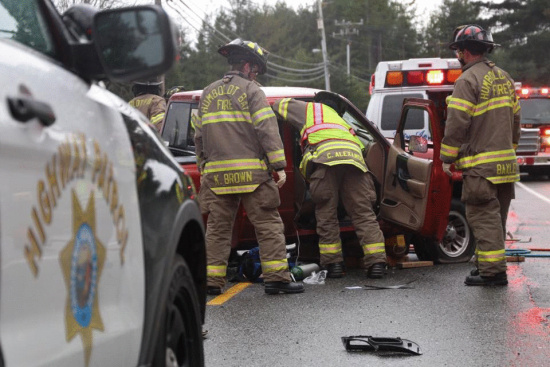 As first noted on our CHP Watch page, Walnut Drive is tied up after a two-vehicle car crash that left one person with major injuries.
Humboldt Bay Fire, the California Highway Patrol and paramedics responded in force to the collision. They were required to forcibly extricate two people from a pickup involved in the crash.
Chris Jelinek of Humboldt Bay Fire, who spoke with the Outpost's Andrew Goff at the scene, said that one of the people — a man — suffered only minor injuries in the crash. A woman in the pickup, however, was initally unconscious when rescuers arrived, and was taken to St. Joseph Hospital with major injuries.
The driver of the other vehicle was uninjured, Jelinek said.
A tow truck is on scene, and the road should be opened again shortly.